2023 New York Knicks Predictions with Futures Odds and Expert NBA Picks
by Spencer Toth - 10/13/2023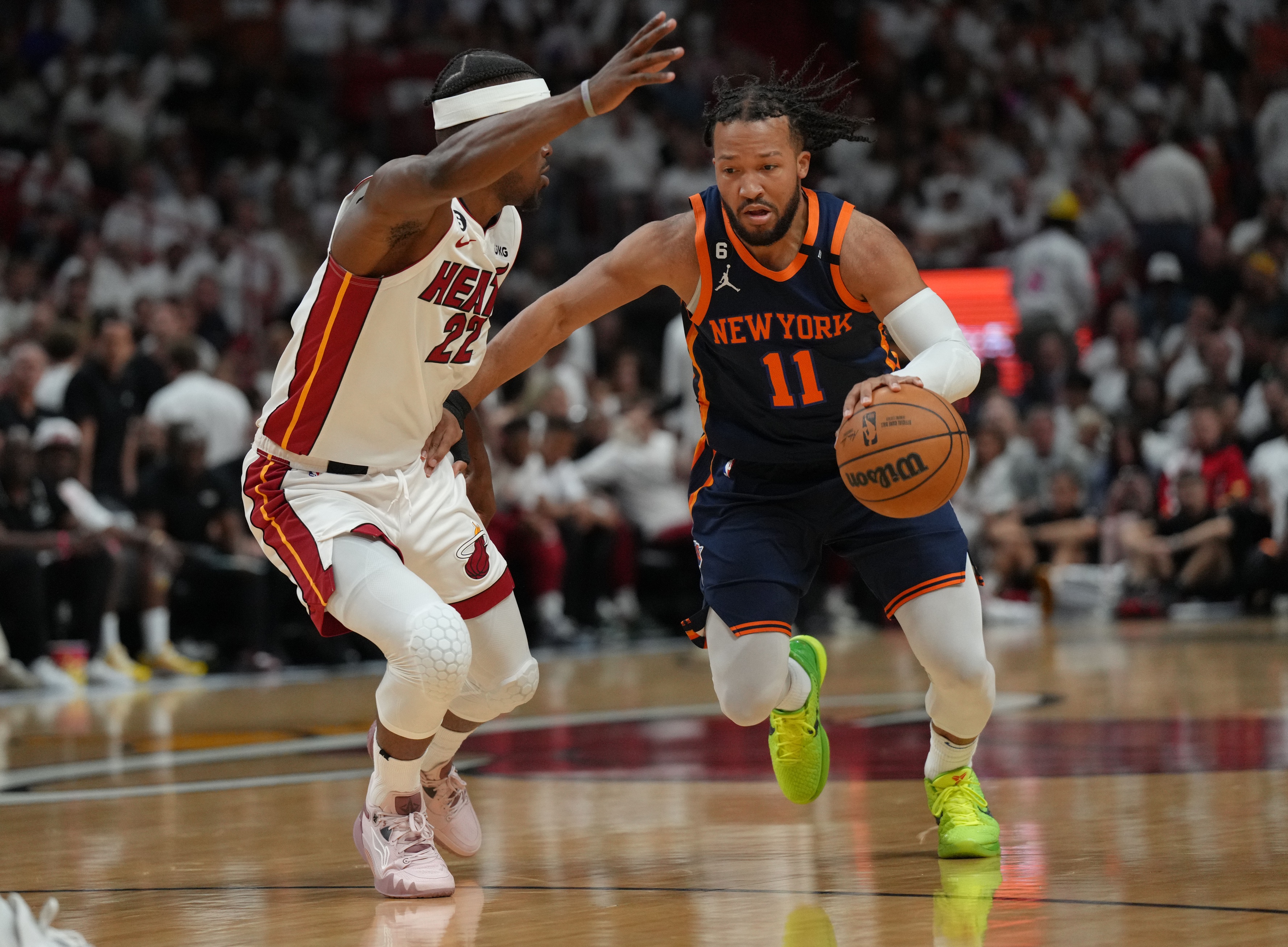 The New York Knicks won a first playoff series last season for the first time since 2013, en route to their best season in the last decade. After years in the basement of the Eastern Conference, the Knicks have fully come out of their rebuild and are ready to challenge for an NBA title. Can the Knicks build on their growth from last season, or will it be another April filled with meaningless basketball for this historic franchise?
Doc's Sports offers NBA picks for every game on our NBA predictions page.
New York Knicks Offseason Recap
The Knicks got slightly better in the offseason, picking up some valuable depth at guard, a position they struggled with last year. Donte DiVincenzo will bring a winning mentality to New York after spending seasons with the championship winning Bucks, and the longtime dynasty Warriors. The 26-year-old guard was scooped up by the Knicks in free agency, signing a 4-year, $46 million dollar deal. He's coming off his most efficient campaign from behind the arc, having shot 39.7% from deep. His relentless pursuit for the basketball on the defensive end, combined with his well-rounded offensive repertoire, will see him excel off the bench, and a breakout campaign could be on the cards for the former Villanova graduate.
Departing the Big Apple is Obi Toppin and Derrick Rose. The loss of Rose will hurt the Knicks locker room chemistry, even though the former MVP has been unable to consistently stay on the court for the last few seasons, having suited up for 35 or fewer games in each of the last 4 years. His 12.5 minutes per game was a dramatic decline, and the 35-year-old felt as though he was in need of a new home in the twilight of his career.
Toppin was still a big part of the Knicks future, but a trade for some future draft capital while freeing up cap space for the long-term signing of Josh Hart was necessary. Toppin never really lived up to his pre-draft hype, and his departure from New York is a good move for both parties.
New York Knicks Season Expectations
Since the Knicks play in New York, they will always have lofty expectations, and any failure to meet them will be analyzed under a microscope. This year, the Knicks 44.5-game win total has them sitting 6th in the East, but another winning season is expected in New York. While they would love to dream about competing for an NBA championship, each and every one of their players would have to play up to their potential to make this dream a reality.
Jalen Brunson had a breakout year last season, and in most fans' eyes, overtook Julius Randle as the face of the franchise. His 24.0 PPG with 6.2 Assists were both career highs, and his influence on the offensive end cannot be overstated. He was used early and often by head coach Tom Thibodeau, and who can blame him for playing his star player a whopping 35.0 minutes per game. The depth the Knicks picked up at guard, and the further development of Immanuel Quickley, will allow Brunson to get a little extra rest this season and reduce the risk of injury. While Brunson is the star for the Knicks, this season hinges on the play of Julius Randle. After breaking out in the 2020-21 season, Randle saw his production take a steep decline in 2021-22, scoring just 20.1 PPG on a career low 41.1% from the floor. He managed to bounce back last season, scoring a career high 25.1 PPG, as his form from behind the arc carried him to an improved overall game. Randle is a great regular season scorer. However, if he wants to play a meaningful role in the Knicks future, his postseason performances must improve. His playoff career 17.1 PPG is well below his regular season average, and 34.4% from the floor and 28.3% from deep is simply not good enough for a player of his caliber. If he can elevate his postseason production, the Knicks could be one of the sleeper teams to reach the NBA Finals this season.
New York Knicks Schedule Breakdown
New York has a difficult start to the season, taking on the Celtics, Hawks, Pelicans, Cavaliers x2, Bucks, and Clippers in the opening 7 games. This team's mettle will quickly be tested. And if they can successfully navigate the opening stages, they'll set themselves up for a great season. At the tail end of the year, the Knicks will be spending lots of time on the road, with 11 of their final 17 games being played away from the familiar atmosphere of Madison Square Garden.
New York Knicks Odds
There is a quiet cloud of optimism surrounding the Knicks, as the faithful fans will have rightful expectations for New York to build on their recent growth. While an NBA title is still a longshot at +5000, a top-heavy Eastern Conference could allow the Knicks an easy path to the second round. However, after a decade of losing campaigns, the -375 price tag on their playoff qualification feels like a formality, which cannot be taken for granted. In the in-season tournament, the Knicks are matched up against the Bucks, Heat, Hornets, and Wizards. A home game against the Heat will likely be for 2nd place in the group, and a 3-1 record could be good enough to earn qualification, and a 4-0 sweep would cash the +425 odds for the Knicks to top the group. Overall, the betting odds make it very clear the Knicks will likely be finishing in the 4th-7th range in the East and will have an uphill battle to make a deep playoff run. The reward is bountiful, and if all the pieces fall into place for New York, I'm looking at you, Randle! There is a massive upside for New York this season.
New York Knicks 2023-24 Season Predictions
The Knicks have a good price at 44.5 wins, and I expect them to surpass that number with a 48-34 record, and a cozy 4th place seed to go along with it. Brunson continues to dramatically improve each season he spends in The Association. And if he can keep that upward trajectory going, the Knicks will have a very productive season. Tom Thibodeau will always demand maximum effort from his troops. And the Knicks have both the top end talent and depth off the bench to succeed. In the postseason, a first-round win will bring life back into MSG, but a tough test against an Eastern Conference top dog in Boston or Milwaukee will see them bow out in the 2nd round once again. The best bet for New York is to keep it simple on their win total, take Over 44.5 wins, and sit back and watch this team consistently beat up on the bottom teams, and occasionally shock the NBA world with their upset potential.
Get NBA picks on every single game, or if you want our very best bet premium picks by the experts, sign up for your free $60 account with a guarantee.