2023 New York Rangers Predictions with Futures Odds and Expert NHL Picks
by Ryan Cobbett - 10/4/2023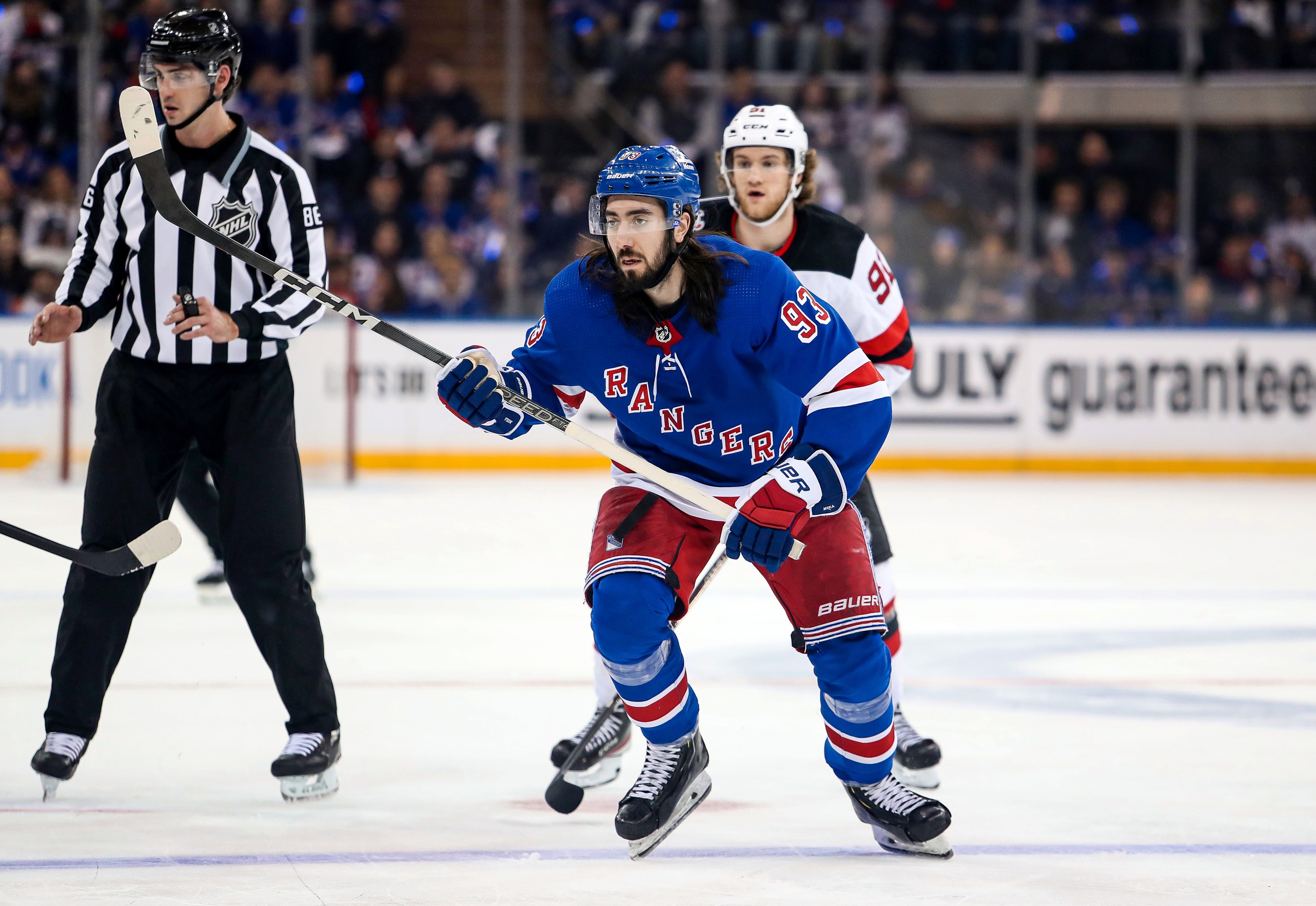 Summary of last season
The New York Rangers were electric at times last year and wound-up finishing third in the Metro behind Carolina and New Jersey. They allowed just 219 goals and would dominate on the road with 56 of their 107 points being accumulated away from their home ice. Unfortunately for the Rangers, they would blow a 2-0 lead and went on to lose in seven games against New Jersey in the first-round last season. New York absolutely dominated the Western Conference last season. They had a 21-6-5 overall record against their cross-conference opponents, going 11-2-3 against the Pacific Division and 10-4-2 against the Central Division. The Rangers had the third best power play unit in the Eastern Conference as they cashed in on 24.1% of their power play opportunities. Their penalty kill was also solid, as they killed off 81.2% of their opponent's power play chances.
Artemi Panarin and Mika Zibanejad formed a dynamic duo for the Rangers, as the two would finish with 92 and 91 points, respectively, with Panarin leading the team in assists (69) and Zibanejad leading in goals (39). D Adam Fox was also very productive and ranked amongst the top blueliners in the league, amassing 72 points. C Viktor Trocheck and LW Chris Kreider also provided a lot of production, as they combined to post 118 points for the Rangers. Igor Shesterkin did an excellent job in the net as well, posting a SV% of .916 and allowing just 2.48 GA/G.
Doc's Sports offers NHL expert picks for every game on our hockey predictions page.
Seasons come and go, so now it's time to take a look at what we can expect from the New York Rangers in 2023-24:
Key Additions/Losses
They did lose Tarasenko to free agency. However, other than that, this team did not lose much. They did make a splash when they signed long time veteran F Blake Wheeler, who posted 55 points with Winnipeg last season.
X-Factors
Health- Health is going to play a factor for the Rangers heading into the season. Filip Chytil and Panarin are both questionable to start the season, and their absence would have a big impact on the team's offensive capabilities and depth.
Mika Zibanejad- This guy is their best player, and his window is closing as he continues to get older. Now at 30 years old, the Rangers really need him to find his true stardom and lead this team to new heights.
Goalie Outlook
Shesterkin is back to be the main guy, and rightfully so. The netminder is tied with Juuse Saros for the second-best odds to win the Vezina, according to DraftKings Sportsbook. The Rangers also added long time G Johnathan Quick to backup Shesterkin, which is a great fit because in the limited role Quick may be able to flash his past excellence. However, those are the only two goalies listed on the depth chart, and an injury to either could prove costly for New York.
Grade: B
Key Schedule Stretch
October 21st-November 24th- This stretch begins with a five-game road trip featuring the likes of Seattle, Calgary, Edmonton, Vancouver, and Edmonton. The stretch will also end in four game road trip with destinations of New Jersey, Dallas, Pittsburgh, and Philadelphia. Sandwiched between the two road trips include four home games and another road matchup. The lone road game is a trip to Minnesota, while the four home games will be against Detroit, Carolina, Minnesota, and Columbus. This is a tough stretch for the Rangers but an important one considering their road success potentially carrying over from last season.
Notable Odds
*DraftKings
Stanley Cup Champions - +1300
Conference Winner - +750
Division Winner - +330
Hart Trophy- Mika Zibanejad- +10000
Prediction
In a domino effect, having switched my Islanders pick, I will switch my Rangers pick to over 103.5 team point total in a sort of points exchange between the rivals. The Rangers added a big piece in Wheeler and should boost their offense this upcoming season. Their top guys on offense are back, and we should see this team take a big step forward in that aspect this season. Barring an injury to their netminders, the Rangers will make the playoffs and will likely be able to stave off the Penguins for the last guaranteed spot.
Over 103.5 Team Total Points
Get NHL picks on every single game, or if you want our very best bet premium picks by the experts, sign up for your free $60 account with a guarantee.