2011-12 New York Rangers Predictions with NHL Futures Odds
by Trevor Whenham - 9/22/2011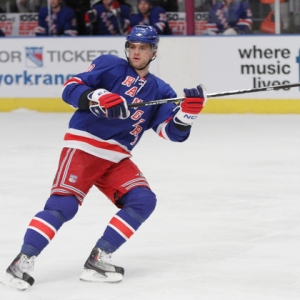 There was one prize coveted far beyond all others on the free agent market -- Brad Richards. After an extended fight that featured pretty much every team in the league at one point or another, it was the Rangers that came out on top.
In the past the Rangers have developed a disturbing trend -- they pay top money to guys who then come to town and seem to forget how to score. If they want to be competitive this year they can't afford to have that happen here.
While Richards isn't a sure thing -- he was good in Dallas but not great, and far from a difference maker -- there is one reason to be particularly optimistic. Head Coach John Tortorella coached Richards in Tampa Bay, and Richards played by far his best hockey under the coach. Judging by the fact that he took less money to be in New York than he could have had in other cities rekindling that relationship was a big priority for the power forward.
The Richards move, and this season as a whole, also could be viewed as a last stand by Glen Sather. The GM and president of the team has never been able to recapture his Edmonton magic on Broadway, and the team and fans surely have to be nearing the end of the line with him if he doesn't start to produce some results.
New York Rangers Offseason Moves
Outside of Richards, the biggest move was cutting ties with Chris Drury and Vaclav Prospal, two big-money acquisitions who had not carried their weight. Their departure signals the dawn of a new era with the team.
The most significant long-term move outside of Richards, though, could be one that is largely unheralded. Sather stole Tim Erixon, a 20-year-old Swedish defenseman, from the Flames when the team that drafted him in the first round in 2009 was unable to sign him. Calgary was about to lose his rights. He cost little, has pro experience in Sweden, and has the potential to be a guy who effectively eats a lot of minutes for years to come.
New York Rangers NHL Outlook
The Rangers simply need to be better offensively. Despite some really talented guys -- like Marion Gaborik, for example -- Brando Dubinsky was their top point getter last year despite tallying only 54 points. That's lousy, and totally unacceptable for a team with the talent that these guys have. It's also going to totally eliminate their chances of contending unless they can fix that.
The Richards move should obviously help -- especially if he can find chemistry with Gaborik. Beyond that, though, three young players jump out as keys to the season.
The first is Marc Staal. The 24-year-old defenseman has the tools to be special, and he could be ready for a big breakout. Unfortunately, though, reports are coming through that he is still suffering the after effects of a concussion suffered last February -- from a hit by his brother Eric, no less. That means his status is uncertain and he could be limited or lost for a period of time. That would be crushing for the team. His health is now perhaps the biggest issue facing the team.
Offensively, two youngsters need to continue to shine. Derek Stepan had 21 goals and 45 points as a rookie last year. He needs to not only avoid the sophomore slump, but offer even more to the team.
Artem Anisimov was much better as a sophomore last year than as a rookie and had 44 points to show for his efforts. Another similar step forward could make him a big factor for this squad.
2011-12 New York Rangers Schedule
The Rangers start the season with a trip to Stockholm. They'll play back-to-back nights there against the Kings and Ducks. Some teams have handled starting in Europe with no ill effects, while others have struggled a bit upon their return. It will be interesting to see how the Rangers handle it.
New York Rangers NHL Futures Odds (from Bodog)
At 30/1 to win the Stanley Cup, the Rangers are tied with the Devils right in the middle of the pack -- 14 teams have higher hockey odds and 14 teams are deemed more likely to win. That seems pretty much right for the Rangers since this season could go either way depending upon how the offense fares.
They are 15/1 to win the Eastern Conference -- the ninth choice of the 15 teams. That shows how deep the East is, and how hard it could be for teams like the Rangers to make the playoffs if things do go just right for them The East will again be a dogfight.
2011-12 New York Rangers Predictions
I'm cautiously optimistic about this team. Their offense has the pieces to succeed, and sooner or later those pieces have to work together and produce to their capabilities.
To me the key is Marion Gaborik. Richards is reliably solid, but Gaborik has superstar-caliber skills -- skills that he has only scraped the surface of. If he can awaken his inner giant then this team can bloom around him. If he continues to appear to not quite want it badly enough, though, then this team will struggle to make the playoffs, and won't be a factor if they do make it.
I have them written in as a playoff team, but I've only written it in pencil because it would be easy for them to change my mind. No matter what, though, this just isn't a team that will be playing deep into the spring as it currently stands.
Doc's Sports is geared up for another profitable NHL picks season. Picks will be available starting Oct. 7. We have one of the premier NHL handicappers in the business and he is based out of Canada and he knows the sport inside and out after betting the sport for years. Early Bird specials will be posted soon, so check our homepage regularly.. Also, check our home page daily updated NHL lines, hockey betting articles and daily matchup reports.