2009-10 Ohio State Buckeyes Football Predictions
by Doc - 8/19/2009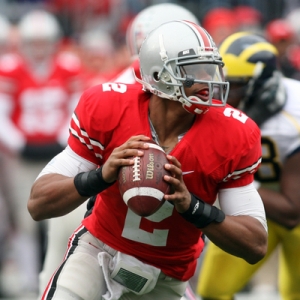 2009-210 Ohio State Buckeyes Football Predictions: (10-2, 6-2 in Big Ten)
Coach Jim Tressel always has a team capable of winning the Big Ten and being a National Championship contender and this year will be no exception. They will face a true test on Sept. 12, as this home-and-home series with the USC Trojans is completed with a night game in Columbus. USC won, 35-3, in 2008 but the Trojans will not have QB Mark Sanchez along with eight defensive starters. That being said, like the Buckeyes, USC does not rebuild, they just reload. This should be an outstanding game and I believe that the homer has a real good chance to win.
In Big Ten action, Sept. 26 will be a big game for Ohio State as they open the conference season hosting Illinois. The Illini should be much improved in 2009 and will enter this game off of a bye, which will allow them to get healthy. One must remember that Illinois went into Columbus in 2007 and handed the Buckeyes their only loss of the regular season. The visitor has won eight of the last nine games in this matchup with Illinois winning three of the last four in Columbus. Although Illinois lost by double digits last year, they did outgain Ohio State by 100 yards and I have this game as one of the two conference losses Ohio State will suffer.
After this game the Buckeyes have a favorable schedule and I see a trip to State College on Nov. 7 as their only other setback. They do have a tough finish with games against Iowa and then a trip to Michigan to close the season. If this team can beat USC, look out and they will be a serious championship contender.
2009-210 Ohio State Buckeyes Football Predictions
Strengths: The Buckeyes have one of the best quarterbacks in the county in Terrelle Pryor. He was pretty raw last year as a true freshman and should be much improved as a passer in 2009. All of the Buckeyes tough games in the early season are at the Horseshoe and that bodes well for this young team.
Weakness: The real weakness comes with inexperience on both sides of the football. They will have to replace RB Beanie Wells along with their top two receives. The Buckeyes seem to also produce top-notch place kickers and it will be interesting to see if Aaron Pettrey can follow up a strong season by Ryan Pretorius.
Favorable line to play: Wisconsin at Ohio State (Oct. 10). With four games under their belt by this time, the Buckeyes should be ready for one of those old beatings at the Horseshoe. I just cannot see this Wisconsin team competing in this type of hostile environment. The Badgers will enter this game off a tough border battle at Minnesota and laying double digits will not deter me.
Favorable line to play against: Illinois at Ohio State (Oct. 17). As I previously stated, the visitor has dominated this series and if that holds true again, I feel the Illini could win the Big Ten. The best two quarterbacks in the Big Ten will battle and Illinois will be an underdog. I will side with the experienced QB in Juice Williams and would not be surprised in Illinois wins this one straight-up.
---
Most Recent Fall Football Preview