2023 Ohio State Buckeyes Football Predictions and Betting Odds
by Matt Zitt - 8/4/2023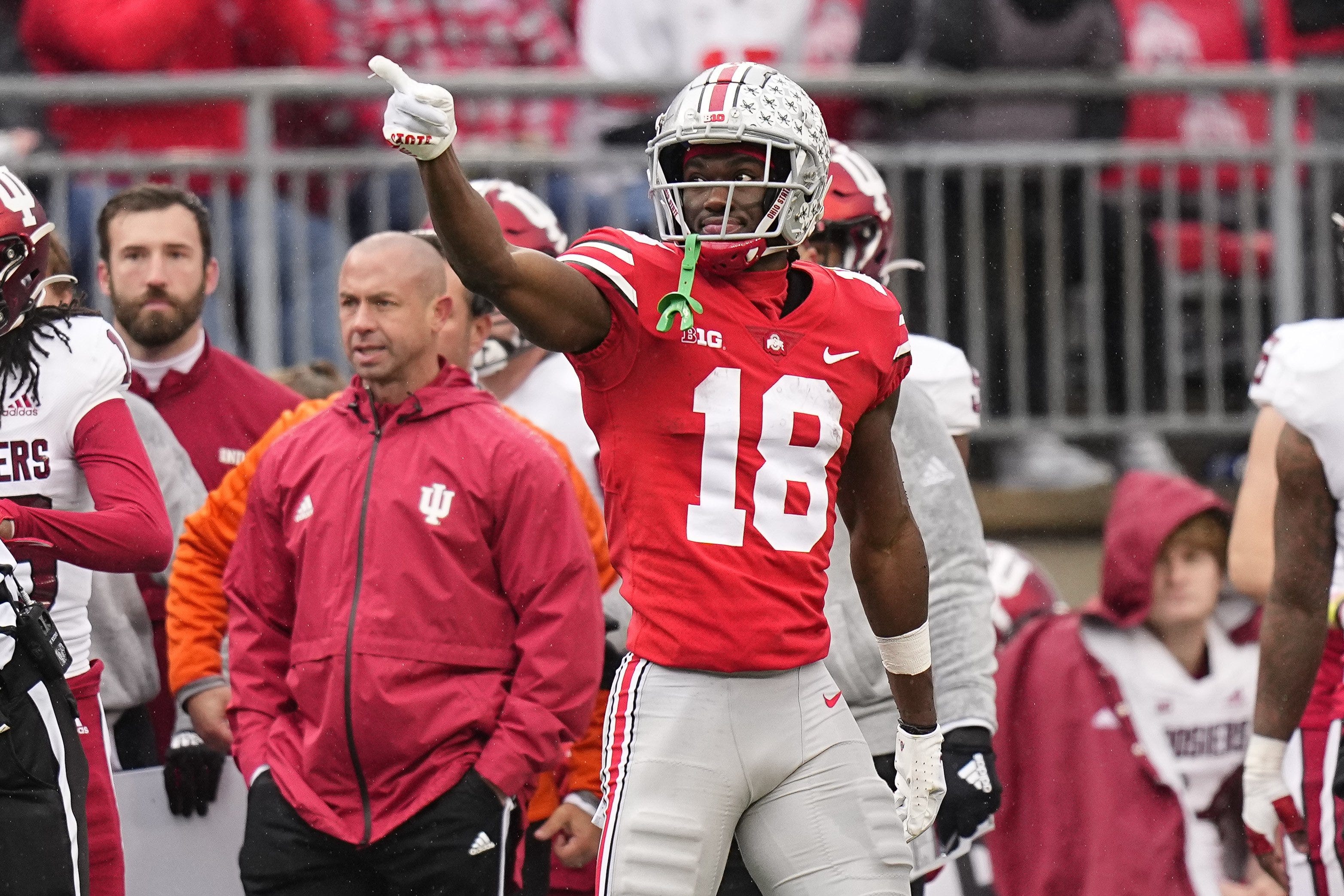 2022 Record: 11-2 overall, 8-1 in Big Ten
Head Coach: Ryan Day, 5th year: 45-6
There's Georgia, there's Alabama, there's Ohio State. Those three are the epitome of college football right now. Because they're on another level of talent, they're the givens. They're the ones that anybody can predict will be in the College Football Playoff -- the four-team version -- and probably not be wrong.

Ohio State was a missed field goal -- or one late defensive stop -- away from winning the 2023 National Championship. It might not have gone 65-7 on TCU, but it wouldn't have been a whole lot prettier. Day and Ohio State lost to Michigan in each of the last two seasons. Ryan Day is 29-0 against EVERYONE ELSE in the Big Ten, and 2-2 against Michigan.
Doc's Sports offers college football picks for every game on our college football predictions page.
Buckeyes Offensive Outlook for 2023
The Ohio State offense has been devastating for a long, long time. That's what happens when you always have pro players around. No. 2 last year in scoring offense, No. 9 in total offense and no. 2 in passing efficiency. The team hung up 467 yards and 41 points on Georgia.

Terrelle Pryor, Braxton Miller, JT Barrett, Cardale Jones, Justin Fields, CJ Stroud. Along with the current Alabama run, that's about as good as it gets when it comes to a high-end succession of quarterbacks. Would it be nice to still have Quinn Ewers around? Yeah, but Devin Brown has superstar potential, and there's always the next Five-Star guy waiting in the wings. However, this appears to be Kyle McCord's time. He's a 6-3, 215-pound pure passer with NFL upside, and he's been around the system long enough to be ready to be the next OSU QB up. Is he going to be as smooth, calm, and have the same vision as Stroud? That's asking for the world, but he'll put up massive numbers behind one of the nation's best offensive lines.
The receiving corps is once again loaded with guys who'd be No. 1 targets on some NFL teams. Marvin Harrison Jr. won't be the first pick selected in the 2024 NFL Draft, but he'll be in the conversation. Emeka Egbuka is a solid number two receiver. Julian Fleming is more than just a No. 3 receiver -- third on the team with 533 yards last year - Lorenzo Styles is a dangerous get from Notre Dame, and Cade Stover is an NFL-caliber tight end who finished third with 36 catches. And it's Ohio State. It's way deep with young talent waiting to shine.

Miyan Williams and TreVeyon Henderson seem like they should've been in The League a long time ago, but they're still rolling with one of the best 1-2 rushing combinations going. Henderson was banged up a big last year, but he was still effective when he got his chances. Williams is more than just a normal fill-in -- consider them 1A and 1B on the depth chart -- averaging 6.7 yards per carry over his career with 15 touchdowns last season.
Buckeyes Defensive Outlook for 2023
The secondary got ripped up when it counted. Penn State's Sean Clifford threw three picks, but he also threw for 371 yards and three touchdowns in the Buckeye win. Michigan and Georgia each averaged over 11 yards per pass.

Denzel Burke is a future NFL corner, and Davison Igbinosun is coming in from Ole Miss to handle the other side. However, I picked off as many passes last season as the Buckeye corners did. Lathan Ransom and Josh Proctor are solid safeties, but again, the picks -- Ransom came up with one.

The linebackers are studs. Tommy Eichenberg led the team with 120 stops and 12 tackles for loss, Steele Chambers was second with 77 tackles, and they're about to do it all again with Cody Simon a good veteran behind them.

The line might not be the team's biggest strength, but it's not far off. The end combination of JT Tuimoloau and Jack Sawyer is ferocious - Tuimoloau is the one guy other than a receiver with an honest shot of being the first Buckeye off the NFL board - and the tackle combination of Michael Hall, Ty Hamilton, Tyler Williams, and Ole Miss transfer Tywone Malone will be a wall.
Ohio State Buckeyes Season Prediction, Win Total, Best Bets

Talent-wise, there are only two teams on the schedule that can hang with Ohio State -- Michigan and Penn State. There are only two other teams that have enough in the bag, the right style, and the upside to pull off a win if their respective A Games are firing -- Notre Dame and Wisconsin, and both of those are on the road. And there are three other teams that could absolutely pull off something stunning if Ohio State is napping -- Maryland, Minnesota, Michigan State -- but all three of those are at home.

We're dealing with hair-thin margins here considering Ohio State is about winning the national title. That's the bar, and it's not asking for anything it can't jump over. This team can absolutely beat 2023 Georgia, Alabama, LSU, Michigan, Clemson, USC, or anyone else you want to throw in there.
2023 CFN Preseason Prediction: 10-2
2022 Record: 11-2

Aug 26 OPEN DATE
Sept 2 Indiana W
Sept 9 Youngstown State W
Sept 16 WKU W
Sept 23 at Notre Dame W
Sept 30 OPEN DATE
Oct 7 Maryland W
Oct 14 at Purdue W
Oct 21 Penn State L
Oct 28 at Wisconsin W
Nov 4 at Rutgers W
Nov 11 Michigan State W
Nov 18 Minnesota W
Nov 25 at Michigan L
Ohio State Buckeyes Football Best Bets
To win the Big Ten Championship Game +165
To win the National Championship +650
Marvin Harrison Jr. to win the Hesman +2000
Get college football picks on every single game, or if you want our very best bet premium picks by the experts, sign up for your free $60 account with a guarantee.