2011-12 Pittsburgh Penguins Predictions with NHL Futures Odds
by Trevor Whenham - 9/28/2011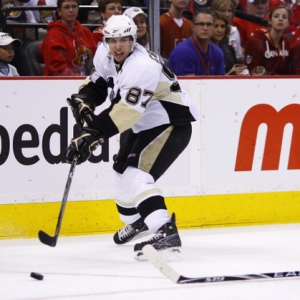 How is Sidney Crosby's head? That's what this season really comes down to for the Penguins. If the best player in hockey can return to action, feel no lasting effects from his concussion issues, and return to form then this team is no worse than the second best team in the league. If he misses another big chunk of time, though, or he isn't the player he was before he was hurt then this is just another pretty solid team that could be a playoff threat if everything goes their way.
The problem for hockey handicappers at this point is that it's hard to know what the truth is with Crosby. He's participating in scrimmages, but not contact ones, and he is not expected to be ready for the start of the season. Hopefully the face of the league gets to play in the league again soon. It's just not the same without him.
Pittsburgh Penguins Offseason Moves
It wasn't a wildly active offseason. Losing Maxime Talbot to hated Rivals Philadelphia hurts, but it's far from a fatal blow when the team has three of the better centers in the league already on the roster. Forwards Jason Williams and Steve Sullivan are solid additions who could fit in nicely. The team largely stayed with what they had last year, and that's certainly not a lousy idea given what they have.
2011-12 Pittsburgh Penguins NHL Outlook
While Crosby is the biggest story, the health of Evgeni Malkin is a big story as well. He was hurt for much of last year, and he is not as effective as he can be when he is at his best. He's healthy now, and it is important to this team that he stays that way.
Chris Kunitz is yet another very valuable player for this squad who has missed a lot of time -- 48 games in two years -- and needs to find a way to stay healthy. The general theme I'm sure you have sensed by now is that this team has been incredibly unlucky when it comes to injuries the last couple of years, and the ability to stay on the ice is crucial to the success of this team.
One very interesting player to watch this year will be James Neal. The 24 year old had at least 20 goals per year in his first three seasons in Dallas, but was largely ineffective after being acquired with 20 games to go last year. He's penciled in to play with Crosby, though, and he has huge offensive upside if that happens. Veteran Steve Sullivan, a new addition, could get a shot to play with Crosby as well.
Kris Letang is one of the most under-appreciated defensemen in the league, and it is fair to expect another strong season from him. He's the quiet leader of a defensive corps that is solid but not nearly as flashy as the units some teams have. They lack the eternal Norris Trophy contender that some elite teams have, but it is still not a serious concern.
Simon Despres, a first-round pick in 2009, is a guy who could get a chance to join the blue liners, and who could be productive if given that chance. Despres is one of the two rookies who could make some real noise. The other is winger Eric Tangradi. He played 15 games last year before going down to the curse of the Penguins -- a concussion. His upside is high, and that experience and his restored health means hopes are reasonably high for him this year.
2011-12 Pittsburgh Penguins Schedule
If Crosby is able to return early in the season then the game against Washington on Oct. 13 will be a gem. These teams hate each other and virtually every time they meet it's a classic.
The Pens and the Flyers meet on Dec. 29 for the first time. Not only is that another rivalry game, but it marks the return of Jaromir Jagr to Pittsburgh. Jagr spurned the Pens in favor of the Flyers in his comeback this year to add extra intrigue to the matchup.
Pittsburgh Penguins NHL Futures Odds (from Bodog)
The Penguins have the second lowest odds to win the Stanley Cup at 10/1. Only Washington and Vancouver at 7/1 are deemed more likely to win. The degree to which you are optimistic about Crosby will determine how attractive this price is. They are the second choice to win the Eastern Conference at 9/2.
2011-12 Pittsburgh Penguins Predictions
I'm uneasy about the health issues on the team, and not that optimistic about Crosby in the short term. Still, the amount of talent these guys have -- and the experience and success the squad has had -- will be tough to look beyond.
If Crosby does return and is healthy then he is going to be highly motivated. Malkin should be looking to make some noise as well, and Neal should take a big step forward. Add in the fact that Jordan Staal could play a full year and you have a dizzying amount of talent.
If all goes well then this team and Washington are head and shoulders above everyone else in the East. Washington is slightly better in my eyes, but Pittsburgh is, as they have long been, a very serious contender to win the East. I am bullish -- unless Crosby is in rough shape.
Doc's Sports is geared up for another profitable NHL picks season. Picks will be available starting Oct. 7. We have one of the premier NHL handicappers in the business and he knows the sport inside and out after betting the sport for years. Early Bird specials will be posted soon, so check our homepage regularly.. Also, check our home page daily updated NHL lines, hockey betting articles and daily matchup reports.