2019 Preakness Stakes Trivia Questions and Answers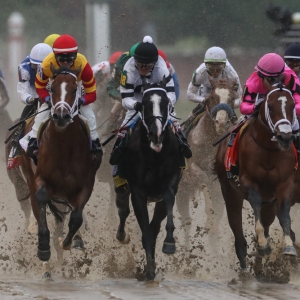 The Preakness Stakes is, by definition, a Classic. It is also often a classic race, and it has been the sight of some incredible history over the years. It often gets overshadowed by the other two -- the Kentucky Derby is the greatest of all races, and the Belmont is where Triple Crowns are won and lost. As a result, the stories and legends of the Preakness can be more obscure. But I still love them. And to share some of those stories, here are five Preakness trivia questions and answers for you. If you get three right, you can call yourself a Preakness winner. All five and you can claim the Triple Crown.
1. The Kentucky Derby is the Run for the Roses, and the winner gets a giant garland of the red flowers. The Preakness winner gets Black-Eyed Susans -- or so they would like us to believe. In truth, Black-Eyed Susans bloom at the end of the summer, so they use an imposter flower in the champion's garland. It's all a big lie. What kind of flowers do they actually use?
a) Sunflowers
b) Viking daisies
c) Goldenrod
d) Blanketflower
2. The Kentucky Derby comes before the Preakness. It's how it is supposed to be. In the early days of the Triple Crown, though, the order of the two races was actually reversed in multiple years. How many times did this happen?
a) 4
b) 7
c) 10
d) 11
3. Bob Baffert brings Improbable to the Preakness this year as the likely favorite. He has won this race seven times -- and though I am too lazy to check, I would guess it has been with the favorite at least four or five times. Seven wins -- Triple Crown winners Justify and American Pharoah, Derby winners Silver Charm, Real Quiet, and War Empire, as well as Point Given and Lookin at Lucky -- has him tied for the all-time most, so he has a chance to make history here. Who is he currently tied with?
a) R. Wyndham Walden
b) D. Wayne Lukas
c) Ben A. Jones
d) Johnny Longden
4. The last time the Preakness did not feature the Kentucky Derby winner was 1996, when Grindstone was injured after the Preakness and unable to continue -- really injured, not the lame excuses trotted out by the connections of Country House and Maximum Security to duck the race this year. Bob Baffert was favored in that 1996 Preakness as well with Cavonnier, who wound up fourth after a second in the Derby. Louis Quatorze won the race that year, but it was the runner-up who went on to win the Breeders' Cup Classic later in his career. Who was it?
a) Cigar
b) Alphabet Soup
c) Awesome Again
d) Skip Away
5. There have been some impressively dominant wins over the years in this race. None though, was more impressive than the year that a colt ran away to win by 11 1/2 lengths. You have to tell me who it is, but I will give you a hint first -- it was done in the last 25 years by a horse that had previously won the Derby. Who was it?
a) Silver Charm
b) Big Brown
c) Smarty Jones
d) American Pharoah
Answers
1. B - Viking daisies. They pull off this elaborate deceit because the Black-Eyed Susan is the state flower of Maryland. True flower lovers will know that the Black-Eyed Susan is one of a very small handful of flowers that grow naturally in all 48 contiguous states, and all 10 Canadian provinces.
2. D - 11. It has not happened in the opposite order since 1930. The strangest year was 1890 when the Preakness and the Belmont were on the same day. Anyone who says their relative won the Triple Crown that year is just lying to impress you.
3. A - Walden. I don't blame you if he isn't a household name, though -- the last of his seven wins came in 1888. D. Wayne Lukas was a pretty good guess if you picked him -- he was tied with Baffert until last year with six wins. And while Johnny Longden only had two wins as a trainer, he can also claim two wins in the race as a jockey -- including as part of a Triple Crown for Count Fleet in 1943. Longden grew up in Alberta, the same Canadian province I am currently writing this in. That is obviously the key to all his success.
4. D - Skip Away. He had a heck of a racing career, being named three-year-old champion in 1996, older horse champion the next year after winning the Classic, and Horse of the Year in 1998. Unfortunately, his greatness did not carry over to the breeding shed. The third-place finisher in the Preakness in 1996, Editor's Note, went on to win the Belmont that year.
5. C - Smarty Jones. He was a very heavy favorite, paying $3.40, which was much higher than he would have paid in the Belmont if he hadn't been beaten by Birdstone in shocking fashion. Smarty Jones was trained by John Servis. In a link to this current frustrating Triple Crown season, John is the brother of Jason, the trainer of Maximum Security, the Derby winner who wasn't.
Doc's Sports is offering $60 worth of free member's Preakness Stakes picks absolutely free - no obligation, no sales people - you don't even have to enter credit card information. You can use this $60 credit any way you please on any of our top horse racing handicappers. Get $60 worth of premium members' picks free .
Read more articles by Trevor Whenham