2012 SEC Football Predictions
by Robert Ferringo - 8/6/2012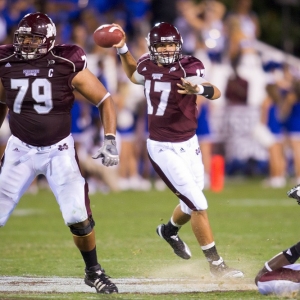 What is left to say about the SEC that hasn't already been said?
The conference already cast the longest shadow in college football even before poaching Big 12 expatriates Missouri and Texas A&M. Now the league that owns the last six BCS national titles has taken the next step to mega-conference and they are the odds-on favorites to provide the sport with this year's champion.
Here is a look at my 2012 SEC football predictions and futures odds, with the college football odds courtesy of 5Dimes:
The Favorite: Alabama (+225)
Well, whether they deserved it or not (and I am still in the camp that there is NO WAY that Alabama should have been playing in the national title game last season), the Crimson Tide are the defending champions for the second time in three years. With the talent on their roster they simply reload and continue to thump people. This year won't be any different.
The Tide likely has the best offensive line in football, with a trio of three-year starters and four returning starters. Everything on offense will fall in place because they will simply manhandle people at the point of attack.
Defensively they lost their three best players and best leaders. But they have five three-year starters back for that group, and all that quartet has done is go 36-4 during their tenure.
Alabama does have a pretty vicious schedule and I don't see an undefeated season. But they are still a clear Top 10 team and will be in the title mix again.
The Challenger: LSU (+230)
LSU still has to have a bitter taste in its mouth after doing everything last year – excepting winning the one game "that counts" against Alabama.
The Tigers have the most talented and the most athletic team in the country. But they still have questions in their own right. LSU was No. 106 in the nation last year in passing offense and, really, their best offense was a mix of their defense and their special teams.
LSU is another team that has four starters back on the offensive line and that will just wreck people with their running game.
Defensively, Tyrann Mathieu is a Heisman contender from the corner slot and LSU just swarms people.
The Tigers have some tough SEC road games (at Auburn, Florida, Texas A&M and Arkansas), but they get South Carolina and Alabama at home. Again, I don't see this team going unbeaten. But they are among the Top 10 teams in the nation and they will be a constant threat for some titles.
The Dark Horse: Florida (+1500)
I feel like a lot of people are sleeping on the Gators. They were almost grudgingly put in the preseason Top 25 at No. 23 and they are considered kind of a longshot to win the SEC. But this team has 17 starters back, including 10 back from the No. 8 defense in the country.
They were atrocious on offense last year, finishing No. 105 in yards gained. And they absolutely have to get better on that side of the ball. They are having a heated quarterback competition this fall and they need either Jeff Driskel or Jacoby Brissett to really step forward and establish themselves. If this team can find ways to score they have every bit the athleticism and talent that LSU and Alabama boast.
Florida has to leave its home state only one time after Sept. 16 and they get two weeks to prepare for LSU in The Swamp. If they win that game (and escape a tricky Sept. trip to Knoxville) then Florida really could be in a great position not only as a dark horse to win the SEC, but to win the national title.
The X-Factor: Arkansas (+1100)
I'm not that high on Arkansas this year. I know a lot of people really like Tyler Wilson. But I think he was the beneficiary of one of the best receiving corps in the country last year.
There is also a major issue with the loss of Bobby Petrino to scandal in the offseason. John L. Smith is an absolute nutcase. And I have very little faith that he can keep the Razorbacks focused all season.
Arkansas' only losses the last two years have come against Top 5 teams. And they host both LSU and Alabama this year.
They have too many question marks to be considered a real threat to win the SEC. But they should still be a major player in the West.
The Disappointment: Georgia (+525)
I think that Georgia is the most overrated program in the country. Because they are the home team for the unofficial capitol of the SEC, Atlanta, the Bulldogs really get a lot more hype than they ever deserve.
They have only beaten Florida three times in 14 years. They haven't won a national title and have just two SEC titles over the last 30 years. They've finished the year unranked in two of the last three years and have only beaten their preseason ranking once in the last five. Yet there they are: Preseason No. 6. It is ridiculous.
Georgia lost stud runner Isaiah Crowell over the summer and they have had a bunch of distractions in the way of suspensions.
I am not as keen on Aaron Murray as a lot of people and I think Georgia is headed for another 8-4 regular season and an unassuming bowl game. They are not a legit title contender but they are treated as one.
I'm betting against the Bulldogs this year.
The Rest:
South Carolina (+1250)
I think that the Gamecocks will benefit from their first non-Stephen Garcia season in a long time. Hopefully a lack of drama under center and the return of Heisman candidate Marcus Lattimore can stabilize the nation's No. 74 ranked offense in total yards. If so, the Cocks' have a load of talent back from the nation's No. 3 defense and they feature perhaps the best pair of defensive ends in the country.
USC has to play LSU and Florida on the road and they have tough home games against Georgia and Tennessee – and all four of those games come in October.
It should be another strong year in Columbia.
Tennessee (+5500)
Injuries submarined my SEC sleeper in 2011. But if the Volunteers get absolutely anything out of their weak offensive line then this is a team that I think will make a serious move in the SEC East.
Tyler Bray might be the best quarterback in the league and if receiver Justin Hunter is back healthy from knee surgery he could be a breakout player.
The Vols have 19 starters back but are actually even more experienced than that since they are bringing back some key guys from injury. If they can spring an upset at home against UF or at Georgia in the opening month then this team could be 4-1 and brimming with confidence.
I'm calling for eight wins and a Top 25 finish.
Texas A&M (+6000)
It is tricky to figure out how A&M will fit into the SEC. However, they were a second-tier (at best) team in the Big 12 so I don't expect anything positive to happen overnight.
They have a new coach, new systems on both sides of the ball, and a redshirt freshman at quarterback. Needless to say, there will be plenty of growing pains in their first trip through the SEC.
If Johnny Manziel can find his footing there is a load of experience on offense with six three-year starters and a pair of really good receivers in Ryan Swope and Uz Nwachukwu. But if this team is going to do anything this year they will need to learn to play defense.
They have a stretch of three straight roadies late in the year after a home game against LSU.
This season may start well but I think it is going to end with an ugly October and November.
Missouri (+6000)
Like A&M, Missouri is trying to adjust to the new digs. And like the Aggies the Tigers have a schedule that allows a little room for error. They have to play at South Carolina, at Florida and at Tennessee, and they have rough home games against Georgia and Alabama.
Missouri does have an experienced, athletic quarterback in James Franklin and a very talented and stable coach with Gary Pinkel. I think those are two huge advantages for the Tigers.
This team has averaged eight wins per season over the last decade – in the Big 12. But if they stay healthy I think they can spring an upset or two and reach that mark again this season.
Kentucky (+30000)
The Wildcats had fashioned a decent little program from 2006-2009, but as the Joker Phillips regime enters its third season I wouldn't say that things are heading in the right direction for this group.
The Wildcats were routinely routed last year, losing by four touchdowns or more four times in eight league games (including a bizarre 38-8 loss at Vanderbilt). They have only 11 returning starters back. And even though they dodge LSU and Alabama from the West I still don't think that this team is going to get the six wins it needs to go bowling.
Vanderbilt (+10000)
The Commodores showed a lot of improvement last year, going 6-7 and making their first bowl game since 2008. Now Vandy welcomes back 15 starters and has one of the more experienced rosters in the league.
Coach James Franklin seems to have already succeeded in changing the culture around this program – making it known with his actions and words last year that the Commodores are not going to roll over for anyone.
They lack depth and overall athleticism. But they have a lot of winnable games on the schedule, even if most of them are on the road.
They want people to take them more seriously. We'll see how they handle it when people do.
Mississippi State (+4500)
I felt like the Bulldogs were big underachievers last year, and I am curious if they can bounce back up this season.
MSU has an excellent receiving corps. And if new quarterback Tyler Russell proves to be a better, more consistent passer than Chris Reif this offense could have a whole new approach.
They should again be physical on both sides of the ball, and they will need to figure out how to win some close games if they want to go bowling for the third straight season.
But MSU probably has the toughest schedule in the league and one of the toughest in the country.
Mississippi (+30000)
I am very intrigued with this team from a college football betting standpoint. They still won't be all that good. But they should be much more disciplined and organized.
And this group isn't completely devoid of talent. They have 16 starters back and will try to rally around JUCO Player of the Year Bo Wallace or junior Barry Brunetti at quarterback. Whoever wins that competition will have a lot of speed at the skill positions to work with. And if this team can be better about turnovers I think that they will be sneaky at the window while being on the receiving end of a lot of huge spreads.
Their schedule will prevent them from a bowl game but that doesn't mean that they can't be an earner for us.
Auburn (+3200)
I really thought the Tigers overachieved last season. They had only six returning starters and a rough schedule but still managed to win eight games and a bowl.
They welcome back 15 starters this year, but I'm still hesitant to buy into this group overall. Three of their wins were by a touchdown or less and I felt they should've lost all three of them.
They also lost genius OC Gus Malzahn, but they do welcome in former Falcons DC Brian VanGorder. That means two new systems for a team that looked a little lost at times last year.
Auburn does have a soft nonconference schedule outside of the season opener against Clemson. And they get most of their toughest games at home.
But I still don't see this team making its way into the top tier of the brutal West.
2012 SEC football Predictions: Predicted Order of Finish
SEC East
1. Florida
2. South Carolina
3. Tennessee
4. Georgia
5. Missouri
6. Vanderbilt
7. Kentucky
SEC West
1. Alabama
2. LSU
3. Arkansas
4. Auburn
5. Mississippi State
6. Texas A&M
7. Mississippi
Robert Ferringo is a professional handicapper and has posted back-to-back profitable seasons (college and pro). Robert has turned a profit in three of four football seasons and over the last nine months his clients have earned nearly $10,000 in profit with his football selections. He is looking forward to building on his stellar football handicapping resume again this fall and you can check him out here. Also, you can also get $60 worth of free Robert Ferringo member picks (no salesman, no credit card, no obligation!) by clicking here for more info.