2023 Texas Longhorns Football Predictions and Betting Odds
by Matt Zitt - 8/8/2023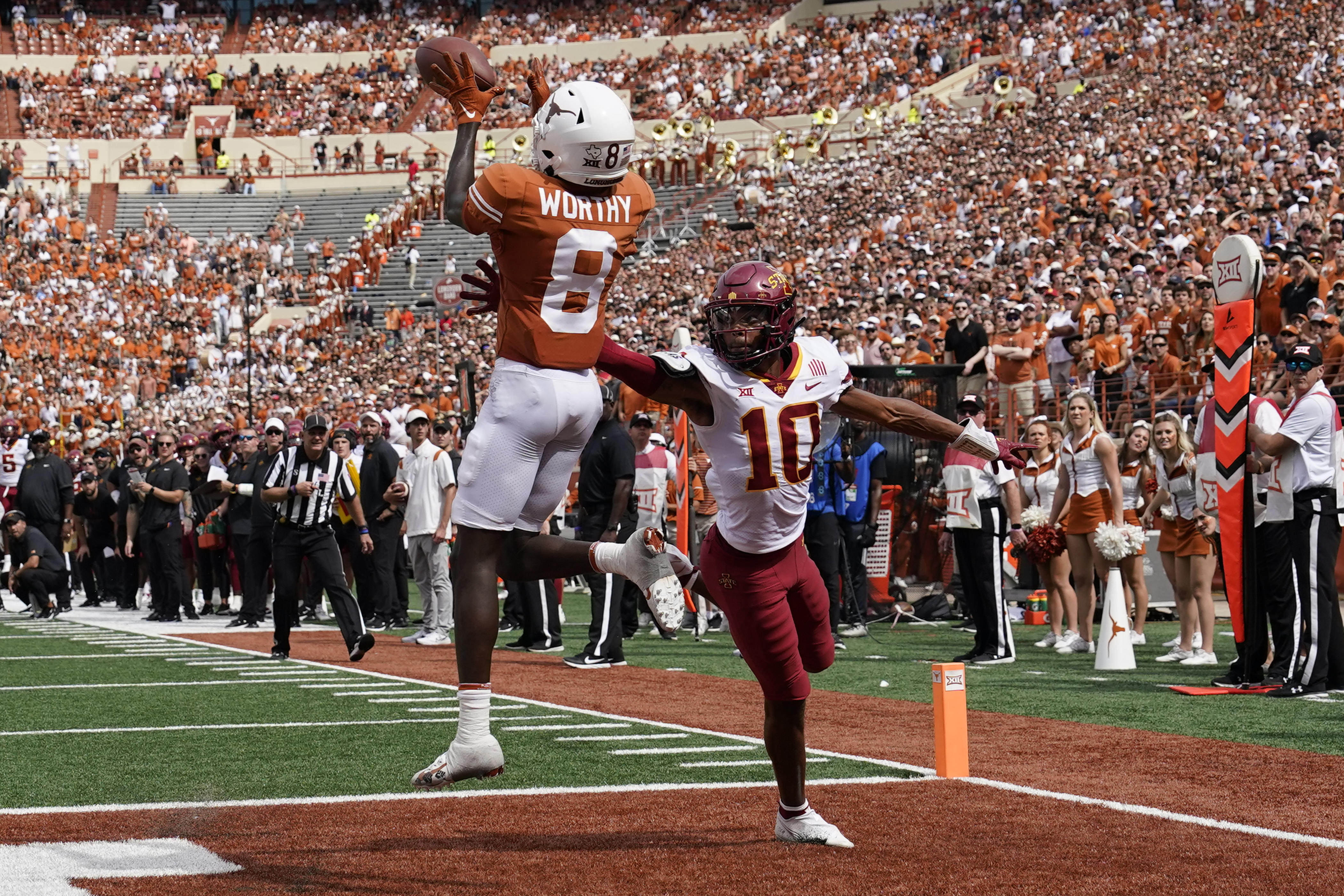 2022 Record: 8-5 overall, 6-3 in Big 12
Head Coach: Steve Sarkisian, 3rd year: 13-12

This Texas Longhorns team has the make-up and talent to finally break the unforgivably mediocre streak. Talent-wise, momentum-wise, and vibe-wise, this should be the best Longhorn team in a long, long time - and not just because it signed Arch. A record of 8-5 -- what it went last year -- isn't good enough for this program, but it lost in the final moments in a fight against Alabama, lost by three at Texas Tech, by seven in a firefight with Oklahoma State, 17-10 to TCU, and 27-20 in a good bowl game against Washington. The team was 2-5 in one score games, and it has as many if not more high-end playmakers on both sides of the ball than anyone in the Big 12.
Doc's Sports offers college football picks for every game on our college football predictions page.
Longhorns Offensive Outlook for 2023
The offense should be more explosive and even more dangerous down the field with a loaded group of receivers, three potential superstar quarterbacks, and everyone of note expected to be back up front. The O should be relatively injury-proof if there isn't a rash of problems on the line, and there's no reason to finish fifth in the Big 12 in total offense and third in scoring. There's too much pop to be so inconsistent.

There's no replacing Bijan Robinson. When Texas runs, Texas wins, and it doesn't have the Atlanta Falcon starting running back and his 1,580 yards and 18 touchdowns around anymore. Jonathon Brooks, Jaydon Blue, and Keilan Robinson should form a strong rotation, with Brooks about to explode on to the scene.
The starting five up front should be the best -- at least most experienced -- in the Big 12. Tackles Kelvin Banks Jr. and Christian Jones lead the way, but there's potential All-Big 12-caliber seasons coming from all five spots on a line that was the second best in the Big 12 in sacks allowed. The depth is a tad thin, but there's young talent waiting in the wings.

The receiving corps will be devastating. Xavier Worthy caught 60 passes for 760 yards and nine scores, Jordan Whittington made 50 grabs, and TE Ja'Tavion Sanders is in the Mackey Award mix coming off a 54-catch, five-TD season. Georgia's Adonai Mitchell is coming in to be a part of the fun, and returning from a torn ACL that cost him all of last season is former Wyoming transfer Isaiah Neyor, a flash of lightning who averaged 20 yards per grab with 12 scores in 2021 with the Cowboys.

There's no wrong answer here in the quarterback battle. Quinn Ewers is likely the main man to start the season, but he must be more consistent. The NFL tools are there -- he hit Washington for 369 yards in the bowl loss, and he was picking apart Alabama before he got hurt -- but his struggles against Oklahoma State and TCU were costly in the losses. Arch Manning should get a year to be around the system, but yeah, he's for real beyond the last name. And then there's the wild-card in all of this. Maalik Murphy is a 6-5, 235-pound rock with the size, arm, and upside to be deep in the hunt for time.
Longhorns Defensive Outlook for 2023
The defense doesn't have quite the same level of talent as the offense, but it's full of veterans from a group that finished second in the Big 12 in total and scoring defense and was great at getting into the backfield. There were a few blown tires in losses to Oklahoma State, Texas Tech, and Washington, and there needs to be more of a pass rush to go along with the tackles for loss, but it was the first time since 2014 the defense allowed fewer than five yards per play.

The secondary might be the most interesting position group on the team other than quarterback. It has returning veterans in safeties Jerrin Thompson and Jahdae Barron -- he's always all over the field -- and corner Ryan Watts is great, but there need to be more big plays. Those three combined for four of the team's 10 interceptions. Wake Forest transfer Gavin Holmes will be thrown into one corner spot to handle the speed receivers, and big-hitting Arkansas transfer Jalen Catalon steps in at safety.

If the new guy is really that good, this linebacking corps will be strong. Jaylan Ford is an All-Big 12-caliber tackling machine with a team high 119 stops in the middle, and David Gbenda is around for his fifth year of work, but the spotlight is on Anthony Hill, a superstar recruit who might not have received the national hype of Arch but should make more of a Year One impact.
Texas Longhorns Season Prediction, Win Total, Best Bets

If you took out the recent history of failing to play up to the talent and overall expectations and just looked at the starting 22, Texas should be deep in the mix for a conference championship and a College Football Playoff appearance. This team is certainly more talented than 2022 TCU, and it has the firepower to go into Tuscaloosa and shock Alabama in Week 2.

There's just one home game -- Kansas on September 30 -- between mid-September until October 21, back-to-back road games against TCU and Iowa State are a problem, and Oklahoma isn't going to be the same speed bump it was last year. That, and it's asking for everything to come out of Alabama with a win.

Assume a loss to the Tide, and someone else will catch the Longhorns somewhere along the way when things don't click quite right. With no free-space games in the Big 12, there are enough 50/50 battles to worry about one extra slip somewhere. However, even if 9-3 isn't quite what everyone wants, it would be the second season with nine regular season victories since 2009.
2023 CFN Preseason Prediction: 10-2
2022 Record: 8-5

Aug 26 OPEN DATE
Sept 2 Rice W
Sept 9 at Alabama L
Sept 16 Wyoming W
Sept 23 at Baylor W
Sept 30 Kansas W
Oct 7 Oklahoma (in Dallas) W
Oct 14 OPEN DATE
Oct 21 at Houston W
Oct 28 BYU W
Nov 4 Kansas State W
Nov 11 at TCU W
Nov 18 at Iowa State L
Nov 24 Texas Tech W
Best Bets
To win the Big 12 Championship Game +100
To win the National Championship Game +2200
Get college football picks on every single game, or if you want our very best bet premium picks by the experts, sign up for your free $60 account with a guarantee.