2011-12 Washington Capitals Predictions with NHL Futures Odds
by Trevor Whenham - 9/29/2011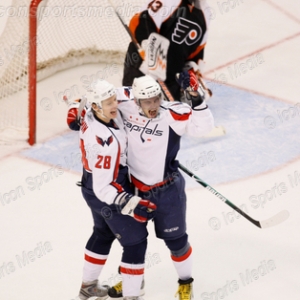 I'll say it up front -- I think that the Capitals are the best team in the NHL right now. That's a dangerous position to hold given how good this team has been at finding ways to underwhelm in the playoffs. It's also a concern that the team's offensive productivity fell last year pretty much across the board as they focused more on defense.
Despite all that I am confident in this team. Two years ago they were too offensive. Last year they were too defensive. Neither worked. Bruce Boudreau is a very good coach, though, so I expect him to find a good balance between the two this year -- one that better uses the assets that he has.
And what a group of assets that is -- the combination of Ovechkin, Backstrom and Semin is a s good as any three players any team has, the defense is more than sound, and the goaltending is certainly not a worry this year. This team is very well rounded, and well-rounded teams win championships.
There's one story that stands out to me regarding this team. Defenseman Mike Green was hosting a golf tournament in his hometown of Calgary this summer, and Nicklas Backstrom flew in from Sweden to play in the tournament. GM George McPhee was eager to keep the two star players up to date with the changes the team had made and what they were thinking heading into the next season. He jumped on a plane in Washington, flew across the continent to Calgary, had lunch with the two players, then jumped back onto a plane and flew home. That's not the kind of commitment that most general managers would show, and it shows just how serious this team -- front office and key players -- is about fixing what has gone wrong and reaching their potential.
Washington Capitals Offseason Moves
It was an offseason of aggressive shuffling for the team. No fewer than 10 roster spots were changed around, and some established vets like Jason Arnott, Scott Hannan and Eric Fehr were sent packing and new blood like Troy Brouwer, Jeff Halpern and Roman Hamrlik were brought in instead. That should have a big and likely positive impact on the chemistry and attitude of the team.
By far the biggest and best move, though, involved goaltending. Semyon Varlamov was not a trustworthy goalie, and the team finally acknowledged that. They shipped him to Colorado and signed Thomas Vokoun at a steal of a price. Vokoun was very good for a lousy Florida team, so he could be potentially great behind a team like this one. The addition of Vokoun could prove to be one of the very best moves of the summer.
2011-12 Washington Capitals NHL Outlook
Alexander Ovechkin saw his production fall significantly last year, but I am not worried. He is as talented as anyone in the league, and he'll bounce back strong. The player I am more interested in is Alexander Semin. Semin is as talented as anyone in the league, but he lacks the motivation to consistently perform to his potential. This year should be different, though.
He was signed to just a one-year deal this offseason, so he will be playing for a long-term deal this season. That has motivated many players along the way, and it should motivate him.
If you're looking for a breakout player this year then Marcus Johansson is the obvious choice. The 20-year-old Swede had 27 points in 69 games last year as a rookie, and he was getting significantly better as the season progressed and he starting playing with the second line. He looked like things were clicking for him, and he should be a much more useful factor for the team this year.
John Carlson is a sophomore who we have a much better sense of. The defenseman was very good as a rookie - +21 - and there is no reason to believe he will be nothing but strong this year. He'll be a stalwart on a very deep and effective defensive corps. The addition Roman Hamrlik to that group is an underappreciated move. He's older and he's not flashy, but the veteran just doesn't make mistakes, and is a reliable presence.
2011-12 Washington Capitals Schedule
The first big challenge the team faces is Oct. 10 when the Lightning visit. Tampa Bay humiliated Washington with a four-game sweep in the second round of the playoffs last year. How the Caps react to that challenge will give us a good early indication of the mindset of the team.
Washington Capitals NHL Futures Odds (from Bodog)
The Capitals are tied with the Canucks as the favorites for Stanley Cup odds at 7/1. Compared to Vancouver, at least the Canucks are a bargain at that price. They are also obviously favored to win the Eastern Conference at 4/1.
2011-12 Washington Capitals Predictions
I've pretty much said it all before. The Washington Capitals are the best team in the NHL season this year, and they are in a better position than any other team in the league to win the Stanley Cup. It obviously won't be easy, but it is more likely to happen this year than ever before for them.
Doc's Sports is geared up for another profitable NHL picks season. Picks will be available starting Oct. 7. We have one of the premier NHL handicappers in the business and he knows the sport inside and out after betting the sport for years. Early Bird specials will be posted soon, so check our homepage regularly.. Also, check our home page daily updated NHL lines, hockey betting articles and daily matchup reports.