2009-10 Washington Wizards Predictions
by Robert Ferringo and Nolan Sinclair - 10/24/2009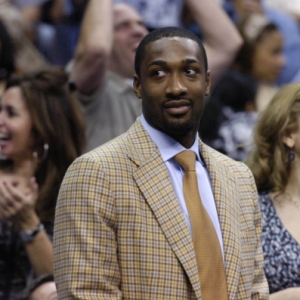 The Washington Wizards have a lot to make up for after their disaster of a season last year. And it all starts with Agent Zero - Gilbert Arenas.
Arenas signed a six-year, $111-million dollar contract and he has only played in two games since he signed his name on the dotted line, and he will have to live up to that superstar contract sooner rather than later. This team has the makings of top four team in the East due to their depth and scoring punch. If I was the Magic, Hawks, Celtics, and Cavs I would be checking my rearview mirror if the boys in the ugly gold uniforms get too close. The old saying of "objects are closer than they appear" could be the motivation behind the Wizards season.
Washington has the best starting lineup that their fans have seen in years and there is good reason to expect great strides. Arenas, who has only played in 15 games since the 2006-07 season, seems to be close to 100 percent and he has played very well this preseason. Arenas will be a key component in the Wizards playoff hopes and he shouldn't disappoint. In his last full season Gilbert averaged 28 points, six assists, and five rebounds. I don't know if he will hit that PPG number but his assists should be closer to 10 than six.
At shooting guard the Wizards will start newcomer Mike Miller. Miller is a solid all-around offensive player that can shoot as well as pass and he should be a solid complement to Washington's new potent offense. With Miller's court vision and Arenas's newfound love with passing as well as scoring the Wizards backcourt could be one of the best in the East.
Not only will the Wizards have a solid backcourt, but they are also stacked at the forward spot. Caron Butler and Antwan Jamison are both former stars that combined to average 42 points and 14 rebounds a game last season, and this was without Arenas and Miller taking the double team off both of them. Now that the Wizards have more options offensively I don't see both of them hitting the 20-point mark but their rebounds, assists, and shooting percentages should all improve this season. Brendan Haywood was the other significant injury last season. I had big expectations for them last season but both Arenas and Haywood missed their return dates and the Wizards failed miserably as a squad. In Haywood's last full season he was close to a double-double guy. If he comes anywhere close to that it would be a huge bonus for Washington.
This season will be something new for Washington in that they are DEEP. Their bench is filled with five guys that can all play significant minutes. Randy Foye, DeShawn Stevenson, Nick Young, Andre Blatche, and JaVale McGee are all under the age of 29, and Stevenson is the only one of the five older than 26 years of age. This group forms one of the better benches in the NBA and their upside can provide the Wizards with a solid core of players that will help them make a possible run to the second round of the playoffs. Due to injuries last year Stevenson, Young, Blatche, and McGee played significant minutes and learned on the fly. This should go a long way in improving the core of this team. The four Wizards combined to average 34 points a game last season and that should go nowhere but up this year. Foye was a big pickup for Washington as well. Miller will grab most of the headlines but it was Foye that averaged 16 points and four assists a game last season for the Timberwolves.
The Wizards lost out on the No. 5 pick this season but the additions of Foye and Miller could improve this team for the next few years if the Washington brass does what they need to do to keep this core together. On paper this Wizards team has a chance to be very good. Health will be the key to their season as Washington hospitals could be filled with Wizards if things don't go well. If things do go well however, this crew could make a lot of noise in 2009-10 and bounce back strong from a crummy season.
2009-10 Washington Wizards Predictions:
2009-10 Odds to Win the NBA Championship: 40/1
2009-10 NBA Regular Season Win Totals: 42.5
2008-09 Washington Wizards Results:
2008-09 ATS:
| | | |
| --- | --- | --- |
| Overall | Home | Away |
| 31-49-2 | 16-25 | 15-24-2 |
2008-09 O/U:
| | | |
| --- | --- | --- |
| Overall | Home | Away |
| 40-40-2 | 21-18-2 | 19-22 |