2011-12 Winnipeg Jets Predictions with NHL Futures Odds
by Trevor Whenham - 10/3/2011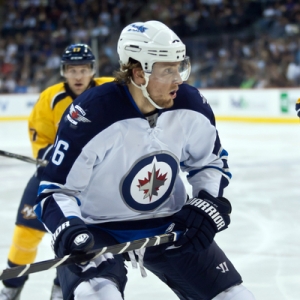 If you have ever met a Winnipeger — and they are everywhere because it seems like everyone leaves the city when they are old enough to do so — you have heard about the Jets. A Winnipeg native is incapable of speaking for more than two minutes without mentioning the Jets. It's a law.
The town was obsessed with their team when the Jets were first there, obsessed with their loss when they left for Phoenix, and obsessed with the possibility of a new team coming to the city — something that seemed very unlikely right up until the point that it happened. Now the Jets are back, and people are giddy.
Season tickets sold out instantly, souvenir sales have been incredibly strong, and tickets for the first games are being traded at ridiculously high prices. These are glory days in Winnipeg.
It's not all peaches and cream when you look beyond the giddiness, though. The new Jets are just the old Thrashers, and that team only made the playoffs once in the last 11 years. They have been far from the best-run team in the league.
The Jets face an uphill battle, too. Though their building is fairly new, it's also small. If they sell out every game they will still be in the bottom half of the league in attendance, and Winnipeg is a small city without a massive corporate base. That all means that the business model for the team has very little room for error.
Also a problem is that the city now sports by far the worst climate in the NHL, and the city is far from cosmopolitan. Attracting free agents will certainly be easier for other teams than it will for the Jets.
That's all the reality that cost the city their team the first time, and it makes the future uncertain now. Let's not rain on their parade now, though.
Winnipeg Jets Offseason Moves
Aside from the obvious move of crashing through cultural barriers that comes from moving from the American south to the Canadian deep freeze, the team didn't really make a ton of changes. Up front the biggest move was the addition of Eric Fehr from the Capitals. He has a 20-goal season to his credit, and will be relied upon for another here.
The defense stayed stable with the exception of the addition of veteran Randy Jones as a depth option. In goal they stayed stable. Basically, this is just last year's Thrashers with much warmer jackets.
2011-12 Winnipeg Jets NHL Outlook
You can't talk about this team without looking at the travel. It's the biggest handicap any team has heading into this season.
The franchise was moved too late for the schedule to be adjusted or for Winnipeg to be moved to a different division. That means that a team that is located well north of Minneapolis will be playing a schedule created as if they were based in Atlanta.
It means an absolutely brutal amount of travel, and some long, grueling road trips that were designed to be short trips for the Thrashers. No team has ever faced travel like this, and travel is very hard on NHL teams. This will unquestionably be a determining factor on the fate of this team.
While the Thrashers haven't been great for, well, ever, the Jets do inherit a whole lot of young talent. Zach Bogosian was the third overall pick in 2008. The defenseman is entering his fourth year — the time when young defensemen often come into their own. He's going to be relied upon to be a big part of a defensive corps that could be pretty solid.
Alexander Burmistrov was the eighth pick in 2010, and should take a step forward after 20 points in 74 games as an 18-year-old rookie last year. Mark Scheifele, the seventh pick this year in the draft, has had a very strong camp, and the 18-year-old center will get a serious look this year even though that's ahead of schedule for him.
The biggest gem of all, though, is Evander Kane, the fourth overall pick in 2009, and a potential franchise player for the team. He jumped from 26 points in 66 games as a rookie to 43 points in 73 games last year, and as a 20 year old now he looks more physically and mentally prepared and could take another big step forward.
There are other young pieces, too, like the players acquired in exchange for Ilya Kovalchuk. It all means that though things will be sloppy and inconsistent for now, the future is very bright for this team if management can keep the core together.
The most positive change has come in management with this team. The Atlanta ownership group was essentially incompetent, but the Winnipeg group couldn't be more passionate. GM Rick Dudley had lost his passion, and Coach Craig Ramsay was lacking. Now new GM Kevin Cheveldayoff and Coach Claude Noel are hungry, creative and energized. It will have a big impact on the team.
2011-12 Winnipeg Jets Schedule
The game to circle here is the home opener against Montreal on Oct. 9. To say that that will be an emotional, boisterous affair is the biggest understatement you can make. The fans are crazed, and they will be out of their minds for this one. It will be a spectacle.
Winnipeg Jets NHL Futures Odds (from Bodog)
Oddsmakers aren't seeing the Jets as a Disney movie in the making. They are at 60/1 to win the Stanley Cup — higher Stanley Cup odds than all but six teams. They are 35/1 to win the Eastern Conference on potentially the only year they play in that group.
2011-12 Winnipeg Jets Predictions
The Jets will be a great story, and the reception they get at home and in other Canadian cities will be fun to watch. The insane crowds should steal them a game or two as well. Ultimately, though, this is a very young team with holes to fill, and a travel schedule that would cripple even the best of squads. A playoff berth would be a major, major upset.
Get on board with Doc's Sports NHL selections. For just $595, you can receive every daily selection that we make from October through the Stanley Cup Finals in June of 2012. Click here to sign up for Doc's NHL picks.