Silver Seven: College Football Teams to Fade or Follow 2018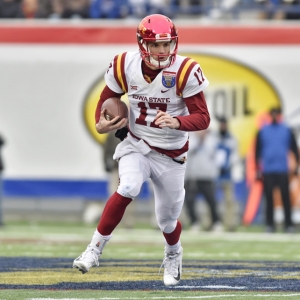 This article originally appeared in the 2018 edition of Doc's Sports Journal.
If I've said it once I've said it 1,000 times: gambling isn't magic, it's mathematics.
The mathematics of college football offers gamblers one of their most daunting challenges. Football's scoring structure, unique among all non-football sports, is one example of football's distinct properties. The limited number of betting opportunities, because football has the shortest schedule, is another.
Like any math problem, football betting comes down to one thing: variables. And no sport has as many variables as college football. When you add up the offensive and defensive starters, their backups, the specialists, the coaches, and the officials, as many as 90 different people can have a drastic influence on whether your wager wins or loses in a given game.
From the nickel corner that gets beaten for a late touchdown to a backup offensive tackle taking a drive-crushing penalty to some second-teamer that makes a crucial error on special teams, there are a lot of different guys influencing your money. And when you compare that to a sport like baseball (20-25 guys) or basketball (15-18 guys) you start to see why college football can be one of gambling's greater challenges.
To counter that, I take a very macro view when it comes to college football betting. Rather than focusing my attention and efforts on handicapping individual players and matchups, I try to see the forest for the trees, looking past the overwhelming details and finding overall patterns and platforms. I handicap teams, not players. And it has made all the difference in my career.
Last year I dedicated this space to laying out my case why the NFL's Oakland Raiders would be a sucker bet and a team to fade. The Raiders didn't come close to beating their season win total, and they finished the season just 6-10 against the spread. This year I'm going to give you some free insight into teams that I am looking to bet on or against this college football season based on some overarching themes.
Here are some teams to fade in 2018:
Iowa State Cyclones - The Cyclones were the best moneymaker in college football last year, posting an outstanding 11-2 record against the spread with four outright wins as an underdog. Their eight straight-up wins were the school's most in more than a decade. But I'll be the first person to get money down betting against Matt Campbell's squad in 2018.
The Cyclones have a brutal schedule this year, including 10 games against bowl teams from last year and eight games against squads with winning records. Their schedule is one of the 30 most difficult in the country, and no one is going to be looking past this group this year.
There are also some statistical headwinds working against the Cyclones. The first is their plus-10 turnover differential. That's not likely to replicate itself. Neither is their 17.7 defensive yards per point.
Penn State Nittany Lions - The Nittany Lions have been one of the best teams in the country over the course of the last two years, winning 22 games straight up, posting a rock-solid 20-7 record ATS, and finishing both seasons in the Top 10. But now may be time to pay the piper.
The Nittany Lions lost the best player in college football, Saquon Barkley, and 12 other senior starters, eight of whom were three-year starters. Throw in a plus-11 turnover margin and an eye-popping 11.2 offensive yards per point, two numbers they aren't likely to replicate, and I think Penn State will fail to live up to its ATS expectations.
Penn State is going to start the season in the Top 10. They have a schedule that could give them an inside track to the Big Ten title. They may win 10 games and go to another major bowl. However, this team is going to be a dud at the window, and they are a team I am looking to bet against.
Wyoming Cowboys - The Cowboys have posted back-to-back winning seasons for the first time since the mid-90s, going a healthy 18-9 ATS over the course of the past two seasons. But I expect their fall from grace to be swift and severe.
The first strike against this group will be trying to replace quarterback Josh Allen, the No. 7 overall pick in this year's NFL Draft. That type of talent doesn't wander into Laramie very often. The second strike is a rugged schedule that could have them eliminated from bowl competition before Halloween.
Lastly, there are a slew of stats suggesting Wyoming played over their heads last year. This team had an astronomical plus-24 turnover margin and forced 38 total turnovers! That's absurd, and it gave the Cowboys an average of three extra possessions per game. The turnovers also helped contribute to Wyoming's extreme offensive and defensive yards per point figures, both of which indicate a losing season coming this year.
Central Florida Golden Knights - In a way this should count as two teams to fade. Because I think that Scott Frost's move from UCF to Nebraska is going to leave both schools worse off in the short-term. UCF will have to scramble to replace Frost's coaching ability, while the Cornhuskers are going to suffer while he completely retools that program.
The Golden Knights - last year's National Champions (ha-ha!) - are coming off a dream season. But Frost's departure, along with the loss of a whole lot of talent, should lead to a step back. And all of their numbers - the plus-17 turnover margin, the 32 total turnovers forced, and the extreme offensive and defensive yards per point - are giant waving red flags that this year's squad is going to be worse off.
Those are some teams to fade. Here are three teams to follow in 2018:
Cincinnati Bearcats - Since joining the Big East in 2005, Cincinnati has been one of the most underrated and undervalued college football programs in the country. The Bearcats rode the backs of Mark Dantonio, Brian Kelly and Butch Jones to a string of bowl wins and Top 25 appearances. But noted loser Tommy Tuberville left this program in such a state of disrepair that it was going to take awhile for former Ohio State defensive coordinator Luke Fickell to dig them out.
Last year's 4-8 season was the quintessential things-get-worse-before-they-get better campaign. Cincinnati finished the year minus-5 in turnover differential, and both their offensive and their defensive yards per point fall in a range for a major regression this year. Also, Cincinnati is only scheduled to face two teams this year that finished in last season's Top 25. If they can pull an upset at UCLA in opener - and the Bruins are replacing their head coach and star quarterback - then the Bearcats should match last year's win total before the end of September.
I'm predicting that the Bearcats will make it back to a bowl game in 2018 and that this team should be a moneymaker.
Syracuse Orange - Last year Syracuse was on my short-list of teams to follow heading into the year. They posted a winning record against the spread (7-5) but failed to make it back to a bowl game and finished just 4-8 SU thanks to a hellish schedule.
The Orange did manage one of the biggest upsets of the season when they beat Clemson as a 24-point underdog on Oct. 13. And that win gave a glimmer of the potential that the 2018 team could have.
The Orange had a minus-12 turnover margin last season, one of the worst in college football. And their offensive yards per point were once again an ugly 17.5 after sitting at 19.5 the season before. But Syracuse is now in Dino Babers' third season. And if they can somehow keep senior quarterback Eric Dungey healthy then this group could find itself one upset away from a bowl game.
Michigan Wolverines - It's always going to be tough to find value with Michigan because it is such a public program. But this year's Wolverines team should be able to rebound from a disappointing 8-5 SU, 5-8 ATS campaign. Michigan was No. 127 in the country in experience last year and had just four senior starters. This year's squad will be much more seasoned and will be chock full of Jim Harbaugh's recruits.
As an added bonus, Michigan landed prized quarterback transfer Shea Patterson, formerly of Mississippi. If Harbaugh and the Wolverines can turn the quarterback position into a positive rather than something to overcome then this team could do some real damage.
Those are four teams to bet against and three to bet on in this year's college football season. There will be plenty of other big opportunities to make money on the gridiron this year. But I feel confident that blindly betting on or against these teams this fall will lead to a profit.
Carpe diem. Good luck.
Robert Ferringo has been the top football handicapper in the country the past seven years, earning nearly $28,000 in total football profit. He has also posted seven of nine winning seasons (including back-to-back winning years) and produced 26 of 41 winning football months and an amazing 45 of 70 winning football months over the past decade. Robert has eight of 10 winning NFL preseasons and he is at nearly 60 percent winners over his last 900 totals picks. Also, Robert's proprietary KING College Football Betting System has posted three of five winning seasons. Robert is looking for a third straight winning football year and wants more profit this fall. SIGN UP HERE TODAY AND TAKE ADVANTAGE OF OUR 3-FOR-1 FOOTBALL SPECIALS!
We are offering new clients $60 in free college football picks for Robert's picks or any Advisory Board handicapper of your choosing. Get your free college football picks now!
Read more articles by Robert Ferringo
Get all of this Weeks College Football Picks
Get all of this Weeks guaranteed Expert College Football Picks