2009-10 NHL Predictions
by Trevor Whenham - 9/30/2009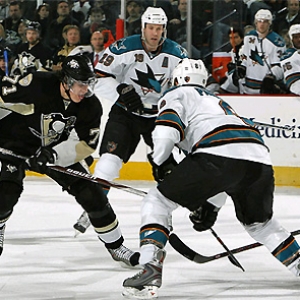 The time before a season starts is when we are all at our smartest. The predictions we make all make perfect sense, and until the games begin we are all completely right and totally insightful. With that in mind, here's a wide range of bold predictions for the NHL season that starts with four games on Thursday night:
EASTERN CONFERENCE
ATLANTIC
Winner - Philadelphia. If Ray Emery can stay sane all season and play well in goal then this is a dangerous team. They have potent defense that is even better now with Chris Pronger, deep and talented offense, and strong coaching.
Second best - Pittsburgh. The Pens have been in the Finals two years in a row, so it's hard to count them out again. They didn't lose talent.
Worst team - New York Islanders. They have John Tavares and, well, nothing else. This is a bad, bad team.
NORTHEAST
Winner - Boston. The Bruins were good last year, and they should be at least as good again. They may have the best one-two punch in net in the league. Phil Kessel and his goals are gone, but that may be addition by subtraction - Kessel was terrible when he didn't have the puck.
Second best - Buffalo. The Northeast is weak behind the Bruins, so this is the best of a bad bunch. They have the talent to be a playoff team, and the management will be highly motivated - miss the postseason once more and they will all be out the door.
Worst team - Montreal. This team was disastrous in the second half of the season last year, and I'm not convinced that they have righted the ship.
SOUTHEAST
Winner - Washington. The Capitals have the best player in the league, a solid and improving supporting cast surrounding him, and promising goaltending. This team is very legitimate.
Second best - Carolina. This is a feisty team that made a surprising playoff run last year. They have improved this year, and coach Paul Maurice gets a full season behind the bench.
Worst team - Atlanta. Ilya Kovalchuk is good, but they haven't built enough behind him.
Conference finals - Pittsburgh and Philadelphia in another brutal, brilliant battle for Pennsylvania.
Most improved team - Ottawa. The Senators have an outstanding coach, they don't have to deal with Dany Heatley anymore, and they have the best goalie they have had in a long time.
Most disappointing team - Toronto. With Brian Burke at the helm there is a sense that they have turned themselves around. That's premature, though. Problems all over the ice will ensure the struggles will continue.
WESTERN CONFERENCE
CENTRAL
Winner - Chicago. It's now or never for the Blackhawks. I don't trust their goaltending, but they are more than solid everywhere else.
Second best - Detroit. The Red Wings haven't improved this offseason, but they are still skilled, talented, and experienced. Most importantly, no team in pro sports is run better.
Worst team - Nashville. The Predators aren't a bad team, but they play in a very tough division, and they just haven't done enough to keep up.
NORTHWEST
Winner - Vancouver. I'm concerned about the extended road trip that the Olympics is forcing them to go on, and I'm worried about the durability of Roberto Luongo this year, but they are the most talented team in the division.
Second best - Calgary. There are concerns about the goalies and the team's ability to score, but they have the best top three defensemen in the league and new coach Brent Sutter has brought much needed discipline and attention to detail.
Worst team - Colorado. The Avalanche are quite possibly the worst team in the whole league.
PACIFIC
Winner - San Jose. If Joe Thornton and Dany Heatley can play together then this team may finally be able to end their string of playoff disappointments. They have the talent on defense and in net, and the offensive depth.
Second best - Anaheim. Ryan Getzlaf is an unquestioned star in the league, and he's at the helm of a very solid team.
Worst team - Phoenix. Given all that this team is going through, their chances for success are almost non-existent.
Conference finals - San Jose vs. Chicago.
Most improved team - Edmonton. The talent is basically the same, but they have upgraded their coaching, and that will make a big difference.
Most disappointing team - Columbus. The Blue Jackets took a nice step forward last year, but I have little hopes of them continuing forward again.
Stanley Cup - Pittsburgh over San Jose. It's been a while since we have had a good old dynasty.
INDIVIDUAL AWARDS
MVP - Alexander Ovechkin. Unless he gets hurt there is no one who can touch him.
Top scorer - Ovechkin.
Top defenseman - Zdeno Chara. The tallest player in the league is good enough on defense to win a pile of these awards.
Top goalie - Roberto Luongo.
Top rookie - Nikita Filatov. This young Russian in Columbus will either make magic or he'll totally meltdown. He's at least as flaky as he is talented.
Top coach - Cory Clouston. Clouston has been the coach of the year in the last two leagues he has coached in, and he was impressive in his half year in Ottawa last year.
Comeback player - Pascal Leclaire.