24 Seconds Around the NBA
by Nolan Sinclair (with Robert Ferringo) - 12/28/2009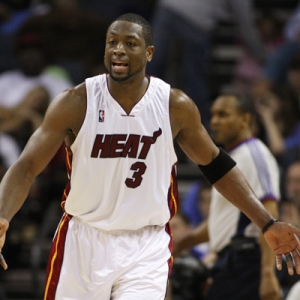 We're entering the dog days of the NBA schedule. The excitement of the season opening has completely worn off and there is nary a thought of postseason runs. Also, with the books more focused on the NFL, college football's bowl season, and college basketball there is also a chance for some big NBA profits and finding the occasional weak NBA line.
YouWager.eu is the Top sportsbook of choice when it comes to customer service and fast payouts. Make your first deposit and receive an additional 100% welcome bonus worth up to $1000 courtesy of YouWager.eu online sportsbook! Use PROMO CODE DOCSPORTS
Without further ado here is my 24 Seconds Around The NBA:
24. News out of the NBA is that Dwyane Wade would love to be teammates with LeBron James. Gee, no kidding. This rumor is coming straight from the horse's mouth as Wade has gushed about how much respect and admiration he has for the player he has come to know in his seven years in the league together. Aw, isn't that sweet. Hey D-Wade, I would love to play on LeBron's team as well, but that ain't happening either.
23. Ref Watch: Pat Fraher is still the best 'over' official in the league at 16-6 against the total. His games are averaging just 'under' 206 points a night. He is especially profit-worthy when he sees a total in the 185-195 range as he is 7-3 against the total in those contests. Eli Roe has distanced himself from the competition in the "homer" category, as the home team is 16-4 ATS in the twenty games he has officiated this season.
22. Over the last seven days the away favorite has been extremely profitable for their backers. At 6-3 ATS over the past week the away fave is hitting pay dirt at a 67 percent clip.
21. The Los Angeles Clippers are 22-47-1 ATS in their last 70 games overall. Good lord there is money to be made against this team. You would think that Baron Davis and Marcus Camby would be good for a few ATS wins?
20. Out of the five teams in the Eastern Conference Atlantic Division, zero have a winning ATS mark. The New York Knicks have the most ATS wins with 14.
19. Memphis is the best offensive rebounding team in the NBA and because of that they have the second best record against the total at 17-12.
18. Denver and Oklahoma City are the top two free throw shooting teams in the NBA. Teams that hit the freebies cover lines of 5-8.5 points more often than not. Denver is 7-1 ATS in such contests, and Oklahoma City is 13-2 ATS.
17. Is Carlos Boozer going to be the power forward alongside Dwight Howard in Orlando? If Booze had his way that would be the case. Boozer spent some time with Howard during his day off recently and the two chatted about such a scenario, according to Yahoo Sports. The Magic don't really have the cash to throw at Boozer and the Jazz are considering trading him before the deadline so they get something back in return. This could be a similar strategy taken by many teams that aren't in the running for the playoffs as the deadline clock ticks ever so closer.
16. The San Antonio Spurs have only covered the line against two teams with winning records on the season (Houston and Dallas). The Spurs are 14-14 ATS on the year but just can't cover against the good teams. That is what good teams do: take care of business when they need to. Safe to say that this Spurs team isn't as good as anyone thought and this is now the second team that Richard Jefferson has failed to make the desired impact on.
15. It must be nice to be Tracy McGrady. He has a chance to start in the All-Star Game, he makes over $25 million a year and he plays about 10 minutes a night. Even better, he has decided to leave the team due to his lack of playing time. People need to face the facts: the guy is a LOSER.
14. The Utah Jazz are 10-3 ATS in their last 13 games versus the Eastern Conference. This run includes two covers against the Magic and one against the Cavs.
13. Since it was announced that Greg Oden would miss the rest of the year the Portland Trailblazers have gone 7-3-1 ATS. Joel Pryzbilla is now out for an indefinite (there is that word again) amount of time and they are 2-0 ATS since that announcement. Gotta love resiliency.
12. If you needed convincing that the Euro players aren't as physically fit as NBA players just take a look at Von Wafer. Olympiakos signed Wafer this offseason but he felt that his style of play doesn't fit in Europe. Yeah, why would anyone like to just shoot jumpers and play no defense? He then decided to give the Rockets another chance but he didn't make the squad because he failed his physical. Oh Von, you silly little boy.
11. The Sacramento Kings are currently 18-10 ATS and they are being led by dynamic rookie Tyreke Evans. I have a question/statement for you; How good is the Kings backcourt going to be when Kevin Martin returns?! The easy answer is that it could become one of the nice up-and-coming tandems in the West. But I wonder what his return will do to the chemistry.
10. The Minnesota Timberwolves are 11-4 ATS in their last 15 games. This run coincides with the return of Kevin Love to the lineup as they are 9-4 ATS since his return.
9. Following the L.A. Lakers loss to the Cleveland Cavaliers Ron Artest decided to head home and fall down his stairs. He suffered a concussion and needed stitches. He is out for an indefinite amount of time. I'm sure he was sober.
8. It is my opinion that Carmelo Anthony is the MVP of the NBA thus far. However, you have got to give some credit to Brandon Roy. The Portland Trailblazers trail the Denver Nuggets by just half a game and Portland has had to deal with a tremendous amount of injuries. Roy himself is now banged up as he had to wear a knee brace the other night in a win against Denver. Oh yeah, he lit them up for 41 points in 43 minutes of play.
7. In both 2007-08, and 2008-09 there were at least two teams with either 50 ATS wins or 50 ATS losses. This season the Atlanta Hawks and New Jersey Nets are on pace to hit those marks and could provide value the rest of the season. The Hawks will see plenty of double-digit lines but they are plenty good to cover them and the Nets are plenty bad not to.
6. The Atlanta Hawks, Charlotte Bobcats, and Milwaukee Bucks are the only teams in the Eastern Conference with winning ATS records and winning marks against the total. So much for the Rise of the East.
5. Syracuse Orange Update: The Orange have moved up to fifth in both polls and begin Big East play on Tuesday when they venture out to do battle with Seton Hall. The Hall just gave No. 6 West Virginia all they could handle on Saturday.
4. There is a really interesting article on ESPN.com by Bill Simmons. I think that Simmons is a little overrated and his jokes a little played out. But there is also no doubting that the guy knows his NBA hoops. The article was in his regular column and it was a look at trade possibilities in the next few months that are necessitated by the dreadful financial situations of about half of the teams in the league.
3. A few weeks ago the Miami Heat were playing awful basketball. Over the last few weeks they have changed course. Miami is 5-1 ATS in their last six games and they have given up more than 87 points just twice in said games. Out of the six games five have been played in Miami and the one road game was in NY so take this run with a cautioned hand.
2. Nate Robinson hasn't played in a game since 1942, well at least it seems like it. Mike D'Antoni states that Robinson isn't in his doghouse, he just doesn't fit into his plans at the current time. Robinson has stated that he would like to play in Boston. It is this writers' opinion that "Lil" Nate would be a great fit in Beantown. His offensive prowess would be welcomed in Boston with Paul Pierce on the shelf and Kevin Garnett nursing injuries nightly.
1. Check back next week for more 24 Seconds Around the NBA.