College Basketball Handicapping: Best Unknown Players
by Robert Ferringo - 12/8/2009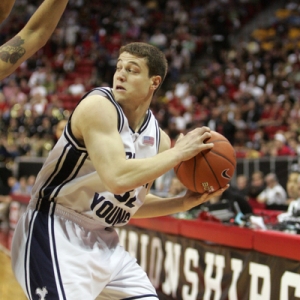 Below, in alphabetical order, are my Top 11 best "unknown" players in college basketball. Now, to serious fans none of the names on this list will come as a surprise. But for a lot of casual fans and square bettors the players below may be some names that either you didn't realize or hadn't heard of. And while Dickie V is going bonkers over the next Great White Hope that suits up for Duke, these 11 players are guys that will likely be household names next March and they are a group of guys that you want on your side when your own hard-earned cash is on the line.
(Why 11 guys? Because Top 10 lists are played out!)
Now, when I first had this idea at the start of the season I had included guys like Talor Battle, Tasmin Mitchell, Jerome Randle, Trevor Booker, Craig Brackins and Evan Turner. But I think that each of those ballers has done enough work through the first month of the season where anyone even remotely following college hoops over the last year would know exactly who they are and what they are capable of.
Also, on this list I have not included underrated mid-major players. That is a separate discussion and you can check out Doc's Sports Blog this week for that list. (Oh, and I don't consider the A-10, CUSA or the Mountain West as "mid-major" conferences.) And I am calling these guys "unknown" rather than "underrated". In my eyes glue guys, defensive stoppers, and lockdown defenders are underrated. If that were the list, Purdue's Chris Kramer would be on it. No, the players I've listed here are just pure studs that may be toiling below the radar of the common fan.
Without further ado, here are the 11 best "unknown" players in college basketball:
James Anderson (Oklahoma State) - In a league full of NBA talent I don't think it's a stretch to say that Anderson may be the best pro prospect in the conference. The 6-6 swingman is only a junior but he has been doing work since his arrival in Stillwater. Last year he averaged 18.2 points and 5.7 rebounds per game, shooting 48 percent from the field and 41 percent from three-point land, as the undisputed leader on a 23-win NCAA Tournament team. He's been even better so far this season, posting 21.0 points and 7.0 boards per outing. What is most impressive about Anderson's numbers is that he's done it while playing out of position over the past two years. Because the Cowboys have had zero size to speak of, Anderson has been forced to play the 2, 3, and even the 4 at times for this group. Enjoy him while he lasts. This time next year he'll be getting paid to play.
Kevin Anderson (Richmond) - If you don't know about Richmond's backcourt of Kevin Anderson and David Gonzalvez yet, you will soon enough. Both players have range that starts the second they enter the gym and either can hit you for 25 without breaking a sweat. Anderson is following up a solid sophomore campaign that saw him manage 16.6 points per game on 45.7 percent shooting with 17.1 points per game this year on 48.1 percent shooting. Anderson has not heated up from the outside yet and is turning the ball over way too much. But he's only going to get better as the season goes on and I can already tell you he will be a star in the A-10 this year.

Da'Sean Butler (West Virginia) - You know, if you ask a lot of bettors to name the best teams in the Big East it's not long before they mention West Virginia. And when some savvy fans talk about national title sleepers they may also mention the Mountaineers. But when you ask them, "Why? What makes WVU so good?" there aren't a lot of people that will point to Butler. This kid is an NBA talent and has upped his scoring average from 17.1 points per game last year to 18.2 this year. He is a four-year starter that has averaged double-figures every season. This 6-7 shooting guard is a pure shooter that has about 25 different ways that he can beat you and score.
Aubrey Coleman (Houston) - Don't know Aubrey? He may be better known as the guy who went all Laettner on Chase Buddinger in the Houston-Arizona game last year. But despite that misstep this cat is one of the smoothest scorers in the game. He currently leads D-I in points per game at 27.0 per outing. Coleman is a slasher that is nearly impossible to stop one-on-one and he wants to get to the basket any time he has the rock. If Houston is going to finally usurp Memphis as the king of Conference USA it will be on the efforts of Coleman and backcourt mate Kelvin Lewis.
Jimmer Fredette (BYU) - Fredette was probably the most underrated player in the most underrated conference in the country last year. Playing along studs Lee Cummard and Jon Tavernari, it was Fredette that ran the show for the Cougars. He managed 16.2 points and 4.1 assists per game and was a master at icing games, knocking down 84.7 percent of his free throws. With Cummard having moved on Fredette has elevated his game even further, posting 19.1 points and 5.0 assists while hitting 93 percent on his free throws and a stunning 48 percent of his three-point attempts. Fredette is deceptively quick and the early favorite for the Mountain West POY.
Rodney Green (LaSalle) - Over the past two years LaSalle has been a disappointment. Green has not been. The Philly native can really do it all and is closing out a brilliant four-year career for the Explorers. He managed 17.8 points per game last year and is right at 17.0 so far this season for LaSalle, which is searching for an NCAA (or at least an NIT) bid this March. Green has the complete game on both ends of the court and is really an underrated defender when he wants to be. But, again, if he wants to solidify his spot among the nation's elite he has to be able to elevate the play of those around him. So far he hasn't.
Dominique Jones (South Florida) - Beware the Bulls. South Florida is my Big East sleeper this season and the primary reason is the play of Jones. One publication said that if Jones were at another school, "Dickie V would be his fanboy". Jones was one of the top scorers in one of the most talented, deepest, and altogether best conferences in college history: the 2008-09 Big East. And that was with absolutely no help. This year he has a stronger supporting cast and, as a result, Jones is showing more diversity in his game. He is now USF's second-leading scorer at 16.4 points per game but he's notching 5.5 assists and both his overall shooting (41.9 percent to 49.0 percent) and his deep shooting (30.9 to 33.3) have improved.
John Roberson (Texas Tech) - I fell in love with Roberson's game (not in a gay way) when the kid was a lightning-fast freshman. Now he's a teleportation-fast junior and in my mind still one of the most underrated point guards in the country. He has only averaged around 13-14 points per game throughout last year and this season, but during that time Roberson has also handed out around six assists per outing (and a 2-to-1 assist-to-turnover ratio) while pitching in a couple of steals on a team that has had putrid talent. And if there are any doubts about how good this kid is ask much more highly-touted guards Isaiah Thomas and Abdul Gaddy of Washington. Roberson lit them up for 25 points and seven assists in a 96-92 win last week, all while being guarded by one of the premier "stoppers" in the country, Venoy Overton.
Joe Trapani (Boston College) - There are several guys who boast all-around games like Trapani's. But there are few who employ it with such heart, hustle and moxie. Trapani was a star at Vermont before making a seamless transition into the ACC last year. He was consistently matched up against NBA-level power forwards each night in conference play. But he more than held his own, posting 13.4 points, 6.6 rebounds and 1.5 assists all while hitting 43 percent from the field, 79 percent from the free throw line and 36.1 percent from deep. Just an all-around stud. This year he is both making up for the loss of Tyrese Rice and picking up the slack for injured Rakim Sanders. The results? He has nearly identical stats to last year and led the Eagles to an upset at Michigan and a conference win over Miami in the last week. He is a poor man's Robbie Hummel. Or vice versa.
Deonte Vaughn (Cincinnati) - Vaughn has had to be a one-man gang for the Bearcats over the last three years. He averaged 14.5 points as a freshman, 17.3 as a sophomore and 15.3 as a junior despite being the lone perimeter threat in the Queen City. But he is now a senior and has the best supporting cast of his career. And like any elite player he has been able to adjust his game. Vaughn is scoring less, choosing his spots more appropriately and becoming more of a "closer" and clutch scorer. His assists are up and he is an elite on-the-ball defender. Look for Vaughn to be the moneyman for this club as the season wears on and I think he's up for the challenge.
Chris Warren (Mississippi) - Flat out, the junior guard is one of the best scoring point guards in the country. A knee injury flattened him after just 12 games last year and the Rebels went into a tailspin without their leader. But now he's back and the Rebels are running wild. Warren has increased his shooting percentage from 39 percent to 45 percent and is good for 17.5 points per game. Warren is not a true point guard and can get out of control. But I also think that he is going to have his way with a lot of the younger guards in the SEC this winter and by March he will be unknown no more.
Robert Ferringo is a professional handicapper and he has gained around +180 Units and $15,000 for his $100 bettors since mid-February in college basketball. You can purchase his college basketball picks here.
---
Most Recent College Basketball Handicapping