College Football Handicapping: Big 12 Top Teams Take Step Back
by Trevor Whenham - 9/16/2009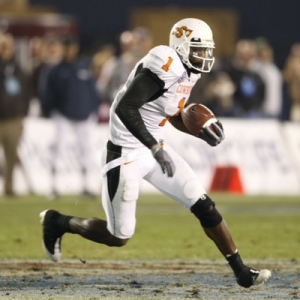 We came into the current college football season with positively giddy expectations for the Big 12, but the first two weeks of the season have significantly challenged those expectations. First, Oklahoma not only lost to another upstart non-BCS team but also lost their Heisman Trophy-winning QB in the process. Then Oklahoma State backed up their win over Georgia, which earned them their highest ranking ever, with a dismal loss to Houston. Those two losses haven't necessarily changed anything in the Big 12, but they have definitely forced us to question our perceptions of the conference. Here's a reassessment of where the league stands based on what we have seen so far:

Oklahoma - There are about 100 reasons not to touch this team right now in my eye. The team isn't talking about Sam Bradford and the status of his recovery, so we can't properly assess what that means now and how long it will be an issue. We also have no way to know how new QB Landry Jones is going to stand up when things really matter. He looked solid last week in his debut as a starter, but that was against an totally insignificant opponent in Idaho State. A pretty lousy quarterback could have looked pretty good when they had that kind of a mismatch in their favor.
Now the team goes up against Tulsa, the team that has led the country in total offense in each of the last two years. If you say you know if Oklahoma's offense will have enough to keep up with the offensive output then you are lying. This team is a total crapshoot right now, and will be until we have seen them play meaningful opponents. The big thing they have going against them if they aren't in a good place this week is their upcoming schedule - Miami, Baylor, Texas, and Kansas is a tough four-game gauntlet if the Sooners are ready to play well. Patience will tell us if it's time to panic.

Oklahoma State - Houston was pretty much the worst possible type of opponent for Oklahoma State to face in Week 2. The Cowboys had just won a huge game and were getting national adulation in the press for it. Now they were up against a team from the lowly C-USA, so they would logically have thought that they were going to win - they were the fifth-ranked team in the country. The problem, though, was that Houston had a very potent offense up against a pretty questionable defense, and they had absolutely nothing to lose. Oklahoma got soundly kicked in the teeth. Now we just have to see how they bounce back from that.
We'll learn an awful lot on Saturday . The Cowboys face Rice, another C-USA team, but not nearly as good of one as Houston. Oklahoma State is favored by 32, so this shouldn't be a contest. If the Cowboys come out and look to take their frustrations out on the Owls and prove to everyone that they can still play football then I am willing to basically give them a mulligan for last week. If, though, they struggle in any way in this game, look like they are feeling sorry for themselves, or otherwise disappoint, then I will be very skeptical.

Texas - There is a theme developing in this conference - we don't have any idea what we have with any of the contenders yet. Texas has played twice, and they have won handily both times, but it's still hard to get excited by what we have seen. They have played two totally outclassed opponents, yet they have yet to cover a spread, and they have sleepwalked through large portions of both games. We could easily argue that they just were doing enough to win and stay healthy, and that is probably the case, but you could also say that perhaps the team has lacked crispness and cohesion so far. Texas Tech this weekend will give us a much better clue as to the state of this team, but beyond that they will go into the Oklahoma game without really being tested. That Red River don't-call-it-a-shootout is going to be a fascinating game on many levels this year.

So what does it all mean? Well, despite suffering two huge upsets already it's far too early to rule the Big 12 out, or to conclude that they are a lesser conference than we thought they were. Though neither loss is a good thing in any way, both can be explained - good teams with nothing to lose in ideal situations getting good breaks won in both cases. That doesn't change what we should perceive as the talent level of these teams, and it shouldn't change their chances of winning the tough conference. There is a chance that each of the top teams in the conference will be exposed in the coming weeks, but for now it is truly too early in the case of all three teams that we talked about to pretend that we really know anything. It's cases like this that make college football so brilliantly interesting - by the time we figure a lot of teams out it's too late.