NBA Handicapping: Brandon Jennings Making Immediate Impact
by Trevor Whenham - 11/20/2009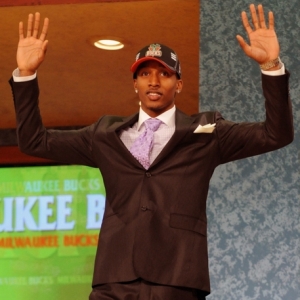 So, imagine if this is what an NBA player did over a four-game stretch: he starts out with a 32-point, nine-assist outing, then posts 55 points, he bounces back from that showing with 25 points, eight assists and seven boards, and then finishes up with 19 points and eight assists. Not bad, right? Kobe or LeBron would certainly have been earning their massive paychecks with a week like that. That fact that it wasn't one of those players or a guy like them -- but rather Brandon Jennings, a 20-year-old rookie - a point guard no less - who never played a second of college basketball -- is all but impossible to believe. Especially because this all happened in the middle of November, a time when most rookies are still trying to figure out what's going on.

To say that Jennings' performance has been a surprise is a major understatement. He slipped all the way to 10th in the draft this year - just the fifth point guard taken. It was hard to get a measure of how well he had played in Europe last year and how relevant that play was, so people were understandably skeptical. Whether people badly underestimated him, he used the slight of his draft position as motivation, or he just landed in an ideal position, he has been not only clearly the best rookie in the league, but one of the better players of any age. He has averaged 26 points, 5.7 assists and and 4.4 rebounds in November, and he's the leading scorer among point guards in the league on the season, and ninth overall.

The better Jennings has played, the more praise the media has directed his way. It's turned into a bit of a frenzy, really. Stephen Curry probably doesn't mind that Jennings is getting so much attention, because that has distracted people from his poor play. That kind of public attention makes it even more important for you to pay attention when you are handicapping the Bucks because the public will likely bet out any value Milwaukee might have had for as long as Jennings is in the spotlight. That doesn't mean that you can't bet them, but it means that you need to be sure before you do. Here are six issues to consider when thinking about Jennings and what his future holds:

Familiarity - Part of what has made Jennings so successful so far is that he has been so unexpected. No one expected much from him or from Milwaukee - he wasn't really even expected to start - so they have been caught off guard. He hasn't played any team twice yet, and he has only played nine games. That means that he hasn't shown off all of his tricks yet. As teams get to see him more and scouting reports get more accurate it's quite possible that teams will be able to more effectively contain him. Nine games is a hot streak, not an established pattern of play.

Turnovers - This is one area where Jennings needs to be more careful. In his last game he had eight assists, but he also had turnovers. He can get away with things like that against a pathetic team like New Jersey, but he won't be so fortunate when he plays good teams. His assist-to-turnover ratio of 1.53 isn't disastrous by any means, but he needs to continue to improve on this front.

Schedule- Jennings has benefited from a pretty soft schedule to open the season. Just three of the nine teams he has faced are above. 500, and several of them are pretty lousy - the Timberwolves, Knicks, Warriors, and Nets. Jennings has looked good against good teams so far, but it could get tougher when he starts to face them more regularly.

Europe - The fact that Jennings played in Europe last year raises all sorts of issues - both good and bad. On one hand he only played 43 games last year, he spent a lot of time on the bench, and the play isn't as physical, so his stamina has to be a question. On the other hand, he played against men, and the experience of being in such a foreign situation will have better prepared him for the experience of the NBA than some players were.

No fluke - Jennings may have exceeded his draft position and pre-season expectations, but it's important to remember that he was a highly-touted, very successful high school player. He played at Oak Hill Academy, so he was used to competing with and against top competition. He certainly rose to that challenge - he won several national and regional player of the year awards. Jennings fell on draft day much more because of the uncertainty about the way he spent the year after high school than because of his skills or experience. If he was in college last year he very likely would have been a major star.

Michael Redd - Jennings has done what he has done both personally and with the team - they are off to a 6-3 start - despite missing his most talented teammate. Redd has missed seven-plus games with a knee injury. He's due to be back soon. It's hard to know for sure what impact that will have on Jennings, but as long as he and Redd can develop chemistry quickly you have to imagine that it will be positive. Jennings might not score as much, but that's because he won't have to. He'll have more room to move from defenses, and an enviable outlet for his passes.