Long-Term College Basketball Against The Spread Success
by Trevor Whenham - 11/12/2009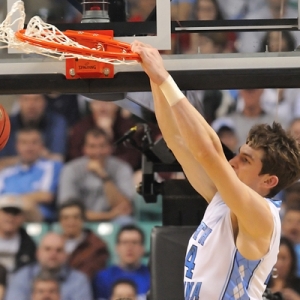 There is nothing bettors like more than long-term dependability - a team that reliably performs like it is supposed to year after year. College basketball teams obviously change from season to season, but some teams are better than others at maintaining the ability to cover spreads consistently despite those changes than others. Here's a look at seven teams with a current pattern of against the spread success:

North Carolina - North Carolina has not only been a dominant team over the last several years, but they have also been a kind one to bettors. The team was just 17-19 ATS last year, but they were a combined 63-36 ATS in the three years before that. That means that the Tar Heels covered 63.6 percent of their games from 2005-08, and 59.3 percent in their last four seasons. It's not hard to make a profit with a winning percentage like that. The team was 80-55 ATS when Tyler Hansbrough was on the team. It will be interesting to see how they can do in his absence.

Kansas - Here's another dominant squad that also treats bettors nicely. They were a stunning 20-8-1 ATS last season, and 80-53 ATS in the last four seasons. That's a 60.2 percent winning percentage - even better than the Tar Heels. The only year that they weren't profitable over that stretch was in 2006-07 when they were 18-18 ATS, and they were doing okay until they only covered two of their final six games in the postseason - all of which they were favored in. Perhaps those late-season struggles against the spread was an indicator that they were destined to lose to badly to UCLA in their final game of that season.

Louisville - The Cardinals have reached a new level of competitiveness the last three seasons, and it has shown in their ATS performance. The team was just 12-18 ATS in 2005-06. Over the three years since they have gone 59-39-3 ATS. Like Kansas in 2007, Louisville struggled ATS last year in the tournament after coming into the postseason playing so well. They covered just one of their final four games - all as favorites - and were blown out by Michigan State to end their run.

Weber State - The first three teams on this list were among the elite in the country. The next four clearly aren't, but that doesn't make betting on them any less fruitful. In fact, the rest of them could learn something from the Wildcats. Unlike the first three teams, Weber State has been profitable over each of the last four seasons. Over the last three years they have been a particularly impressive 53-26 ATS. That's a 67.1 percent winning percentage. They return four starters from the team that went 19-7 ATS last year, so this string of impressive efforts might not be over just yet.

Niagara - Niagara is a consistently solid performer in the MAAC - both straight up and ATS. Though they haven't won the conference over the last three years, they have also finished no worse than third in the 10-team conference. They have been solidly profitable in each of those three years as well, and have been a combined 54-37 ATS, or 59.3 percent covers, over that time. Like Weber State, Niagara is returning four starters from a good betting team last year, so the good times might not be over yet.

Akron - Akron's success is even more sustained than Weber State's - they have been profitable in each of the last five seasons. They have covered a lot of games in that time, too - 84 compared to 60 that they haven't. That's a 58.3 winning percentage - certainly enough to be comfortably profitable over the long term. There's a bit of a coincidental trend emerging here - like Weber State and Niagara, Akron has four returning starters, so they could continue to succeed.

Mississippi State - The Bulldogs have been a decent team over the last three seasons, but they aren't exactly lighting the world on fire. Those that have consistently backed them have been well rewarded, though. They are 54-36 ATS over the stretch - exactly 60 percent covers. The Bulldogs are one step ahead of the last three teams on this list - all five of last year's starters are back for another swing this year. They were 18-11-1 ATS last year, and could find a way to succeed again this year.



---
Most Recent College Basketball Handicapping