College Basketball Handicapping: Key Players Joining Teams
by Robert Ferringo - 12/22/2009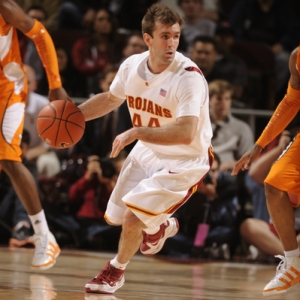 How much of a difference can the addition of one balding, slightly-out-of-shape, not very athletic, 6-foot-1, sixth-year super senior point guard make on a team?
Well, USC lost to the No. 1 team in the country, Kansas, by 19 points on the road back on Dec. 3. Then transfer Mike Gerrity became eligible on Dec. 18 and started for the Trojans the next day against No. 6 Tennessee at home. And wouldn't you know, the Trojans hammered the Vols by 22 with Gerrity notching 12 points, 10 assists and five rebounds.
Now, can that all be attributed to the presence of a steady point guard on a team that had a massive turnover problem? Maybe not. But I'll tell you this much: the difference can be attributed to a lot more than just home field advantage.
Because basketball only requires five guys to be on the court at one time and most teams generally don't go more than eight-deep with their rotations (unlike football, where as many as 45 guys can see the field in any given game) one player can make a major difference. But college basketball doesn't have free agency. There are no trades. There isn't a waiver wire. Yet that doesn't mean that teams can't improve their roster mid-season. Teams often add players at the end of first semester; Transfers, guys off suspension, player coming back from injury, guys with academic issues, etc., can become eligible mid-season. And while a lot of square bettors aren't always aware or don't always pay attention to these personnel moves and that can be a costly mistake
Below is a small list of players that either have just recently become or will soon become eligible for the spring semester and will be added to their teams. I think that this group will step in and have an immediate impact on their squads:
Mike Gerrity and Leonard Washington, USC - A week ago the Trojans were just desperate for healthy bodies. Only four players on their roster have played in all nine games and even with Gerrity coach Kevin O'Neill only played six guys more than 10 minutes against Tennessee. But now they have a steady hand at the point in Gerrity, who is on his third team in his college career, and on Dec. 23 they will welcome back their top rebounder and best inside presence in Washington. So in the span of seven days USC has gone from a team scraping by against Idaho State to a sudden dark horse contender in the Pac-10. The reason: Gerrity and Washington.
Gilbert Brown and Jermaine Dixon, Pittsburgh - Dixon is already back and Brown will make his triumphant return tonight against Ohio. Both were out for different reasons. Dixon, the lone starter back from last year's stud team, suffered a broken foot in the preseason that kept him out for six weeks. He has only played in three games and is still about three steps too slow. But on a young team he is still able to make a difference. Brown is a redshirt junior and one of the most experienced players on an otherwise very young squad. These two will be able to promote stability and should be able to elevate the Panthers out of the Land of Mediocrity.
Jai Lucas, Texas - Lucas' first action as a Longhorn came on Saturday in a nationally televised game against the defending national champions. Welcome to the party. Lucas is a transfer from Florida where he averaged 8.5 points and 2.3 assists per game as a freshman. Now he will serve a valuable role as a backup point guard for one of the top two or three teams in the country. Lucas isn't going to add any line value for the Longhorns right away. But as the season wears on I'm certain he'll be a key contributor for a potential national title contender.
Reggie Redding, Villanova - Redding was suspended for the entire first semester (nine games) from an awkward offseason incident in the involving weed and a crosswalk sign. He played his first game on Saturday, a 96-58 win over Fordham, and gives the Top 10 Wildcats yet another veteran gun on the offensive end and a critical stopper on the defensive end.
Ibrahima Thomas, Cincinnati - Thomas has been eligible for just three games and has played only 29 minutes so far this year, proving more adept at instigating fights than sinking jumpers. But Thomas was inserted into the starting lineup last game and responded with 10 points. On a team that lacks scoring punch his face-up game will be a critical factor in whether or not the Bearcats can reach their potential.
Romain Martin, Eastern Illinois - Martin is an All-Ohio Valley Conference guard and he has led EIU in scoring in each of the past three years. He hasn't suited up yet this year after undergoing knee surgery back in late early November. But rumor has it he's set to suit up today. I don't expect Martin to be nearly 100 percent in his first time out. And, in fact, the value might be to fade EIU lines that are inflated due to his return. But the bottom line is that this team can only be better with him in the lineup.
Marquis Weddle, UT-Martin - Here we have another All-OVC guard making his return to his team. Last year's second-leading scorer saw his first action of the season on Saturday in a loss to Evansville. The Skyhawks have been awful this season, going 1-8 overall and just 1-6 against the spread. But right about the time that the oddsmakers are going to start pumping up the lines Martin will get back it's best player. That might create a situation where we can sneak in a play or two on UT. Or at the very least, once Weddle gets back into form we'll be able to avoid a trap door betting against them.
Derrick Caracter, UTEP - Two years ago Caracter was one of the most talented - and most unmotivated - big men in the country while playing at Louisville. Now he's a man amongst boys in Conference USA and could be the missing link for a big-time Miners squad. He's played four games with UTEP and the Miners actually dumped the first two. But in his last three outings he's posted double-doubles while averaging 15.7 points and 11.7 rebounds. Caracter should be a force in CUSA and is an impact guy now that he's back on the court.
Stefan Welsh and Courtney Fortson, Arkansas - Slowly but surely, Arkansas is getting the band back together. Now, to be fair, "the band" was broken up by offseason rape allegations that involved five players. That included the team's starting backcourt of Welsh and Fortson. On top of that, back issues slowed starting forward Michael Washington. But this team is getting healthy and getting some guns back. Welsh has played five games and has hit double-figures twice coming off the bench. Fortson will likely be eligible sometime this week. He averaged about 15 points, six rebounds and six assists last year for the Razorbacks and will be a huge addition to a team that started the year with football players and golf team members filling out the starting five.
---
Most Recent College Basketball Handicapping