College Bowl Betting: Coaches to Trust and Avoid
by Nicholas Tolomeo - 12/9/2009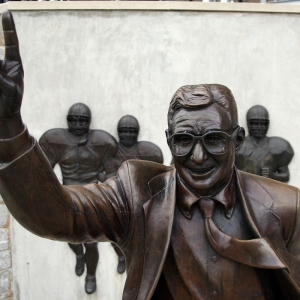 Some coaches treat bowl games as rewards for their players, some coaches treat them as must-win games and some do not stick around long enough to see their team through them. There is no other game in sports that has any many different preparation techniques. Most Big Ten schools stopped playing three weeks ago while other teams were slugging it out on Championship Saturday just this past week.
There are coaches who like to let their seniors play as much as possible, others who protect their seniors headed to the next level and others who play for the future and start underclassmen. With so many philosophies there tends to be a couple classes of coaches, who to trust and who to avoid for your college bowl betting.
Who to Avoid
Joe Paterno
Penn State
Joe Pa has won more college bowl games than any coach in history with 23. He is 23-11-1 overall and he has also won three of his last four. So why avoid the living legend? In the past nine years he has only been involved in five bowl games. He has compiled a 3-2 record in that time but most of the wins have come against overmatched competition. Last year the Nittany Lions were downed 38-24 by USC. Another good reason to avoid Paterno, specifically in this game, is who he is going up against. Les Miles at LSU is 5-2 in bowl games including four straight wins.
Chris Peterson
Boise State
Everyone remembers Peterson's gutsy play calling that led to an improbable win over Oklahoma in the Fiesta Bowl two years ago. But since then the Broncos have played back-to-back bowl games and his play calling and team preparation is nowhere near the level it was in Tempe two years ago.
Jim Tressel
Ohio State
Since coming to Ohio State Jim Tressel is a .500 bowl coach at 4-4 but he has lost three consecutive bowl games and they were all BCS bowls. The public has lambasted the Big Ten for its performance in BCS bowls because of its antiquated offenses against spread formations from the Pac-10 and SEC. The Buckeyes have taken most of the heat in that regard and the public outcry could continue to grow with another similar performance against Oregon out of the Pac-10 in the Rose Bowl.
Dave Wannstedt
Pitt
It took him four years to get to a bowl game and when he did, his team laid a 3-0 egg in an embarrassing loss to Oregon State. On top of that the Panthers are coming off a late-season collapse involving two absolutely demoralizing losses, a 19-16 loss at the hands of rival West Virginia and an absolute total meltdown in a 45-44 loss at home to Cincinnati with the Big East title on the line. In the Meineke Car Care bowl Wannstedt will go up against North Carolina's Butch Davis who is 4-1 in bowl games.
Bob Stoops
Oklahoma
For a coach who has been to as many big bowl games as Bob Stoops, you would think he would remember to pack his defense for once. The Sooners are 5-6 under Stoops but have lost five of six recently and three of those games as touchdown or more favorites.
Who to Trust
Urban Meyer
Florida
Of course he has talented teams at Florida, but so do a lot of coaches who can't seem to put things together in early January. Meyer has kept things together after the long layoff, his Gators and before that his Utes, are a combined 5-1 in bowl games under Meyer.
Gary Patterson
TCU
This one goes hand in hand with Boise State's Chris Peterson, who if you read above you know to avoid. Patterson is 5-2 in bowl games, all at TCU, including four wins in a row. Last year he thoroughly outcoached Peterson in the Poinsettia Bowl after his team fell behind 13-0 in the second quarter with under two minutes to play. Patterson helped lead the Horned Frogs back to a 17-16 win.
Mack Brown
Texas
The best college football coach in recent history when it comes to bowl games, Mack Brown is 11-5 overall and most of the time his Longhorns are up against tough foes, facing the top teams in the country. No one forgets the National Championship year, knocking off USC, 41-38, as seven-point underdogs. His team is in a similar situation this year. The Crimson Tide may have the better team but I take Brown in this one over Nick Saban (4-6 bowl record).
Bobby Bowden
Florida State
Say what you want about Bowden, but the 21-10 bowl record speaks for itself as does the bowl streak which is now at 28 consecutive seasons for Bowden and Florida State. He is going up against a relative newcomer, Bill Stewart at West Virginia. Stewart has only been to two bowl games but came away with two resounding wins the last two years. But 21-10 trumps 2-0 in this case.
Honorable Mentions
Greg Schiano
Rutgers
Bowl games used to be unheard of around Piscataway, but now Schiano has made it a regular event and his Knights have won three straight games.
Jeff Tedford
California
Tedford is 5-1 in bowl games at California and most of those bowl games have been disappointing ones to go to and you can add this year's Poinsettia Bowl against Utah to that list.
Pete Carroll
USC
This is semi-uncharted waters for USC to be playing a bowl game outside of January, but Carroll and USC have been here before. He is 6-2 overall in bowl games, regardless of when they are played.
Mark Richt
Georgia
Take away a Sugar Bowl Meltdown in 2006 against West Virginia and Richt could be regarded as one of the best coaches come bowl season. He is 6-2 in bowl games since coming to Georgia.