College Football Handicapping: Teams That Have Thrown in the Towel
by Trevor Whenham - 11/4/2009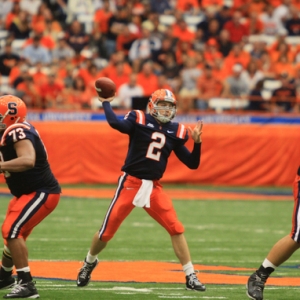 We're into the final stretch of the college football regular season. For teams in contention this is when the pressure gets ratcheted up and every game matters even more than ever before. For some teams, though, the season can't end soon enough. Those teams have had a very rough season, and probably aren't having much fun anymore. It can happen for a variety of reasons, but the result can be the same regardless of the reason - a team can put up unexpectedly bad results. Bad results as a result of poor effort are a very good thing for bettors as they can lead to profits. Here's a look at six teams that could put in less than full effort down the stretch:

Baylor - After years of frustration and futility this was supposed to be the year that Baylor made a splash in the Big 12. They had gained legitimacy and momentum when Jason Smith had gone second overall in the NFL Draft last year, and Robert Griffin was being hyped as a dual threat mega-star this year. Unfortunately, Griffin was injured in the third game of the season, and things started to get ugly. They have lost four in a row, and haven't been particularly competitive in any of them. They have four more left, and all are against significantly better teams. They need three wins to be bowl eligible and they know that that won't happen, so it's very possible that they will slide into the tank.

Syracuse - It had been a rough few years in Syracuse, but there were reasons to be optimistic this year - new coach, high profile new QB, outstanding wide receiver. It turns out that that optimism was misplaced. Greg Paulus has struggled like you expect a guy to struggle after spending four years not playing football. Mike Williams, the wide receiver, has suddenly and mysteriously left the team. They are consistently getting blown out by Big East foes, and getting booed in the process. Paulus is one and done, so it could be tough for this team to stay motivated as he plays out his string.

Eastern Michigan - Eastern Michigan has a new coach and some grand plans. They just have one big problem - they aren't very good. Actually, they are really lousy. They haven't won yet, they've only come close twice, and there is little reason to think that they are going to win before the season ends. Frankly, I'd be surprised if they didn't quit down the stretch. It has to be frustrating playing for a team that is so bad and, because it is essentially a commuter college and therefore almost impossible to recruit to, will likely always be.

Washington State - My theory is that the Cougars are still being punished for giving us Ryan Leaf. They managed to beat SMU this year, but that's it. In their conference games they not only get beaten but they consistently and predictably get humiliated. They aren't even remotely competitive, they haven't been in more than a decade, and there seems to be no relief on the horizon. The Cougars would really be better off finding a lesser conference to compete in, but that won't happen any time soon. There's a good chance that this team will quit down the stretch because there is evidence that they quit five weeks ago.

Michigan - This one hits particularly close to home because I bleed Maize and Blue. Coming into this season expectations were high. Last year was an absolute disaster, but this was year two in the Rich Rodriguez regime, and RichRod teams always improved dramatically in their second year. Those warm feelings before the season were whipped to frenzy levels by a 4-0 start that saw the team ranked and the offense look unstoppable. But then reality came crashing in. Other than a blowout of the woefully outmatched team from Delaware State this has been a painfully bad month.
The defense, which was a concern from the start, has been exposed. It's laughably bad - walk-ons are starting. The offense has sputtered and died. The team has been crushed two weeks in a row, including a humiliating massacre at the hands of the previously pathetic Illini. Calls for Rodriguez' head are gaining momentum. Fans were thinking that eight or nine wins were possible after the start. Now they have regressed so badly, and are playing so sloppily, that it's no lock that we will even be bowl eligible. The next game, against Purdue, is likely the last winnable game on the schedule. If the team doesn't win that one then there is a very good chance that the wheels will fall off and they will play badly down the stretch - like they already are.

Virginia - People who don't know anything about college football know that Al Groh is going to get fired. He's a dead man walking, and there is almost certainly nothing he can do to salvage the situation. We can come up with endless example where a lame duck coach has lost his team down the stretch and the results have been predictably bleak. This could be another one of those situations.