NFL Survivor Pool Picks: Week 11
by Matt Severance - 11/18/2009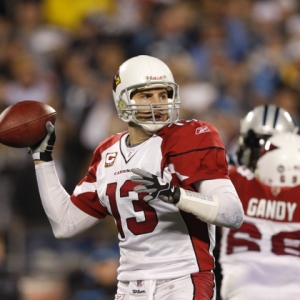 A few home underdogs last week might have ruined your chances of taking home the money in your Survivor Pool - unless you listened to me.
I warned against you picking Denver at Washington, Atlanta at Carolina and Dallas at Green Bay, and all three visiting favorites lost. I also said to stay away from Pittsburgh against Cincinnati, and the Bengals completed the season sweep. Of course the big story of last week was the near-miss in the Saints-Rams game. Had St. Louis pulled off that miraculous upset, you might be counting your money right now. My top recommendation was the Vikings against the Lions, and Minnesota had little trouble.
Most of the good teams are off my board now, with only the following division leaders (or-co leaders) still available for me: Cowboys, Cardinals, Bengals and Broncos. I can assure you that I won't be using Denver, so not a lot of good options left. Now it gets tough, especially this week with many fairly even matchups.
FIVE TO SWEAR BY IN WEEK 11
Arizona Cardinals (at St. Louis). I despise taking a road team this late in the Survivor Pool, especially with the Rams coming off their best performance of the season. But the Cards seem to have things figured out and are 4-0 on the road this year. Last year neither game was close between these two, with Arizona scoring 34 points in both games and winning by 21 and 24 points, respectively. Plus I think Kurt Warner puts up nice numbers in his return to St. Louis, as he usually does, and Anquan Boldin looked pretty healthy last week. It basically came down to picking Arizona this week or Dallas (among the teams I have left) to beat Washington, and I just think the Redskins have more of a chance of pulling the upset than the Rams do.
New England Patriots (vs. New York Jets). I'm in the camp that the Pats will rally around Bill Belichick's questionable decision against the Colts as opposed to letting it fracture the team - mainly the defense. Plus, the Pats are 5-0 at home and want a little payback for the Jets' early-season win. New York pulled that off back when Tom Brady was still a little inconsistent, but Brady is rolling now. Oh, and the Pats have lost consecutive games just once in the past seven seasons.
Pittsburgh Steelers (at Kansas City). I worry about the Steelers without Troy Polamalu because their defense didn't look the same without him earlier this year. But the Chiefs won't have Dwayne Bowe and, thus, no downfield threat.
Dallas Cowboys (vs. Washington). I hate rivalry games like this when it comes to a Survivor Pool, as mentioned above in recommending Arizona over Dallas this week. But the Skins are 0-4 on the road and Dallas has been terrific at home since that close loss to the Giants in the debut of the new Cowboys Stadium. That Dallas lost starting right tackle Marc Colombo in last week's loss to Green Bay could be a problem. But I think the Cowboys win a close one.
Carolina Panthers (vs. Miami, Thursday). This one comes with a big if: Only risk Carolina if DeAngelo Williams plays. He is currently questionable, but he was last week too and had a good game against Atlanta. The Panthers seem to have things figured out, while the Dolphins will be without Ronnie Brown.
FIVE TO BE SCARED BY IN WEEK 11
New Orleans Saints (at Tampa Bay). The Saints' offense is ranked first in the NFL, while the Bucs' defense is ranked 29th. So why would I worry about the Saints? Just look at them the past two weeks, both close calls. Tampa Bay has been energized the past two weeks with Josh Freeman in at quarterback. And while I don't necessarily buy "lookahead" games much in the NFL, I wonder if the Saints are peeking at the Monday nighter in Week 12 against the Patriots.
Indianapolis Colts (at Baltimore). If Indy wins this game, it might well go 16-0 in the regular season. I, frankly, would have expected a Ravens win here if they hadn't loss stud pass-rusher Terrell Suggs in the Monday night victory over Cleveland. But at least Baltimore dumped struggling kicker Steven Hauschka - Billy Cundiff takes over. I still think the Ravens win this one because they need it much more than do the Colts, although that never seems to matter to Peyton Manning.
Cincinnati Bengals (at Oakland). It looks like Cedric Benson won't play, and I would argue he's the key to that entire offense this year even more so than Carson Palmer. Who knows what Bernard Scott can really do? As for Oakland, there's no word as of this writing on their QB, but it appears it will be JaMarcus Russell. That's not a good thing, but perhaps Oakland can run the ball all day with their three fine running backs.
Minnesota Vikings (vs. Seattle). Yeah, I promised a few weeks ago that I wouldn't put the Vikings in this category any longer, but I just have a weird feeling about Sunday's game. Matt Hasselbeck will play, so the Seahawks have a shot. And maybe Justin Forsett is for real.
Detroit Lions (vs. Cleveland). Obviously you wouldn't pick either team, but I would argue this game is potentially a worse matchup than Detroit-St. Louis was and I just couldn't help including it. (Take the under!) I only hope it's somehow blacked out nationally - maybe Roger Goodell can invoke a "best interests of the game" clause or something.
To recap, I recommend the Arizona Cardinals as your top choice this week. That means off the board for me are the Cardinals, Vikings, Patriots, Chargers, Colts, Steelers, Eagles, Texans, Redskins, Ravens and Saints.