NFL Survivor Pool Picks: Week 12
by Matt Severance - 11/25/2009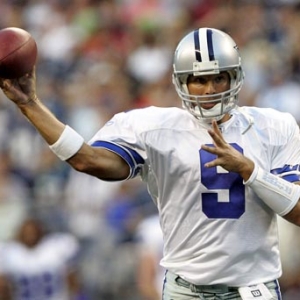 Thank you, Chiefs. Thank you, Raiders. Here's guessing that Kansas City's upset of Pittsburgh and/or Oakland's surprise of Cincinnati last week certainly whittled down your competition in your NFL Survivor Pool.
I did caution you against taking either Pittsburgh (without an injured Troy Polamalu) or Cincy last week (without an injured Cedric Benson), so hopefully you heeded my advice. My top recommendation was to take the Cardinals at St. Louis, and while I was worried when Kurt Warner left the game, Arizona was able to hang on. We've got three early-week games in Week 12 because of Thanksgiving, so let's get right to it.
FIVE TO SWEAR BY IN WEEK 12
Dallas Cowboys (vs. Oakland). The fact that I am choosing my top pick from one of Thursday's games means I may well not have much of an appetite for all the turkey leftovers come about 7 p.m. ET if the Raiders pull off a second upset in a row. The Cowboys' offense has been lousy the past two weeks, not scoring a point in the first three quarters against Green Bay or Washington. And Dallas might be without All-Pro tight end Jason Witten for this one. But I simply can't see Oakland winning at Dallas on a short week - these quick turnaround games almost always favor the home team, especially if the visiting club has to cross a few time zones. Also, Tony Romo has never lost on Thanksgiving and the Cowboys have won three in a row on the holiday by a combined 106-22.
Green Bay Packers (at Detroit). OK, I'm going against what I just said a sentence or two above in that I am recommending the road team in the quick turnaround game. But I say go with Green Bay here because the Lions are likely going to be without Matthew Stafford and Calvin Johnson. Those two didn't play in the Week 6 game against the Pack and it was a 26-0 Green Bay blowout. Of course, the Packers also lost two of their best defensive players in Sunday's win over the 49ers - it's for that reason that I would go with Dallas over Green Bay if you still have both available.
Atlanta Falcons (vs. Tampa Bay). It's almost a must-win situation for the Falcons, who have dropped four of five. But they are unbeaten at home and Matt Ryan finally looked good last week. I'd probably have the Falcons higher up on these five to swear by if they weren't expected to be without Michael Turner again.
San Diego Chargers (vs. Kansas City). These are not the same Chiefs that San Diego beat 37-7 about a month ago. K.C. has won two games in a row, and I'm guessing Chris Chambers might have a few tips on how to attack his former Charger teammates. Thus I think this one is fairly close, although still a San Diego win with LaDainian Tomlinson continuing his recent surge.
Philadelphia Eagles (vs. Washington). I'd feel more confident in Philly if Brian Westbrook was going to play, but the Eagles are probably the best bet of the remaining games on the schedule that I haven't yet touched on.
\
FIVE TO BE SCARED BY IN WEEK 12
New York Giants (at Denver). This goes back to my Dallas-Oakland theory above about a team traveling a significant distance cross-country on such a short week - and the double whammy of playing in the thin air. New York won't have running back Ahmad Bradshaw or linebacker Antonio Pierce. Denver has looked lousy in losing four in a row, but Kyle Orton is supposed to be back starting in this Thanksgiving night game.
Cincinnati Bengals (vs. Cleveland). This goes again to Cedric Benson - if he plays, you are probably safe taking the Bengals. But he could be a game-time decision, and you never want to base your Survivor Pool life on a game-time call. I also think the Browns might actually have a smidge of offensive confidence in the wake of scoring 37 points in Detroit … only to lose in crushing fashion.
Indianapolis Colts (at Houston). I really need to stop putting both Indy and Minnesota in this category, but I just think there's no way the Colts run the table in the regular season, and this is probably their toughest test left. Houston also is in must-win mode.
Minnesota Vikings (vs. Chicago). OK, OK, enough with picking the Vikings to possibly lose every week! But what can I say, they want five teams in this category, and this game isn't at night, which means Bears QB Jay Cutler might not suck and actually keep Chicago close.

Miami Dolphins (at Buffalo). The Bills looked a lot better in the first game post-Dick Jauron. Terrell Owens was involved in the offense, and the Buffalo run defense held the Jags pretty well in check last week. Plus Miami is banged up defensively. I wouldn't even call this an upset if Buffalo were to win.
To recap, I recommend the Dallas Cowboys as your top choice this week. That means off the board for me are the Cowboys, Cardinals, Vikings, Patriots, Chargers, Colts, Steelers, Eagles, Texans, Redskins, Ravens and Saints.