NHL Betting: 2009-10 NHL Futures Odds
by Trevor Whenham - 9/29/2009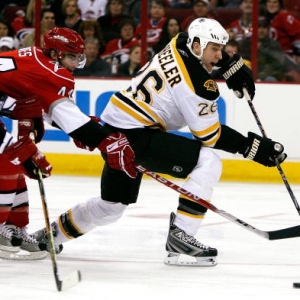 The NHL season is just around the corner - it starts Thursday night with four games. Hockey is the most under-appreciated sport there is. Not only is it great to watch, it's also great to bet on. It doesn't get nearly the attention from bettors that football or basketball do, and that means that the lines aren't as tight or difficult to find value in. That's a very good thing.
As we get ready for the season, and hopefully the profits, to begin, here's a look at some of the more interesting Stanley Cup futures odds that are currently available (odds are from Bodog):

Detroit Red Wings (5/1) - They are the co-favorites after reaching the Finals the last two years. I would never make the mistake of counting out this team - there isn't a franchise in pro sports that is run better. That being said, I don't like them at this price at all. They are going through a lot of changes this year, and their offense has lost some of the depth that made them so imposing last season. They will be a contender for sure, but I don't think that this price even comes close to providing value.

Pittsburgh Penguins (5/1) - Like the other co-favorites, Pittsburgh has played in the last two Stanley Cup finals, winning the last one. There is a lot we know about this team - they can stay focused after success, they are built for the playoffs, and they have more front-end talent than any team in the league. The path will only get harder this year, and it has been a long time since a team has made three finals in a row, but I like a lot of what this team offers. I could make make a case for betting them at this price. If you want to bet a favorite then this is for you.

San Jose Sharks (8/1) - This one comes down to two players - Joe Thornton and Dany Heatley. If those two snipers can find chemistry quickly then this team will be very tough. If they can't, though, then this could be a familiar story - a talented team with strong goaltending makes the playoffs with high expectations only to fizzle out too soon.

Chicago Blackhawks (8/1) - How much do you value goaltending? The Blackhawks have an embarrassment of offensive talent. They have strong defense. They are physical and gritty. The only question is whether they have the goaltending to go all the way. My bet is definitely that they don't, so I would pass at this price.

Boston Bruins (9/1) - There is a lot to like about this squad. their goaltending duo could be the best in the league. Their defense will be as good as last year, and the addition of Derek Morris means that they should be able to transition better than they have. The offense is deep and talented, and the loss of Phil Kessel could be addition by subtraction given his total disregard for playing without the puck. This is a team without a serious hole, and the price looks good to me.

Philadelphia Flyers (14/1) - This is the most attractive price on the board. Ray Emery is a real question mark in goal, but he can unquestionably play, and winning should keep his psychotic behaviour under wraps for a while. In front of him they are talented - as talented as any team in the league. Their core of young players is getting older and wiser, and the window is wide open for them this year. Their chances of winning it all are better than those of Chicago, Detroit or San Jose, so that makes them a comparative bargain.

Calgary Flames (16/1) - I wish I could say that my hometown team represented a real bargain at this price, but I really can't. The addition of Brent Sutter at coach brings discipline and attention to detail that has been sorely missing. Defensively, there is no team in the league that has three better defencemen than the Flames. There are two main problems, though - scoring goals and stopping them. Goalie Miikka Kiprusoff has regressed for the last few seasons, and they have no viable backup. Offensively they have lots of potential, but only a couple of proven scorers. I suppose they could win it all, but I wouldn't bet on it. After the last few years I would settle for winning a single playoff series.

Toronto Maple Leafs (25/1) - This is the most ridiculous price on the board. The Leafs are the biggest public team in Canada and probably the whole league. They have totally overhauled their roster and are making good steps forward. To even begin to suggest that this price reflects their true chances, though, is to admit that you smoke crack. Goaltending is a question, the defense is young and unproven, and scoring in non-existent. Never say never, but there is virtually no chance that the Leafs pull off the miracle this year. Last time I checked you have to make the playoffs to win the Cup.