NHL Power Rankings
by Trevor Whenham - 11/10/2009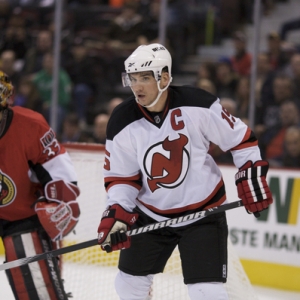 It's still reasonably early in the NHL season, so it makes sense that these rankings are still changing significantly every time I do them. Only three teams - the Rangers, Predators, and Wild - stayed in their same position in the NHL Power Rankings. Philadelphia was the big mover, climbing all the way to the third spot from No. 14 last time. Ottawa is the biggest dropper, falling eight spots to No. 18. (Previous ranking in brackets)

1. San Jose Sharks (4) - The Sharks have only lost once in their last eight games, and that was in a shootout at Detroit. Joe Thornton and Dany Heatley are both playing very well, but the revelation has been Patrick Marleau. He's playing the best hockey of his career and is finally living up to his position as a number two pick.

2. Colorado Avalanche (2) - I've given up trying to figure out how they are doing it, but a team that was supposed to be bad this year is tied for the league lead in points after 18 games. The clear star here has been goalie Craig Anderson, a brilliant free agent acquisition.

3. Philadelphia Flyers (14) - The Flyers struggled to find consistency early in the season, but they have won four in a row and now seem to be playing up to their very significant potential. Ray Emery deserves to be getting more attention - the diva of a goalie is playing as well as he ever has after his sabbatical in Russia last year.

4. Pittsburgh Penguins (1) - The Pens have been hit hard by injury. It's hard to maintain your momentum when you lose one of your top scorers and the other enters into a slump. They have lost three of four, and the last two haven't been close.

5. New Jersey Devils (7) - They are hit hard with injuries, and they don't really seem to have the talent level required to be a top contender, yet they just keep finding ways to win. They have won five in a row, and eight of nine.

6. Calgary Flames (9) - Calgary still isn't a team that you feel comfortable backing because they can look really good or really bad depending on their mood. They have won three in a row, though, and show signs of playing with confidence and strength.

7. Washington Capitals (5) - The team was playing very well before Alexander Ovechkin was injured, and it is to their credit that they have found a way to still play reasonably well without him. A team can't survive forever without the best player in the world on the ice, but in the short term they are okay.

8. Buffalo Sabres (3) - The Sabres have fallen down the rankings because of some spotty play recently. They have lost three of four, and need to be much better to stop falling even further. Their biggest problem is that their best player, Thomas Vanek, isn't playing anywhere near as well as he needs to.

9. Los Angeles Kings (2) - The Kings have fallen because they have dropped their last two and four of six. They aren't a bad team right now, but they are a young one, and that means that they are going to be inconsistent and, at times, frustrating.

10. Vancouver Canucks (15) - There are a few teams that are clearly built around one player. That's the case with the Canucks and Roberto Luongo. It's impressive, then, that the team has been able to win four of six since Luongo was injured. Andrew Raycroft has done an unexpectedly great job in relief.

11. Chicago Blackhawks (8) - The young team has been hit very hard by injuries - mostly to their forwards - and that has had a predictable effect on their offensive production. They have played reasonably well despite that, and they will obviously get better as they get healthy.

12. New York Rangers (12) - I kept the Rangers in the same spot as last time, but they need to improve their play or they will go into a freefall on this list. They can't find any consistency, and now they seem to be flirting with the idea of bringing in Peter Forsberg to help them find it. I'm not buying that as a solution.

13. Phoenix Coyotes (11) - One of the most surprising teams at the start of the season looks to be falling back to earth. They have just one win in their last four, and issues with goaltending seem to be their biggest problem right now.

14. Columbus Blue Jackets (21) - The Blue Jackets have points in their last five games and goalie Steve Mason is finally showing signs of returning to the level of play that made him Rookie of the Year last year. Now all they need to do is quit allowing so many shots.

15. Dallas Stars (13) - The team's offensive production has faltered in recent games, and that has translated into bad results in the standings. They have just one win in their last five, and aren't quite good enough to be competitive here. The team clearly seems to play better in front of Marty Turco, yet the team insists on giving Alex Auld a full share of starts.

16. Detroit Red Wings (22) - The team has had a lot of key injuries, yet that doesn't do enough to explain the problems this team has had this year. They are supposed to be a top contender yet again, but they just got blown out by Toronto. Good teams don't do that.

17. Atlanta Thrashers (19) - Ilya Kovalchuk is hurt, yet the team has won three of their last five without him. That's a sign that there are at least a few good things going on in Atlanta right now. This is not a playoff team right now, but it's not terrible, either.

18. Ottawa Senators (10) - I had reasonably high hopes for this team before the season, and I still do, but they have only won two games in their last seven so they are falling fast in the rankings. The offense isn't working right now, and Alexei Kovalev is shouldering the blame for that because of his underperformance.

19. Edmonton Oilers (16) - The team has been hit hard by the flu and injuries, and it has had a huge impact on their play. They have won only twice in their last eight games, and they have scored only five goals in those six losses. I'm not convinced that this team is any good if they are healthy, but they sure aren't now.

20. Montreal Canadiens (18) - The Habs have only one win in regulation time all season. The only thing that is saving them is that they are among the best in the league in overtime.Until the team can find some consistency they are in real trouble.

21. Boston Bruins (17) - I called the Bruins the most disappointing team in the league last time, and they responded by being even more disappointing. They have just one win in their last four, and they came within a minute of being shutout for three straight games. This team is going nowhere until they can get their offensive stars healthy.

22. Tampa Bay Lightning (20) - The Lightning are hovering just above .500 - an accomplishment given how bad they were last year. The biggest reason for the improvement has been the play of sophomore Steven Stamkos. He leads the team in scoring and has already become a star. Now if only Vincent Lecavalier would begin scoring.

23. Anaheim Ducks (24) - Ryan Getzlaf is unquestionably their best offensive player. Or at least he theoretically is. He has only had one goal all season, and that's a big reason why the Ducks aren't doing better than they are.

24. New York Islanders (28) - The Islanders have climbed up the rankings, and they probably deserve to be even higher. They have won five of their last seven, and are looking far more competent than we could have expected them to be based on the way they started the season. The best news for this team is that rookie John Tavares and youngster Matt Moulson are leading the way in scoring - a good sign for the future.

25. Nashville Predators (25) - The Preds have won four of five, but that's not yet enough to convince me that this team is ready to play. Their one loss was ugly, and before this hot play they were really a lousy team.

26. St. Louis Blues (23) - The Blues were a popular choice to win their division before the season began. The way they are playing now they aren't even a playoff team. They have lost five in a row, and have only scored four goals over that stretch. Their last three losses have been in overtime, so this is not a clutch squad.

27. Minnesota Wild (27) - Minnesota is totally overhauling their style of play this year, and it hasn't been pretty so far. They have won three of their last four, but they still don't look like they have bought into the new, more offensive approach. Part of the problem could be their lack of offensive talent.

28. Florida Panthers (29) - The Panthers have won three of their last five. That's not bad. The problem is that they have won just four of their last 14. The team's talent has been gutted over the last couple of years, and they have the results - or lack thereof - to show for it.

29. Toronto Maple Leafs (30) - I was certain that the Leafs were going to be stuck in the cellar of these rankings for a while. An unexpected display of competence, though, has seen them win two straight and get at least a point in their last seven. Goalie Jonas Gustavsson was a big offseason acquisition and it has paid off - the team has nine points in the six games he has played since returning from injury.

30. Carolina Hurricanes (26) - They haven't won a game in more than a month - a span of 12 games. And counting. They are hit with injuries, their goaltending situation is bleak, their offensive talent is lacking, and a lot of what they do have isn't firing. In short, it's ugly.