NHL Power Rankings
by Trevor Whenham - 1/7/2010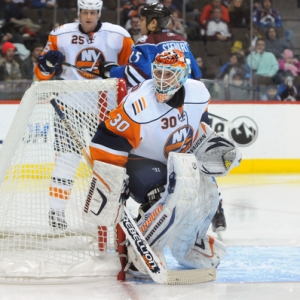 1. Chicago Blackhawks (2) - The Blackhawks have won seven of their last eight games, and they beat up on New Jersey when they got the chance. We knew coming into the season that these guys had a chance to be special, and they are certainly living up to the hype. Key stat - they allow the fewest shots against in the league. With an offense like theirs that's deadly.

2. San Jose Sharks (6) - They have won nine of 10 and couldn't be playing better. Their one loss - a blowout at home against the Kings - was a concern, but they have bounced back strong in their game following that. If nothing changes before then then the Sharks and Blackhawks seem headed to a Western Conference final showdown. That would be truly epic.

3. New Jersey Devils (1) - The Devils have won nine of their last 11, so they certainly didn't drop because they are cooling down. The only reason I dropped them is that 5-1 loss at Chicago. It's hard to believe with a new coach and an ancient goalie, but these guys are the class of the East.

4. Buffalo Sabres (9) - Buffalo has won five in a row and 11 of 15. Ryan Miller is the goaltender for the U.S. Olympic Team, and he's been playing like it's the gold medal game already.

5. Calgary Flames (8) - It's called consistency, boys. Look it up. They won six of eight, then lost six of seven, then won five in a row. They are as high as they are because when they play their game, like they did in Nashville on Tuesday, they are all but unbeatable. They seem finally to be buying into what coach Brent Sutter is trying to get them to do.

6. Vancouver Canucks (13) - They are playing good hockey, and it's about freaking time. They have won six of seven and 10 of 13, and they haven't lost in regulation in eight games. They lost defenseman Kevin Bieksa for the long term, and they released Mathieu Schneider, so the defense could be a concern in the coming weeks.

7. Phoenix Coyotes (11) - The Coyotes have just one regulation loss in their last eight games. They are probably ranked a little high, but they deserve so much credit for what they have accomplished this year when they have had every possible excuse to quit.

8. Pittsburgh Penguins (4) - Last time out the Penguins snapped a five-game losing streak. I could have dropped them further, but they are too talented to go much lower, and they are still in great shape despite the recent decline. The issue is that Evgeni Malkin isn't scoring, but we know that that can't last.

9. Washington Capitals (3) - The Capitals dropped further than Pittsburgh even though their losing streak was only three games. It's fair if you think about who they lost to, though - namely Carolina at home. That and the fact that they took the risky step of trading a popular captain away mid-season means I look at them with hesitation.

10. Colorado Avalanche (10) - I honestly thought that these guys would have a lock on the most balls in the draft lottery by now, so the fact that they have won nine of 14, and are at the top of a tough Northwest Division is stunningly impressive. I don't see it lasting, but I clearly have no credibility on the issue.

11. Nashville Predators (5) - They could stand to be more consistent as well, but they are playing some pretty decent hockey, and they are getting some solid defensive play from a core led by the brilliant Shea Weber.

12. Boston Bruins (12) - They are still frustratingly less than they should be, but they have won six of eight, so they seem to be realizing some of that potential that they ooze from every pore. The loss of Patrice Bergeron will be a concern if it lingers.

13. Montreal Canadiens (22) - I am putting them here while I ignore their last two games - both losses. Before that they won six of seven and played the best hockey that they have played as a team in at least three years. There is hope here. Not much, but a bit.

14. Detroit Red Wings (14) - Given the fact that they are playing as decent hockey as they are, it's scary and a little sad to think what they could be doing if their best players weren't sitting in the press box nursing injuries.

15. Los Angeles Kings (7) - I decided to drop these guys a week ago when they had lost four in a row and looked pretty lousy. Really lousy, actually - especially in two losses to Calgary. Since then, though, they have beaten Washington and San Jose, so they probably should be higher. If they keep it up I promise to move them way up next time.

16. Dallas Stars (19) - They might have been higher if they hadn't lost their last three. This team has a nice core, and they are showing signs that they are gelling together and figuring things out. This team isn't going anywhere this year, but they are progressing.

17. Minnesota Wild (20) - They are 4-4 in their last eight, and the wins have been as impressive as the losses have been frustrating. Every time it looks like they are taking a step forward they take one right back again. It's nice to see them play some offense for the first time in their franchise history, though.

18. Ottawa Senators (17) - Trying to figure these guys out gives me a headache. Jason Spezza and Daniel Alfredsson - their two best players - are out of action and they proceed to play some of their best hockey of the year without them. Huh?

19. Philadelphia Flyers (28) - Finally. The Flyers are 5-1-1 n their last seven (with six of those games on the road) and are finally showing signs of turning the corner and playing at least a little like they team they are on paper. They get an extra little boost in the rankings for humiliating the Maple Leafs last time out.

20. Florida Panthers (16) - Cory Stillman is back in action, and that has helped the team play some decent hockey. Now the only significant injury the hard-hit team has in David Booth. Unfortunately, he's their best player.

21. Tampa Bay Lightning (23) - The Lightning are playing some good hockey right now as they ride the wave of great goaltending from Mike Smith. Smith is brilliant when he's at his best. Unfortunately, he can also be terrible, and there isn't much middle ground. Steven Stamkos really deserved to be on the Canadian Olympic team. Actually, any one of the top Canadian forwards on the team deserved to be on the team.

22. New York Rangers (25) - The Rangers are red hot - 7-2-1 in their last 10 - so they deserved to be higher than they are. The reason I didn't move them up higher, though, is that they have a brutal stretch of games - seven in 11 days starting Wednesday - and I don't like their chances of surviving that.

23. Atlanta Thrashers (15) - I liked a lot about what Atlanta was doing earlier in the season, but now they haven't won in nine games and just look awful. The team really needs to decide what they are doing with Ilya Kovalchuk so the team can focus on the future with some certainty one way or the other.

24. Anaheim Ducks (19) - They have won two games in their last seven, and saying that their power play is anemic is an insult to the word anemic. These guys are wasting a stunning amount of talent.

25. St. Louis Blues (21) - Making a coaching change was a good move. Now we just have to see if it makes a difference. It isn't so far - they have lost six in a row and still look as confused and disconnected as they have been for weeks now.

26. New York Islanders (26) - You can't question their effort, and their 5-1-1 record in their last seven is a considerable improvement over where they were before that stretch. The thing that stands out with this team right now is that John Tavares is struggling. They have moved the rookie from center to right wing to try to help him rediscover his spark. Such is the risk of relying on a rookie - even a freakishly good one like Tavares.

27. Toronto Maple Leafs (24) - The good news for these guys is that Jonas Gustavsson, the goalie they call the Monster, is playing lights out right now. The problem is that he is literally the only guy on the team playing good hockey right now. They looked good for a while, but they have forgotten how to score again.

28. Edmonton Oilers (27) - In a word, brutal. They have lost 10 of 11, and have looked lousy doing it. On top of that, they raised a storm on New Year's Eve by eating in a fancy restaurant in Calgary and then refusing to pay a big chunk of the bill. Classy. I'd suggest that they need a serious coaching overhaul, but they just had one of those at the start of the season.

29. Columbus Blue Jackets (29) - They have won just one game in their last 14, and in that one they scored their first goal in overtime. They have been playing better recently, but even better just isn't good enough. This is a lousy, lousy team.

30. Carolina Hurricanes (30) - These guys just can't catch a break. They won two road games in a row and looked poised to climb out of the cellar. But then Eric Staal, by far their best player, has had to take a leave of absence because his sister-in-law died of cancer. That won't help them as they try to build some momentum.