2012 NFL Power Rankings - Week 4
by Robert Ferringo - 9/25/2012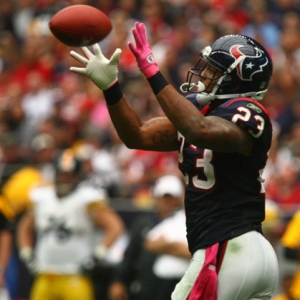 Being a professional handicapper and gambler is all about risk management. It is all about being able to manipulate the chaos of very volatile, independent markets (the sports) and to assess the potential hazards and opportunities of every wager that is placed.
It is definitely time to start asking the question as to whether or not the sheer, utter incompetence of the NFL's replacement officials has created a situation where bettors either shouldn't be betting or should be betting less because of the officiating in these games.
This isn't a knee-jerk reaction to losing a bet on Green Bay on "Monday Night Football". And if anyone believes that one game and that one call somehow was the only thing the refs got wrong this weekend they are kidding themselves. I have been watching football for 25 years and I have never seen a bigger shit show than I am watching each and every week. It is constant chaos and insanity and games are being dictated by ass-clowns with no business being on the field.
(For the record, I am 100 percent supportive of the unionized refs and I wish nothing but bad things upon the hypocritical, greedy, sociopathic owners, who have nothing but contempt for you as a common fan and nothing but disdain for the general public. This entire labor standoff, like that in the NHL at the moment and with the ones we've seen in the NBA and NFL the last year, are symptoms of a much bigger political and societal problems, but I don't have the space to go into that here.)
What the officiating debacle has done is take one of the most volatile markets in the betting industry – professional football – and make it 100 times more unpredictable and less stable. And if you eliminate the emotion, the love and enjoyment that most people have about betting on football, and simply determine from a risk management standpoint if it is worth it to continue betting the games like nothing is wrong the answer is a resounding, "NO".
Now, I, personally, will continue to wager on the NFL. However, I will say that I won't be betting as much and I will probably not be as aggressive in attacking those "big play" situations where I would normally drop the hammer. Officiating is only one piece of the football puzzle. And the fundamentals and foundations of beating the NFL market run much deeper than refereeing incompetence. So I won't be deterred. (Unfortunately, and ironically, that attitude is what is keeping this "labor dispute" going.)
Instead I will cover my eyes from the theater of the absurd that we are watching each Sunday, cross my fingers, and hope that the next time the officials decide to blow a game and take it from a team that should've covered that I have a wager on the other side.
Here is Doc's Sports Week 4 NFL power rankings:
1. Houston Texans (3-0) – The Texans are not unstoppable right now, but they are definitely rolling. The best asset that this team has – besides a total familiarity with its system, which might be the most underrated commodity in football – is that even when teams know that they are going to run the ball they still pick up six yards. Houston has split with Tennessee in each of the last three years and the favorite is 5-11-1 ATS in the last 17 meetings. But Houston is 15-5-2 ATS in its last 22 games and they are 13-3-2 ATS in their last 18 conference games.
2. San Francisco 49ers (2-1) – The Niners admitted that they were flat for the 10 a.m. PST start time (noon, local) last week in Minnesota. They will have to deal with another trip East this week and I would expect a sharper, more focused effort out of them in this one. But, then again, this is their third road trip in four weeks to start the year. The 49ers are 14-4-3 against the spread in their last 21 games after an ATS loss and they are 18-6-2 ATS after an outright loss. The Randy Moss situation is clearly at a simmer. But it is bubbling beneath the surface and is something to watch. San Francisco is also 6-2 ATS against teams with a winning record.
3. Baltimore Ravens (2-1) – I am going to continue to bet the Thursday night game "under" the total. So far this season all three Thursday games have stayed under, and I think it makes sense. These players are exhausted on Monday. And it has to be nearly impossible to get themselves back "up" for a game on Thursday after playing on Sunday. That is going to make teams a lot more lackluster, like we saw with Chicago and Carolina the past two weeks. I also know that people assume that the Ravens are going to blow Cleveland out, but they have only beaten them by more than two touchdowns three times in the last 10 meetings.
4. Green Bay Packers (1-1) – If Green Bay had been given its rightfully deserved win Monday night then they would have been No. 4 on this list. So I am keeping them at No. 4 even though their offensive line is in complete chaos. I think they are clearly missing former offensive coordinator Joe Philbin and they are out of sync. Yes, the line is creaky. But Aaron Rodgers is also holding the ball too long, doesn't look as eager to run, and isn't throwing the ball away. I would not expect the Packers to suddenly be motivated by anger and blow out their next opponent. Instead, losses like the one they suffered on "Monday Night Football" have a tendency to linger and negatively impact a team its next time out.
5. Atlanta Falcons (3-0) – The Falcons have beaten the number in four straight home games and they are going to really be looking to drop the hammer on the rest of the division this week with a win over the Panthers. Atlanta's secondary has risen to the challenge of Mike Nolan's new defense. They have improved in completion percentage against, yards per attempt against, and right now they are No. 2 in the league in opponent's passer rating. And that is after facing the No. 1 offense in football, Peyton Manning and Philip Rivers. The secondary has been the most impressive thing about this team.
6. New York Giants (2-1) – I know that everyone is back on New York's bandwagon. They are getting 85 percent of the early betting action in their game with the Eagles. But I would again like to point out that the Giants are 22-27-2 ATS in their last 51 regular season games going back to the start of the 2009 season. This team is not a consistent moneymaker and they are too high profile, to be counted on to earn bettors solid profits. (Until January, that is!) That said, the Giants are 36-15 ATS in their last 51 road games and 8-1 ATS against a team that is over .500. The road team is 8-2 ATS in the last 10 meetings in the Eagles series and the underdog is 13-3 ATS in the last 16 meetings.
7. New England Patriots (1-2) – Again, I am not going to overreact to a couple of losses by the Patriots. This team is going to figure things out and their schedule is easy enough where they can fall asleep at the wheel and still win 10-12 games. The Patriots are 51-24-3 ATS in their last 78 road games, and they have completely owned the Bills. The favorite is 14-5 ATS in the last 19 meetings, the Patriots are 8-3 ATS in the last 11 meetings, and the Patriots are 7-1 ATS in their last eight games in Orchard Park.
8. Pittsburgh Steelers (1-2) – Normally I would be in favor of having a bye week later in the season. But I think Pittsburgh is going to benefit from having a week off early in the season. The Steelers defense is being raked over the coals right now. But they are actually No. 7 in total defense. The problem is that they have been soft on third down (allowing 48 percent) and their yards per point is an unsustainably low 11.9 to this point in the season.
9. Chicago Bears (2-1) – Brandon Marshall has 16 catches and three drops in 31 targets so far this season, with just one touchdown (and two touchdown drops). Bears fans are starting to realize what I have been saying: Marshall is a good receiver, but he is not the game-changer or an offense-changer that he was billed as. Tim Jennings has been the best corner in football through the first three weeks. He has four interceptions already and forced another one that was returned for a touchdown
10. Denver Broncos (1-2) – I feel that this team has played the most difficult schedule in football to this point in the season. And the only thing keeping them from being 3-0 is missed opportunities. Whether it is dropped passes, slightly missed throws (and anyone suggesting that Peyton Manning "can't throw the ball anymore" is an idiot), or missed turnovers, the Broncos just aren't getting the breaks and making the game-changing plays at the same rate that they were last year. Denver is now 15-35-1 ATS in their last 51 home games and they have one of the least efficient home field "advantages" in the NFL.
11. Dallas Cowboys (2-1) – I said it last week and I will say it this week: Jason Witten shouldn't be on the field right now and he is not helping this Cowboys offense. Dallas is now on a 2-8 ATS slide and they are just 1-6 ATS in their last seven "Monday Night Football" games. Tony Romo seems to enjoy throwing against the Cover-2 defense and has historically completed a high percentage of passes for a lot of yards against those defenses. But this game against Chicago will test every fiber of Romo's turnover-prone being, and that will determine if Dallas gets this win.
12. Cincinnati Bengals (2-1) – The Bengals won 30-20 in Jacksonville last October as one-point favorites. This week is nearly an identical situation. The Bungles scored two touchdowns in the last two minutes of that game to score a come-from-behind victory. The Bengals are now 3-8-1 ATS in their last 12 games overall and they are just 2-4 ATS on the road. I have to say that I am a big fan of Andrew Hawkins, the Bengals slot guy. He is as explosive as any receiver I've seen so far this year and is a perfect compliment to A.J. Green.
13. Minnesota Vikings (2-1) – Run the ball and play good defense. It is not rocket science. If you run the ball and play good defense you can win in the NFL. And the Vikings are "this" close to being 3-0 right now. I will say that I am still not buying Christian Ponder. But he hasn't been a dumpster fire. And that might be good enough. This team is not going to be a good favorite because of its style of play. But the Vikings will be an excellent underdog. Minnesota is just 2-8-1 ATS in its last 11 divisional games but they are 3-1-2 ATS in its last six against the Lions.
14. Arizona Cardinals (3-0) – Right now this team is on a rush. I still contend that the Cards aren't nearly as good as they are playing. But right now this team is hot. They dominated the Eagles last week and they are now 10-3 ATS in their last 13 games going back to last year. But I have to say that I am not quick to jump on them as a nearly touchdown favorite. They are just 4-5 ATS as a favorite over the last two years and are just 7-12 ATS since the start of 2009 when laying points.
12. Philadelphia Eagles (2-1) – The biggest indicator that the Eagles are an overrated, overvalued commodity is their 0-3 mark ATS. They haven't beaten a number yet this year and this team is mediocre, at best. Their issues should not be news to anyone. I have held firm for nearly a decade that Michael Vick is a loser, and you simply don't want to have money riding on his erratic play. And the criticism that the Eagles throw the ball too much is something that Andy Reid has ignored for a decade.
16. Detroit Lions (1-2) – The fact that Matt Stafford is hurt should surprise no one. All the guy does is get hurt! He is questionable for this week, but even if he does play he won't be 100 percent. I think that Shaun Hill will be fine, though. He doesn't have as big of an arm as Stafford. But let's not act like Matt Stafford is some game-changer. Stafford has erratic accuracy and misses too many throws. If he isn't throwing it up to Calvin Johnson he is checking down. And that's it. That's what he does. I am much less impressed with him than just about everyone else.
17. Carolina Panthers (1-2) – This is what happens to the sexy, trendy team that everyone has pegged as their "sleeper" team. Carolina isn't sneaking up on anyone this year, and this team was overvalued heading into the season. The defense still has a lot of major issues, particularly in the secondary, and Ron Rivera is obviously having problems incorporating his version of the Cover-2 with this personnel. Carolina is just 4-10 ATS in its last 14 games against a team with a winning record.
18. Seattle Seahawks (2-1) – A win is a win. And even though Seattle didn't deserve that cover on MNF they got it. Now this team has to avoid a letdown and maintain its focus against an organization that it has dominated. Seattle has won 13 of 14 games against the Rams and they are a sensational 9-1 ATS in their last 10 meetings. These games are generally ugly, sloppy, hard-to-watch affairs. Seattle will have to rise above that. This team may be better than what I have them pegged at right now. But, again, I think they were more than a little lucky in their last two games.
19. Tampa Bay Buccaneers (1-2) – Josh Freeman has been a disaster so far this season and has severely regressed. They are starting to look like another "Everything But" Team, in that they have everything a winning team needs but a quarterback. This team has played the second-toughest first three games of the season and has two tight losses and a win under its belt. Unfortunately, the defense just took another big hit. Already without Da'Quan Bowers, the Bucs just lost defensive lineman Adrian Clayborn for the season. They only have seven sacks on the season and their pass rush is going to be nonexistent.
20. Jacksonville Jaguars (1-2) – Say what you will about Blaine Gabbert – my take is that he is improving, but obviously isn't there yet – but that is now twice in two road games this season in which he took his team the length of the field for a touchdown in the final seconds. The Jaguars are 5-2-1 ATS in their last eight home games against Cincinnati, and they do have revenge for a home loss to them last year.
21. San Diego Chargers (2-1) – The Chargers are going to be a huge square play this week. They opened as three-point favorites on Sunday night in their game at Arrowhead but that line was quickly bet down to 1.5. I guarantee that over 80 percent of the action on this game is on the Bolts. But the visitor is 0-4 ATS in this series and the Chargers are just 4-10-1 ATS in their last 15 trips to Arrowhead.
22. New Orleans Saints (0-3) – This defense is an absolute train wreck. They simply cannot stop anyone, at any time, from doing any thing. They are pathetic. And that – more than anything else – is why this team is 0-3. And no, they will not be able to turn it around. Maybe now we know why Gregg Williams blitzed so much: desperation. I thought that this week's game with Green Bay would be the first ever total of 60.0 in an NFL game but it actually came up short at 54.0. These two teams played a 42-34 barnburner in the opening game last year. And even though neither attack has looked all that sharp to this point they both have serious breakout potential.
23. Washington Redskins (1-2) – Someone might want to tell Robert Griffin III that he might want to pick up a third down on his way to Canton. The Skins have converted a league-worst 28 percent of their third downs. Have I mentioned that Kyle Shanahan – who was involved in a brouhaha with the replacement officials – is an absolute waste of a coaching job? Nepotism at its finest. Washington lost Trent Williams, and right now they are just very thin along the offensive and defensive lines. They can't run the ball and they can't play defense. Hopefully RGIII will play well enough to keep this team overrated.
24. St. Louis Rams (1-2) – St. Louis is headed in the right direction. And they are going to be much more competitive this year than they have the past four seasons. But they still aren't very good. The offensive line can't block ANYONE, and Sam Bradford still doesn't have anything to work with in the receiving corps beyond Danny Amendola. St. Louis' defense has been impressive. But the Rams secondary depth is nil and I think that the front seven is already starting to get worn out. I am expecting a much higher-scoring game this week than perhaps anyone realizes and I will be looking hard at this Rams-Seahawks total.
25. New York Jets (2-1) – Mark Sanchez proved once again that, despite an OT win (aided by a Miami kicker FAIL), that he is just not a good quarterback. That end zone interception that he threw – lofting it up from inside the 10 on third down in a game with minimal scoring – was an amateur, rookie move, not the move of a guy that has been starting for four years. The Jets might rally for a couple weeks without Darrelle Revis (trust me, every gambler knows that teams always go on a short-term ATS rush when their best player gets hurt), but in the long-term of this season that loss is a crippler.
26. Buffalo Bills (2-1) – I'm sorry, was I supposed to be impressed by a road win against hapless Cleveland? Well, that game was 17-14, late, and Buffalo lost C.J. Spiller to injury. The offense won't be nearly as explosive with Tashard Choice toting the rock. The Bills treat every game with the Patriots like it is the Super Bowl. And they managed a 34-31 home upset last year in a similar situation. However, Buffalo was down 21-0 in that game and they are facing a much better Patriots defense. I think this one could be painful for the Bills this Sunday.
27. Kansas City Chiefs (1-2) – Raise your hand if you knew that the Chiefs had the No. 1 total offense in football. Liar! Kansas City moved the ball at will against Atlanta, then they Chiefs posted underperforming point totals (17 and 27) for the yards they have been gaining (422 and 510). Their offensive yards per point, 19.45, is shockingly low for how much they have moved the ball. And after the Saints game going "under," I would expect the Chiefs to be a solid "over" play for the next month.
28. Indianapolis Colts (1-2) – I will admit that I like the way that Andrew Luck is throwing the ball. I know that seems like a simple statement but remember: I am the guy who said, "Let's wait and see" with both Luck and Griffin. The results are obvious: those two top picks are a combined 2-4 ATS in their first six games. The Colts defense is all kinds of a mess right now and this team needs to get its scheme figured out during the bye week. Because if they couldn't stop Jacksonville or Minnesota they are going to have all kinds of trouble with real NFL offenses.
29. Tennessee Titans (1-2) – There are fluke wins, and then there is what the Titans pulled out of their asses. They benefitted from two special teams touchdowns, a defensive touchdown, and two more touchdowns that accounted for over one-third of their total offense. That is ridiculous. Tennessee's rushing game averages less than 40 yards per game and quarterback Jake Locker has outgained Chris (1.4 yards per carry) Johnson, 67-45.
30. Oakland Raiders (1-2) – The Raiders get credit for an inspired second half against the Steelers. But that one win doesn't change my overall opinion about this team, and that is that they are generally incompetent. One advantage they do have this year is that Oakland coach Dennis Allen was Denver's DC last year, so he will know how to attack the Broncos defense. Oakland is at its best in the role of underdog, and they have won four straight trips to Mile High, including a pair of blowouts in 2010 and 2008.
31. Cleveland Browns (0-3) – Their offense is a disgusting, disease-infested calf. One of those stillborn ones just lying outside of a barn, covered with flies. The Browns have already been outgained for nearly 300 yards on the season and they look pathetic with the ball in their hands. This team has lost nine straight and 12 of 13 going back to last year. And now they have to deal with a short week and a road trip to Baltimore.
32. Miami Dolphins (1-2) – An optimist would say that Miami has made great strides the last two weeks and really could be 2-1 and in the mix in the AFC East right now. A realist would say that Miami has played ugly football and struggled against two of the other worst teams in football. They are now without Reggie Bush, the lone NFL-caliber skill player on this roster. The Dolphins front seven is playing its heart out. But a couple injuries and a few more weeks will likely suck the life out of that unit as well.
Robert Ferringo is a professional NFL handicapper has banked nearly $10,000 in football profit over the last 11 months he has had football picks. He will keep it going this week and is looking forward to building on his stellar football handicapping resume again this fall. You can check him out here.