NHL Power Rankings
by Trevor Whenham - 4/13/2010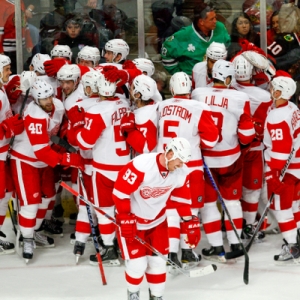 The regular season is over, so now is the time to look back, and to look forward. To do that we're going to do the NHL Power Rankings slightly differently for this final version. The first 16 spots will be reserved for the playoff teams, and they will be ranked in their likelihood of and ability to go all the way in the playoffs. The remaining 14 spots will be the 14 non-playoff teams, and they will be ranked both in terms of how they looked this past year and their ability to improve their circumstances next year. Without further ado:

The Playoff Teams

1. Washington Capitals - Impossible to argue with this one. They have the best record, the best player, a great first-round matchup, and they lost only one of their last 14 in regulation. There's some concern that they haven't made the Finals before in this version, but this is unquestionably the team to beat.

2. San Jose Sharks - I was worried about these guys when they lost six straight in the middle of March, but that was just a blip. They have gone 8-1-1 since and secured the home ice advantage throughout the playoffs. They are the leaders in the West at this point, but to live up to that they have to do something they haven't been able to do in the past - win in the playoffs.

3. Detroit Red Wings - They don't even have home ice advantage in the first round, but there isn't a team that should be more feared. They were 13-1-2 in their last 16, and goalie Jimmy Howard has gone from a big question mark to a potential Vezina Trophy winner. Their experience in the playoffs couldn't be a bigger asset.

4. Chicago Blackhawks - They also finished the season strong, and they have the most depth of any team in the West. The thing that scares me, though, is their goaltending. They just don't have the power between the pipes to truly be trusted.

5. Vancouver Canucks - They weren't the most consistent team down the stretch, and Roberto Luongo could have been better, but the Sedin twins are in top form, they have solid depth defensively, and Luongo has the capability to carry a team - like he did in the Olympics.

6. New Jersey Devils - I'll never count out Martin Brodeur - especially when he has guys like Ilya Kovalchuk and Zach Parise in front of him. They finished a strong 4-1 in their last five, they play the kind of defense that is so useful in the playoffs, and they are doing a lot of things I really like. I'd have them ranked higher if they weren't facing a very tough series against the Flyers.

7. Pittsburgh Penguins - I'd feel better about this team if Evgeni Malkin was coming off a better regular season. You can't count out a team that has played in the Finals the last two years, though - especially when they have Sidney Crosby on their side. Crosby is at worst the second best player in the league, and he finished with a bang - two goals and three assists to secure a share of the goal scoring title, and second in the points race.

8. Buffalo Sabres - From this point down are the teams that I just don't think can win it. Buffalo has a very dangerous goalie in Ryan Miller, and he could take this team through a round or two - especially because they get to open against an underwhelming Boston team. I just don't think they can swing with the heavyweights, though. They are the best of the rest, but that's not good enough.

9. Phoenix Coyotes - This is the best story in the league this year. This team should have been absolutely terrible - they had every possible excuse - yet here they are hosting a playoff series. Thoroughly unpredictable, and totally inspiring. Unfortunately, they wind up playing Detroit, so the joy might not get to last long.

10. Los Angeles Kings - I love the fact that the team has two of the best young defensemen in the league. Top defensemen are the single most important thing in the playoffs. I also don't mind their pairing with Vancouver - it's not nearly as bad as it could have been. If there is going to be a first round upset in the West then this will be it.

11. Ottawa Senators - I'd feel a heck of a lot better about this team if they hadn't lost Alexei Kovalev for the playoffs. They have some talent issues for sure - especially in net - but they are extremely well coached, and are going to be a tough out. I'm confident Pittsburgh will beat them, but the Penguins will wish it had been easier once it is done.

12. Boston Bruins - If the Stanley Cup were awarded for underachieving then Boston would be in the thick of things. They should have been in the heat of the battle, but instead they didn't secure a playoff spot until the last week of the season. It's going to be a short stay in the playoffs as well.

13. Nashville Predators - As an expansion franchise not so far back the Predators deserve a fair bit of credit for qualifying for the playoffs for the fifth time in six years. That's better than their peers. Unfortunately, they haven't won a series yet, and it's just not going to happen this year, either. Chicago is a brutal matchup for them.

14. Colorado Avalanche - A week ago I would have had the Avs ranked 16th. They impressed me down the stretch, though, when they toughened up to secure a playoff spot it looked like they were going to lose. They'll find ways to annoy the Sharks, but ultimately I just don't see how they can be competitive for seven games

15. Philadelphia Flyers - The Flyers should be a talented team, but turmoil in the dressing room and behind the bench have made for a lousy year. They needed to win a shootout in their final game to even make the playoffs. They'll be able to test the Devils, but they'll have to work really hard to surprise me and win the series.

16. Montreal Canadiens - This is one lousy playoff team. They are just 3-4-3 in their last 10 - second worst only to Colorado among playoff teams - and I'll frankly be surprised if they even win a game against the Capitals, never mind a series.

The Non-Playoff Teams

17. St. Louis Blues - The Blues closed strong to tie Calgary for the best record of non-qualifiers. They were stymied by a brutal start to the year, but they have a lot of young talent all over the ice, and the future is bright for these guys.

18. Anaheim Ducks - They lost only one of their last nine in regulation, they have an excellent core built around Ryan Getzlaf, and the likely retirement of some old players will free up cap space to reload. This is a team I would be buying if the league were a futures market.

19. Dallas Stars - This is another team that finished reasonably well - though they somehow managed to make it through the entire year without winning three straight at any point. They have some talent, and are about to get a new ownership group that should provide more support and vision.

20. New York Islanders - This is far too high for the Islanders based on their play this year. I am rewarding them, though, because I like what they are doing so much. John Tavares was special as a rookie and is going to be a star, and guys like Matt Moulson are right there with him. They badly need to get their goaltending in order, but for the first time in years it's possible to believe that this team can be a contender.

21. New York Rangers - The Rangers are a ridiculously frustrating team. The script has been the same forever - they spend fortunes on high priced players, and those players proceed to underwhelm in the blues. Marion Gaborik was a notable exception to that rule this year, but he wasn't enough. They should be much better than they are - something that has been the case ever since they last won the Cup.

22. Carolina Hurricanes - This team has tons of heart. They were as bad as a team can be in the first half of the season, but they got their act together and were a more than decent team in the second half. They still missed the payoffs by eight points and were below .500, but they impressed late, and they have a lot of young talent to build around.

23. Calgary Flames - They were tied for the best record of non-playoff teams, so they could be higher. They aren't, though, because they have so many issues. The only player on the team who was consistently good was Miikka Kiprusoff, all of their highly-paid players were disappointing, and they have little cap space and few decent prospects and no high draft picks to improve their situation.

24. Tampa Bay Lightning - The team had coaching and management issues, but they quickly addressed those the day after the season by firing both coach and GM. They have a lot of work to do, but when you can build around Vincent Lecavalier, Martin St. Louis, and the brilliant Steven Stamkos - not to mention young defensive star Victor Hedman - then you aren't going to be down for long.

25. Minnesota Wild - Minnesota was mostly brutal this season. Give them a bit of a mulligan, though, because they ditched a long-established defensive style after last season so growing pains were inevitable as they learned how to score - and how to play without out the best player they have ever had in Marion Gaborik.

26. Atlanta Thrashers - It was hard to have any real hope for this team after the were forced to get rid of Ilya Kovalchuk. They did a reasonable job of getting value for him, though, and they have enough prospects that the future isn't totally dim.

27. Florida Panthers - This is where the teams start to really get ugly. The Panthers have little talent, none of it is happy, and no one can seem to stay healthy. This team is far from competitive now, and that isn't likely to change in a hurry.

28. Edmonton Oilers - The Oilers were really, really terrible this year, and to add insult to injury top free agent acquisition Sheldon Souray not only asked for a trade, but went nuclear on the team and the management in the process. Things are bleak right now, but future superstar Jordan Eberle is ready to join the team next year, and a high draft pick this year will likely join him, so they could finally have some hope.

29. Toronto Maple Leafs - Talk about starting over. This team has a very nice player in Phil Kessel, and that's about it. Dion Phaneuf is overrated, the goalies can't be trusted yet, and the cupboards are bare in the minors and the draft. This is going to be a long and incredibly painful rebuilding process.

30. Columbus Blue Jackets - This is a team with a pile of problems and they are hard to like, but what can you expect from a team that shares a city with Ohio State? Rick Nash is a nice player who clearly can't carry a team himself, and they just don't have the pieces around to help him out. We're talking about a serious overhaul here.