NHL Power Rankings
by Trevor Whenham - 2/4/2010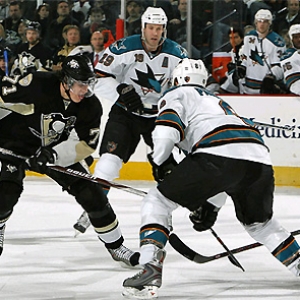 There is a lot of movement in the rankings this week as there has been over the last few rankings. There's a good reason for that - I'm just not convinced that there is a lot of quality in the league right now. I really believe in the top three teams, but beyond that there isn't a lot of consistency, and it seems to be impossible to get a lasting impression of a team - as soon as you start to believe in them they go into the tank, or vice versa.

1. Washington Capitals (3) - It's not too hard to figure this one out - they have won 11 in a row, and 14 of 15. Eleven of those 14 wins have been by multiple goals, so it's not like these guys are just a little better than the rest of the field. They have the best player in the world, and a supporting cast that's solidly good enough.

2. San Jose Sharks (2) - The Sharks are 8-1-2 in their last 11, so they could easily be in the top spot if Washington wasn't so red hot. Things are a little scary over the last few days right now, though - they lost to the Blackhawks and the Red Wings in their last three.

3. Chicago Blackhawks (1) - The third team in the Big Three is a solid 11-4-1 in their last 16, but they fell from the top spot because three of those four losses have come in the last seven games. Despite that, they are ridiculously deep and talented, and they have the pieces to make a trade and get even better down the stretch.

4. Vancouver Canucks (10) - The Canucks were expected to be an elite team, and they are finally playing like one. They lost at Montreal last time out, but they had won seven in a row before that, including very convincing wins over Chicago and Pittsburgh. Things are working just as they should right now.

5. L.A. Kings (13) - The Kings have won nine of 10, and just swept a five-game road trip. They don't have a roster that should be as successful as it is, but Ryan Smyth has found a fountain of youth, and Jonathan Quick has been spectacular in the nets. I'm not convinced that they are a long-term contender, but they sure are for real right now.

6. Phoenix Coyotes (8) - How in the world does Phoenix keep it up? They don't have obvious talent, but they just can't stop winning. I thought that they would be in the race for the top pick in the draft, but they have won five in a row, and are clearly heading towards a playoff spot.

7. Buffalo Sabres (4) - The Sabres drop a bit because they had a rough four-game losing streak, but they still have points in 13 of their last 16 games, and are a team that no one would want to play. Their problem is still the same as it has been all year - they don't have any offensive consistency.

8. New Jersey Devils (5) - I believe that the Devils are a team that is built to win in the long term. They are in a rough patch right now, though - just three wins in their last 11. I should have dropped them further due to those struggles, but I think I'd just have to move them right back up again, so we'll show some patience.

9. Ottawa Senators (24) - The Senators are the big upward movers this week. That's what happens when you win nine in a row. There are still doubts about whether this team can stay even remotely as hot as they are, but they are finally healthy after a terrible injury streak, and their chemistry couldn't be better.

10. Pittsburgh Penguins (7) - Pittsburgh took a small step down to make room for some of the risers, but the way they are looking they'll be climbing up again. They are a solid 9-5 in their last 14, and are getting super-human play from Sidney Crosby. If they can add someone to play with Malkin down the stretch then they are headed for another playoff showdown with the Capitals for all of the Eastern marbles.

11. Colorado Avalanche (9) - Like Phoenix, I don't understand how Colorado keeps doing it. I say that every time I do these rankings, but I still haven't got any insight. They aren't very consistent, but every time they hit a bit of a skid they turn around and put together a longer winning streak.

12. Philadelphia Flyers (15) - The Flyers have as much depth as almost any team in the league, and they are finally playing like it. They are 13-5-1 in their last 19, and are as tough to play now as they should be. They should be a top six team in this league with their lineup, and they are on track to get there.

13. Detroit Red Wings (14) - I really can't say why the Wings are as high as they are. I guess I am just respecting my elders. They aren't a particularly good team, and they are far too old and beaten up, but they still have the talent and the coaching to be decent, so I hesitate to drop them down.

14. Florida Panthers (23) - The Panthers are 7-3-2 in their last 12, and they are taking care of beating the teams that they need to beat - those that aren't any better than they are. This isn't a team that is built for the long run, but they have David Booth back in the lineup finally and they are playing well, so I'll reward them.

15. Calgary Flames (12) - The Flames are an utter mess - one win in their last 11, and no scoring. they deserve to fall further. The only reason they haven't is because they have done something about their struggles - two bold moves that saw two of their four highest paid players shipped out of town and six new players join the squad. I don't know if it makes them better, but they at least get credit for trying.

16. St. Louis Blues (22) - Like so many teams on this list the Blues should be much better than they are. They are 7-3-2 in their last 12, though, so they are finally doing better. I'm not sure what it is about this team that isn't working like it should, but the chemistry isn't quite right.

17. Nashville Predators (6) - I know that I punished Nashville more than I probably should have, but I am very annoyed by their current play. They were looking so good so I moved them way up. Since then they have lost six of their last seven, and looked totally pathetic on a four-game road trip. There are heart issues in Nashville right now.

18. Anaheim Ducks (21) - There was a stretch during which the Ducks won seven of eight and looked darned good. They have cooled down since, though - they have won just three of their last six. They made a solid move in goal, though, when they got rid of J.S. Giguere and extended Jonas Hiller. The two No. 1 goalies were a distraction for the team, so the commitment to one will help.

19. Dallas Stars (16) – It's very hard to care about this team. They only have a bit of talent, they aren't playing with any excitement, and their goaltending has been lousy. They aren't going to do anything, so I look for them to make some moves to build for the future - starting with trading away Marty Turco.

20. Minnesota Wild (20) - This team loves streaks. Over the last six weeks they won three, lost four, won four, lost four, won three, and lost two. They are better offensively than they were in the past, but it will take at least a year or two for them to undo the effects of the dull defensive system that they had used for as long as they have existed.

21. Montreal Canadiens (19) - The Habs have a world of problems. Mike Cammalleri, their most important offensive force, is out for at least a month with a knee injury. They have two goaltenders who play a lot, but neither one has stepped up to play like a No. 1.

22. New York Rangers (18) - You can't win when you can't score, and the Rangers just have a whole lot of dead weight and these players aren't putting the puck in the net. They tried to shake things up by getting rid of underachievers Chris Higgins and Ales Kotalik. The problem is that they got Olli Jokinen back from Calgary - another guy with no interest in using his tremendous talent.

23. Boston Bruins (11) - The Bruins remind me of the Flames right now. Despite their talent they have just one win in their last 12, and are a pathetic mess on both sides of the puck. The only thing that will save this team right now is a merciful end to the season.

24. Atlanta Thrashers (25) - The Thrashers were looking good for a while, but they have since dropped four of their last six. The obvious problem is Ilya Kovalchuk. He's in total contract limbo, and doesn't know if the team is going to resign him or if he is going to be traded at any time. It's an obvious distraction, and it is weighing heavily on the team. Just do something!

25. Tampa Bay Lightning (26) - The Lightning are showing sparks of life, and they will be moving up the rankings soon if they keep it up, but they still haven't proven that they are a relevant team at all. Steven Stamkos gets a big part of the credit for the success that they have had - if he's this good in his second year then his potential is truly scary.

26. Carolina Hurricanes (28) - Four wins in a row, including a huge two-goal win at Chicago, really got my attention. But then they went into Edmonton and played a totally brain-dead game to lose to by far the worst team in the league. That hurt their chances of climbing higher.

27. Columbus Blue Jackets (27) - The Blue Jackets took a bold move to help themselves today when they fired head coach Ken Hitchcock. He has accomplished some nice things in the past, but he just wasn't getting it done in Columbus, and he had to go. I thought that they would wait until the end of the season to pull the pin, so this is solid progress.

28. New York Islanders (17) - The Islanders are a likable team, and they deserve better than this. They are just running out of gas, though. They have lost five in a row, and they just don't have the firepower to compete at this level at this time.

29. Toronto Maple Leafs (29) - Brutal. Just brutal. I guess they deserve credit for making some big changes this week. Or at least they would if they hadn't invested so heavily in Dion Phaneuf - a total dud of a defensemen who is an incredibly overrated defensive liability.

30. Edmonton Oilers (30) - Here's a microcosm of how bad bad things are going for this team. Sheldon Souray is by far their best defenseman, and was almost sure to be trade bait to help this team build for the future. The last time he played the Flames he was knocked out for several games with a concussion thanks to Jarome Iginla. On Saturday he sought revenge by fighting Iginla. He broke his hand during the fight, and now is worthless on the trade market.