NHL Power Rankings
by Trevor Whenham - 1/20/2010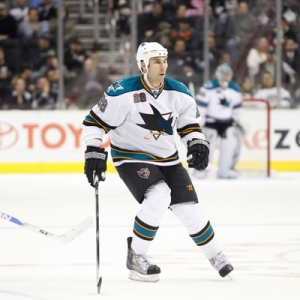 1. Chicago Blackhawks (1) - There have been some missteps - like a dull 4-2 loss at Ottawa on Tuesday - but the Blackhawks haven't really done anything to deserve a demotion out of the first spot. They are arguably the best team in the league regardless of some small struggles the last couple of weeks.

2. San Jose Sharks (2) - Though Chicago stays on top you could argue that San Jose deserves to be there. They have secured nine of their last 10 points, and looked impossibly good as they massacred Calgary, 9-1, on Monday night.

3. Washington Capitals (9) - The Capitals have won seven of their last eight games, and they have scored four or more goals in all but one of those contests. This team is absolutely rolling on offense, and it's hard to stop a team this talented when they are in a groove.

4. Buffalo Sabres (4) - The Sabres have 18 points out of 22 in their last 11 games, so they are obviously doing something right.They also got a very impressive big win in Phoenix this week - far from an easy place to get two points.

5. New Jersey Devils (3) - The Devils could easily have dropped further in the rankings - they have lost their last three. Still, they are among the very elite teams in the East, so they don't deserve to be punished too much for an inevitable slow patch.

6. Nashville Predators (11) - I'm officially impressed with the Predators. They have had potential for a few years now, and they are finally starting to live up to it. They made the tough trek through Western Canada last week and emerged with a perfect 3-0 record. A lot of teams can't say that.

7. Pittsburgh Penguins (8) - The Pens deserve to move up a spot just because of the game their best two players had on Tuesday. Evgeni Malkin broke out of a scoring slump with a hat trick, and Sidney Crosby added two goals and four assists. It's not hard to win when you have two of the three best players in the league.

8. Phoenix Coyotes (7) - I dropped Phoenix down a spot, and I should probably have dropped them further - they have just three wins in their last nine games. I don't have the heart to do it right now, though, because they have been such a pleasant surprise for so long this year. I expect them to fall quite a way down, so for now I'll let them enjoy the high rankings for a while.

9. Colorado Avalanche (10) - The Avs have won four in a row, and have looked very good doing it. A few weeks ago it looked like Craig Anderson had lost his magic, but he is back to absolutely standing on his head the last few games and the goalie is a big reason why this team continues to surprise.

10. Vancouver Canucks (6) - The Canucks won four straight and it looked like they were going to climb even higher in the rankings, but then they came out and lost three in a row that they really should have won. They've had three days off to get their act together, and I expect them to move higher before the season is done.

11. Boston Bruins (12) - The Bruins got a gift from me that I didn't move them down in the rankings - they have dropped five of six. There weren't enough teams that deserved to move up, though, so I will give Boston credit for having more talent than they have shown.

12. Calgary Flames (5) - The Flames are an absolute mess right now. They have just one win in their last eight, they can't score if their lives depend upon it, the coach and players are understandably uneasy, and they were humiliated by San Jose on Monday. Look for changes to happen in Calgary before a promising season is lost.

13. L.A. Kings (15) - I still don't love this team, but they showed a lot of heart last week to beat Anaheim and Boston at home in consecutive games to halt a three-game losing streak. Young Canadian Olympian Drew Doughty has been absolutely incredible recently.

14. Detroit Red Wings (14) - Detroit has lost four of their last five, but two have been in the shootout so it's not as bad as it first looks. I still don't understand why this team isn't better than they are, though the injuries they have been plagued with are an obvious issue.

15. Philadelphia Flyers (19) - The Flyers still have goaltending issues, and they still have all sorts of dressing room issues, but at least they are finally winning and starting to meet their potential - they have won five of their last seven games.

16. Dallas Stars (16) - I probably should have moved Dallas down, but the thing they have going for them is that they consistently take care of business at home. Now if only they could find a way to play well on the road.

17. New York Islanders (26) - There are good things going on in New York. They have won six of their last eight, and are playing some very impressive hockey. Rookie star John Tavares is finally getting his mojo back after a sustained slump, and that can only help the team.

18. New York Rangers (22) - The Rangers have been struggling with scoring in recent weeks, but they have changed that with a vengeance with their last two games - they have scored 14 goals while only allowing four. Marion Gaborik continues to prove his critics, including me, wrong with his red-hot play.

19. Montreal Canadiens (13) - The Habs would be dangerous if they were even remotely consistent. Last week they won two of three games and tied the third, and they looked very good. Then they laid an egg in two games in a row. Carey Price continues to struggle in net.

20. Minnesota Wild (17) - If only the Wild could play all of their games at home. They had a brilliant four-game stand, beating Calgary, Chicago, Pittsburgh, and Vancouver. Impressive. But then they went on the road and dropped three.

21. Anaheim Ducks (24) - The Ducks have been the hottest team in the league over the last couple of weeks - 7-1. I moved them up slightly as a result, and I would have moved them further if they hadn't been so frustratingly lousy before then. They need show that they can sustain this play before I reward them for it.

22. St. Louis Blues (25) - The Blues did a nice job of snapping a seven-game losing streak by winning four of their last five. Like the Ducks, though, I'm not going to really reward them until they show they can play up to their potential for longer than 10 days.

23. Florida Panthers (20) - I'll fully admit that the Panthers should have climbed instead of falling because they have earned nine of their last 10 points. Not every team can get what they want, though, so Florida will have to wait to next time to get that reward. It's not like there are fans in Florida to notice the slight.

24. Ottawa Senators (18) - The Sens have won four in a row, but they struggled before that, and I'm still looking at the current success as an illusion - they have relied on a young, inexperienced goalie and a fluctuating lineup. I like the potential of this team, so I am being harder on them than on others.

25. Atlanta Thrashers (23) - The Thrashers are playing much better after a sustained slump, but they still don't get to move up until they can string together two or more wins in a row. Consistency is big in my eyes.

26. Tampa Bay Lightning (21) - They have just one win in their last four, the players aren't playing with any unity or cohesion, and the trade rumors are swirling around several of their top players. Things are not rosy in Tampa.

27. Columbus Blue Jackets (29) - After an incredibly ugly slump the Jackets are 4-4 in their last eight, and have even looked good in a couple of the losses. This is not a good team, but it is much better than it was.

28. Carolina Hurricanes (30) - The Hurricanes have finally climbed out of the cellar. They had won four of five before falling back to earth with three losses in a row. Interesting move from the team on Wednesday - they switched captains, making young star Eric Staal the new leader. Could be a big move.

29. Toronto Maple Leafs (27) - Nothing makes me happier than seeing the hated Leafs struggle. They have won just two of their last eight, and are a long, long way from being a good team.

30. Edmonton Oilers (28) - The only team I hate more than the Leafs in the Oilers, so this is pretty much a perfect situation for me. They have just one win in their last 16 games, and the way they are playing they have got exactly what they deserve.