NHL Power Rankings: Expert Analysis and Futures Odds
by Doc's Sports - 11/28/2018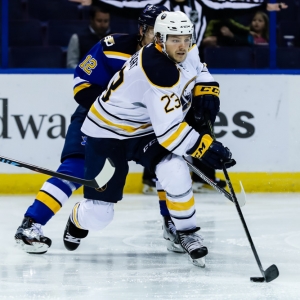 We are now approaching December, and by now most teams have played between 23 and 25 games. This is a critical junction of the season because I read a stat the other day that over the course of the last five years, 77.5 percent of teams who were in a playoff spot on American Thanksgiving made the postseason when the season finished up. If we take that a step further, the percentage drops to 75 percent, but now we are dating all the way back to the 2005-06 season. That's a pretty big sample size to look into, and some teams will be hoping to skew the numbers a bit more.
As we approach December, I felt like now would be an appropriate time to run for my second NHL power rankings of the season and see where we stand in the futures odds as well. All odds are courtesy of Bovada .
1. Buffalo (+1300) - Apparently Buffalo is the best team in hockey. They are riding a 10-game winning streak and sit atop the NHL standings. They are also the biggest mover in Stanley Cup odds from +5500 all the way down to +1300. Not sure I would anoint them just yet, but they do have some nice pieces on their roster and they are playing with a ton of confidence. The top spot in the power rankings is deserved, but only barely.
2. Toronto (+475) As Cup favorites, the Maple Leafs have impressed me lately given how they've played despite missing their No. 1 center, Auston Matthews. The Leafs defense has been better, but they still give up too many chances. If one team can score their way to a Stanley Cup, it's this team.
3. Nashville (+650) - At 17-7-1, the Predators are just one point back of Buffalo for the top spot in the NHL. They are the best team in the West, and all signs point to home-ice advantage throughout the Western Conference. They are a bit banged up with three key cogs missing through injury, but their depth is real, and its part of the reason they are 4-2 over their last six games.
4. Tampa Bay (+525) - The Lightning also own the same record as the Preds and are also just one point back of Buffalo for the top spot in the NHL. They are missing their No. 1 goalie, but that hasn't slowed them down one bit. They are 5-2 over their last seven games and are getting contributions from the entire lineup. The Lightning will always be a dangerous team.
5. Colorado (+1600) - The Avalanche may very well be for real this season. They have one of the best lines in the NHL with the Gabriel Landeskog, Nathan MacKinnon, and Mikko Rantanen trio, with Rantanen leading the NHL in scoring with 40 points. They are currently riding a five-game winning streak and are 7-2-1 in their last 10 games.
6. Washington (+1600) - Don't look now, but the defending Cup champions are rolling right along to the tune of six straight wins. They've put themselves back atop the Metro Division, and they have done so by overcoming a slew of injuries to key players. Once their main guys return, this team is going to be very dangerous to play.
7. Minnesota (+1300) - The Wild are a quiet 14-8-2. I state "quiet" because nobody takes them seriously, not even me. They are a team without any real household names aside from Zach Parise and Ryan Suter. They've done well to stay afloat, going 6-4 over their last 10 games, moving them to third in the Western Conference. Sleep on Minnesota at your own peril, but this team can make you some serious cash.
8. Winnipeg (+1300) - Last year's Western Conference finalists take up the No. 8 spot in our power rankings. They are just hanging on at 5-4-1 over their last 10 games but have been able to score plenty of goals in the process. The Jets have one of the most underrated home-ice advantages in the NHL, and any team going into the MTS Centre is likely to come away with a loss.
9. Columbus (+1800) - Columbus has a good thing going on right now. They are 7-2-1 in their last 10 games and are just one point behind Washington for the top spot in the Metro Division. They are finally getting good goaltending from Sergei Bobrovsky and are getting contributions up and down the lineup. It's also a tough place to play, especially with that stupid cannon.
10. Calgary (+2500) - The Calgary Flames are playing good hockey of late and are 14-9-1 on the season and 4-1 in their last five games. The Flames can blitz you on offense or suffocate you defensively with their solid defensive stats. They have a roster filled with good talent, and I expect them to be a playoff team come April.
11. San Jose (+1600) - The Sharks went all in this offseason by acquiring Erik Karlsson from the Ottawa Senators. After a sluggish start, the Sharks are now 12-8-5 but have lost two straight and can't seem to win away from the Shark Tank, posting a 0-4 record on the road in that span.
12. Boston (+1400) - Boston is 13-7-4 on the season and 5-3-2 in their last 10 games. They've been hit hard by the injury bug, with several key pieces to their roster missing extended periods of time. They've gotten the usual production out of Brad Marchand and David Pastrnak. So, as long as those two guys are in the lineup, the Bruins have a chance to win any game they play.
13. Vegas (+3300) - Vegas isn't catching teams by surprise this year, but they are currently on a four-game winning streak and have been finally able to keep pucks out of their own net. Marc-Andre Fleury has returned to form - so it seems - winning the last four games and posting two shutouts in the process. They are never going to be the team they were last year. However, if they can start stacking some wins together, they could be in the hunt for a playoff spot.
14. Dallas (+3500) - The Stars own a 12-10-3 record but have slumped lately to the tune of 4-4-2 in their last 10 games. They, too, have been bit by the injury bug. However, for a team that boasts the likes of Jamie Benn and Tyler Seguin, you'd believe they could score goals better than they actually do. They sit 25th in the NHL in goals per game and just 23rd in shots on goal per game. That's not going to cut it for this team.
15. Pittsburgh (+2800) - It's not always pretty, but finding a way to get results is all that matters. The Penguins have reeled off two straight wins and are now two games above .500 and are eyeing a playoff spot. This team is too talented to play poorly. And with Sidney Crosby in the lineup and playing like we know he can, the Penguins have a chance to win every night.
16. Edmonton (+4000) - It's not pretty in Edmonton. The Oilers fired their coach and now must regroup and refocus their efforts if they don't want to miss the playoffs for the second year in a row. This team is just 3-6-1 in their last 10 games and are essentially wasting Connor McDavid's prime years. Something has to happen in a hurry for this team.
17. New York Rangers (+3500) - The Rangers are 13-10-2 thanks to a 6-3-1 record over their last 10 games. The Rangers still struggle to score goals, posting just 2.84 per game (22nd) and manage just 29.6 shots on goal (26th). In a tricky Metro Division, the Rangers will need to score more in order to keep up with teams like Washington and Columbus.
18. New York Islanders (+3500) - The Islanders can be described as mediocre at best. They consistently get blown out in the shots on goal/shots allowed category and yet they still have a winning record. Sooner or later the roof is going to cave in on this team. And based on the upcoming handful of games, that scenario could be set to happen.
19. Anaheim (+3500) - This team is smoke and mirrors. They may be 11-10-5, but this team scores 2.19 goals per game (30th overall), puts 26.5 shots on net per game (31st) and gives up 35.6 shots per game (30th overall). If it wasn't for their goalie, they could very well be five or six games under .500 instead of one game above.
20. Montreal (+3500) - The Montreal Canadians are a generous 11-9-5 this season. They've done well when they forecheck the hell out of their opponents, which leads to mistakes and turnovers, but they also make plenty of errors themselves. They have one of the best goalies in the league in Carey Price, but even he is starting to look worn out. You can only go all out 100 percent for a short time, and I believe the Canadians have started to fade, posting just a 3-4-3 record over their last 10 games.
21. Vancouver (+5500) - When you get compared to Pavel Bure or Alex Mogilny, that must mean something. And for Elias Pettersson, the Canucks fifth overall pick in last year's draft, that must mean you are producing and leaving writers and commentators speechless. Pettersson is second on the team in scoring with 21 points although a tough schedule has put the Cancuks behind the eight-ball. The team is now 11-13-3 on the season and has lost nine of their last 10 games.
22. Carolina (+3300) - The Hurricanes were everyone's sleeper pick to make noise this season and be a playoff team. Two months into the season and they own a 12-9-3 record, and the only noise they've been making is with their post-game celebrations that have caused some traditional hockey guys to lose their minds over. The Canes have a good roster but can't get a key save when the time calls for it.
23. Arizona (+5500) - It was a long season in the desert last year. And despite a half-decent start, the Coyotes have tailed off recently, going 3-5-2 in their last 10 games to drop their record to 10-11-2 for the season. The Coyotes are among the better teams in regards to the defensive zone, but they still struggle to generate any scoring chances. If you can't score goals consistently, you are not going to win very many games.
24. New Jersey (+5500) - Taylor Hall is good. This we know. The rest of the team, not so much. The Devils got off to a fast start but have tailed off recently, losing seven of their last 10 games. They are now just 9-10-4 on the season, and things are not looking up for this team.
25. Philadelphia (+5000) - The Flyers are about as inconsistent as any team on this list. Just when you think they've turned the corner by coming away with an impressive two points, they fall flat on their faces. The Flyers have a good group of players and a roster that should take them to where they want to go. The problem is the goaltending, something that's been the Achilles heel of this team for the last decade.
26. St. Louis (+5500) - The Blues are another team that has fired their coach already this season. Rightly so. They are just 8-11-3 on the season and are tied with LA for the fewest points in the league. They can't score, they can't defend, and they can't get any timely saves. It's going to be a long season in St. Louis (if it hasn't already been a long two months).
27. Ottawa (+20000) - The fans want the owner to sell the team. The owner is suing his business partner for a failed bid on a new arena. The team is 10-12-3 on the season. And aside from Matt Duchene being among the league leaders in points, there is not much else going on in the Capital of Canada.
28. Florida (+8000) - I continuously hear that Florida is supposed to be a good team and that they have a good roster with good goaltending. All I see is a mediocre team at best and a team with no real identity. The Panthers are just 9-9-4 on the season and haven't given me anything worth writing about.
30. Chicago (+4500) - The price of winning is steep in the NHL. Sure, the Blackhawks have three Cups over the last 10 years, but now they are paying the price for that success. They also have an aging roster, and they've managed to fire their coach and continue to lose games. It's not a pretty sight in Chicago at the moment.
31. Los Angeles (+12500) - The Kings roster is terrible. They are filled with an aging core with terrible contracts. They don't have enough depth, and their prospect cupboard is pretty bare. The Kings are T-31 in the league with 19 points, and that's only thanks to a mini two-game winning streak.
Get $60 worth of member's NHL picks absolutely free - no obligation, no sales people - you don't even have to enter credit card information. You can use this $60 credit any way you please on any of our top hockey handicappers. Get $60 worth of premium members' picks free ! Also, for a limited time get three hockey handicappers for the price of one! Click here for our 3-for-1 NHL picks offer . Also, get free NHL picks every day on Doc's Sports NHL predictions page.