NHL Power Rankings
by Trevor Whenham - 12/8/2009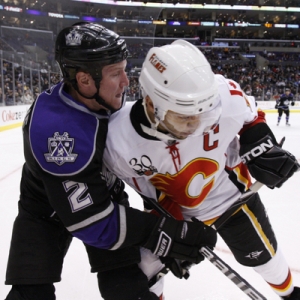 1. Chicago Blackhawks (2) - The Blackhawks have stumbled slightly recently, but they have still earned 21 of the last 26 points and are definitely rounding into form. Goaltending is still a bit of an issue, but they are as talented as any team in the league and they are showing it.

2. Calgary Flames (4) - The Flames won four of six on the road, including a big win at San Jose, Miikka Kiprusoff is essentially a brick wall, and Jarome Iginla is rounding into top form. The biggest concern for the Flames is that they aren't peaking too early.

3. San Jose Sharks (1) - The Sharks are still playing well, but they dropped out of the top spot for a simple reason - they lost to the two teams that moved ahead of them. San Jose is built for the long haul.

4. Washington Capitals (3) - Washington has won six in a row and showed what they are made of when they made up for the loss of Alexander Ovechkin for two games because of a suspension by winning the two games with explosive offense.

5. New Jersey Devils (7) - Martin Brodeur set the all-time NHL record for shutouts this week, and is playing about as well as he always does. The Devils went through a pretty significant coaching change in the offseason, but you would never guess it.

6. Pittsburgh Penguins (8) - You had to wonder for a while, but Sidney Crosby is again proving that he can score as well as anyone in the world. His offensive resurgence has helped the team get back on track.

7. L.A. Kings (14) - The Kings have earned nine of their last 10 points, and they have beaten Chicago and Calgary in the last two weeks. This team has impressive offense, and will only get better when Ryan Smyth returns from injury later this month.

8. Buffalo Sabres (10) - Ryan Miller has been spectacular, and the Sabres have played well recently. I was prepared to move them even higher in the rankings but then they dropped their last two.

9. Atlanta Thrashers (12) - Atlanta has won five of seven, though they have dropped two of their last three. Before they can prove that they belong among the top tier of teams they need to avoid things like what happened on Monday night when they allowed five goals in one period to the lousy Maple Leafs.

10. Boston Bruins (19) - The Bruins have won seven of their last nine, and are finally starting to live up to their massive potential. This team should be among the class of the East, and they will be if they keep this up.

11. Nashville Predators (18) - The Predators have cooled off slightly, but they did win seven in a row, and they looked fairly convincing doing it. This team isn't a top contender, but they are definitely a worthy playoff contender.

12. Phoenix Coyotes (21) - I find it hard to trust or believe in the Coyotes, but they have won five in a row and are all but unbeatable at home. It doesn't seem possible on paper, but maybe this team is for real.

13. Colorado Avalanche (17) - The Avalanche seemed like a flash in the pan at the start of the year, but it's December and they are still have the second best record in the West. I have absolutely no idea how they are doing it, and I know I should have them higher in the rankings, but I still can't wrap my head around them.

14. Detroit Red Wings (5) - The Wings have a world of talent, but they have only won three of their last eight, and just don't seem to be turning a corner. Frankly, they are only ranked this high now because they were ranked so high last time around. That was clearly a mistake in hindsight.

15. Dallas Stars (11) - The Stars just can't seem to get any momentum going these days, but they have points in three of their last four and are looking like about what the rankings suggest they are - an average team.

16. Vancouver Canucks (13) - Over their last nine games the Canucks have won two and then lost one. That's consistency of a sort, I guess, and they could go a long way if they could just keep that up. Roberto Luongo is finally back to playing like Roberto Luongo.

17. Tampa Bay Lightning (15) - The Lightning have lost five of their last six, and sophomore sensation Steven Stamkos has hit a bit of a wall recently. This strikes me as a fragile team, so they need to get things back in order soon or this could be yet another lost season.

18. Ottawa Senators (22) - These guys obviously need a new travel agent. They have won five in a row at home, but have just one win in their last six on the road. The team has the talent to be better, but they seem to be wrestling with their own heads.

19. St. Louis Blues (24) - This team needs to figure out a way for their talent to match their consistency. They beat the Sharks and the Kings on the road, but then came home and played as badly as a team can and got shut out by Colorado.

20. Minnesota Wild (26) - The Wild have won five of their last six and probably deserve to be ranked higher. I promise that I'll move them up quite a bit next time if they can prove that they can maintain this momentum.

21. Columbus Blue Jackets (9) - I placed the Blue Jackets probably a little higher in the rankings than their play warranted last time around, and they rewarded my faith by dropping eight of nine. Thanks a lot, boys.

22. New York Islanders (23) - The Islanders are playing reasonably well and are staying in contention, but their issue is consistency. They haven't won consecutive games since Nov. 2. That's a sign of exactly what they are - a young team with a lot to learn.

23. Montreal Canadiens (25) - The Habs have won two in a row and have looked great. Before that they lost four straight and looked awful. Before that it was three wins in four and strong play. Before that three losses in four and sloppy play. This team can't decide who they are.

24. Edmonton Oilers (28) - The Oilers have won three in a row, and it is all due to goalie Jeff Deslauriers. They are struggling badly with injuries, and they have yet to take to the system of their new coaching staff. It could be a long year in the frozen north.

25. Philadelphia Flyers (6) - The Flyers are in freefall. They have just one win in their last nine, they are bickering publicly, and they managed to get a pretty good coach fired. They need to grow up and focus on their jobs, because they are as talented as any team in the league.

26. New York Rangers (20) - There must be something about Madison Square Garden, because the Rangers are essentially the Knicks. There is no reason why either team should be lousy - best city in the world, revenue galore, and so on - but they both consistently find players who just don't give a damn.

27. Anaheim Ducks (27) - The Ducks have lost five in a row and 10 of 14. They should be much better than they are, and it's a mystery as to what their problem is. If you are looking for the next coach to be fired the Ducks would be a good bet.

28. Florida Panthers (16) - The Panthers have one win in their last nine, and that was an ugly 6-5 shootout win. The sad thing for the team and their fans is that they are playing about as well as you would expect them to based on their talent.

29. Toronto Maple Leafs (30) - The Leafs have won three of four and probably deserve to be ranked quite a bit higher than they are. I just really, really hate them, though, and it's not like they belong in the Top 10 or anything. They may climb up eventually, or they may not.

30. Carolina Hurricanes (29) - The Hurricanes lost four in a row, turned things around by winning three of four, but then returned to form and lost five straight. This is a lousy, lousy team.