NHL Power Rankings
by Trevor Whenham - 11/24/2009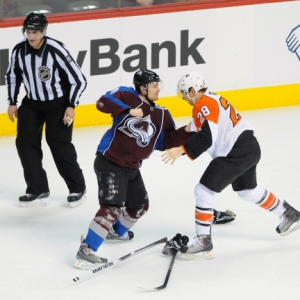 It's been two weeks since the last rankings, and we have seen a lot of movement. The biggest upward moves belong to the red-hot Blackhawks and their division-mates from Detroit. Colorado is the biggest faller, and I'm not at all convinced that they are done moving down yet. In several cases this week I have moved teams around based not just on their current play but also how that play compares to their potential. Detroit, for example, gets a bigger move than their play would normally dictate because they are finally looking like the elite squad that we know they are. Edmonton, on the other hand, drops further than they probably deserve to because they aren't playing nearly as well as they should be given their roster.

1. San Jose Sharks (1) - They are 3-1-1 since the last rankings, and they still have the best line in hockey with Marleau, Thornton, and Heatley, so they have given us no reason to move them down the rankings. They are still the team to beat.

2. Chicago Blackhawks (11) - They have won seven in a row, their offense is clicking, and Marian Hossa, potentially their best offensive player, makes his debut with the team on Wednesday after injuries. It took a while, but this team is fully reaching its potential now.

3. Washington Capitals (7) - They have just one win in their last four, but they have earned a point in two others. They should probably be lower, but no one has really risen to climb above them. The best thing you can say is that they have lost close games.

4. Calgary Flames (6) - Another team that is here more by default than merit. The Flames can play extremely well, but they are also capable of turning their brains off and losing 7-1 to Chicago like they did on Thursday. If this team can find some consistency they are very dangerous, but that's a big if. I hold out hope because they are so strong on the road.

5. Detroit Red Wings (16) - A big move up for Detroit. They have earned 16 of their last 24 points and are finally playing better hockey. They keep getting hit hard by the injury bug and may not be able to sustain their pace, but I have moved them this high to reflect their talent advantage over most of the league.

6. Philadelphia Flyers (3) - I like this team a lot and I think that they are built to last, but three straight losses on the road shows that they still have some work to do. They'll climb higher in coming weeks.

7. New Jersey Devils (5) - Another team that falls in the rankings because they have lost three games in a row. There is a lot to like about this team - especially Zach Parise - but they need more consistent offense to be contenders in the spring.

8. Pittsburgh Penguins (4) - Paging Sidney Crosby - where are you? Sid the Kid has been all but invisible recently, and it's hurting the team badly.Thankfully Evgeni Malkin is healthy again and Jordan Staal is playing very well.

9. Columbus Blue Jackets (14) - Columbus has amassed 14 of 20 points in November. Keep that up and they'll be a playoff threat. They need to get better goaltending, but there are positive signs that Steve Mason may be finding the form that made him unbeatable last year.

10. Buffalo Sabres (8) - One point in their last three games has them moving down the rankings. This team doesn't score much, so they need to rely on great goaltending. They haven't gotten it recently and they suffer. I still have faith in Miller and Lalime or I would have moved them lower.

11. Dallas Stars (15) - They have won three of four to start climbing up this ladder. Brad Richards had a four assist night on Saturday and may be playing the best hockey of his career. The longer he can do that the better.

12. Atlanta Thrashers (17) - This team shouldn't be talented enough to compete, but they have only lost one of their last seven in regulation, and they show up every night with a full effort. They are easily one of the most pleasant surprises in the league this year.

13. Vancouver Canucks (10) - Injuries punished them early on, but they are starting to get healthy, and the results are showing that. They still have some work to do - they have lost four of six - but two big wins over Colorado has them in my sights.

14. L.A. Kings (9) - The loss of Ryan Smyth - out for a month or more - is a major blow to this surprising team. They have lost two in a row without him, and will miss his offensive spark badly.

15. Tampa Bay Lightning (22) - They have lost just once in regulation in their last nine - like Atlanta they always show up and give an honest effort. I'm more impressed by the improvement of Steven Stamkos this year than by that of any player in the league - 15 goals in 21 games for a 19 year old is incredible, and he's good enough that it's no fluke.

16. Florida Panthers (28) - Here's a team that has little talent or reason for optimism, yet they have six wins and two overtime losses in their last eight games. They are proof that unflagging belief in a system is more important than talent sometimes. They will fall from this height, but I wanted to reward them while I could.

17. Colorado Avalanche (2) - This is a dizzying fall from grace for the Avs - reality has clearly hit them. They have just two wins in their last eight. More concerning, the previously unbeatable Craig Anderson has been figured out, and the team is now giving up far too many goals.

18. Nashville Predators (25) - They have won six of seven so they probably deserve to have climbed higher than they have. I'm still not a believer, though - they have a putrid offense, and that's not going to let them compete in the long run.

19. Boston Bruins (21) - This team has won three in a row. Is it possible that they are finally going to live up to their expectations? I'm going to leave them low in the rankings until they prove that they are. I don't take the wasting of talent lightly.

20. N.Y. Rangers (12) - Speaking of wasting talent. This team, when it is on, is scary good. Unfortunately, they seem uninterested in being on very often. They have won just two of their last six and have looked just terrible in some of the losses.

21. Phoenix Coyotes (13) - I suppose I should be kinder to this team, but they can't play on the road, and they just don't look like a real contender at all. They might not deserve to be 21st just yet, but they will soon enough.

22. Ottawa Senators (18) - This team has won four in a row, so it makes little sense that they have dropped. I've done it, though, because there is a ridiculous amount of sniping and discontent coming from the dressing room. I am high on this team in general, but they need to get their act together or they will suffer badly.

23. N.Y. Islanders (24) - Dwayne Roloson made 58 saves on Monday night to keep his team in the game against Toronto and ultimately give them the win. I moved them up a spot in the rankings for that reason alone. Incredible.

24. St. Louis Blues (26) - Chris Mason is playing incredibly in the nets, and they finally won two in a row for the first time since opening the season in Europe. Now if only they could score they might actually be a threat to win a game or two.

25. Montreal Canadiens (20) - Carey Price has been better, and the team has played well enough to climb the rankings, but I just can't be bothered to move them up until they prove that they actually care and that they can sustain their play. I am not at all impressed with this team right now.

26. Minnesota Wild (27) - They finally won their last game after dropping four in a row. There are glimmers of hope as this team adjusts to a new, more offensive system, but they get lazy in their own end to often to be taken seriously for now.

27. Anaheim Ducks (23) - They don't have a regulation win in their last seven games, their best players aren't playing like it, and they are just putting in time. I diagnose a need for a coaching change.

28. Edmonton Oilers (19) - Here's a team that already got their coaching change, but so far it isn't working very well. Injuries have been a problem, but so has wildly inconsistent play. Some teams follow great games with rough ones. These guys can't string two good shifts in a row together.

29. Carolina Hurricanes (30) - Carolina managed to climb out of the cellar this time By winning three of their last five and getting seven of their last 10 possible points. They need to prove they can sustain it before they move higher, but there are signs that the darkest of days could be in the rearview mirror.

30. Toronto Maple Leafs (29) - This team has just one win in their last seven. They are hopelessly lousy. An indication of how pathetic they are - they got out to a 3-0 lead after one period against Carolina and still found a way to lose it. It's all about draft position for these guys already.