NBA Handicapping: Phoenix Suns Back?
by Trevor Whenham - 11/6/2009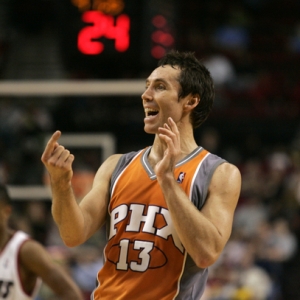 The Phoenix Suns didn't come into the season with high expectations. That's an understatement. They lost to Orlando Wednesday night, but not before they had won their first four games, and looked more than a little competent doing it. Obviously the first five games of the season don't mean anything, but if Phoenix were able to continue playing even close to as well as they did out of the gate then they may not find themselves outside of the playoffs looking in after all - the place where a lot of people had them coming into the season. It was popular to be down on this team coming into the season, so let's take a contrarian view for a few minutes and look at reasons why you could be optimistic about this team and it's chances. I'm not suggesting that they are a title contender, but here are five reasons the Suns could be better than you think:

No Shaq - Shaq is fat and lazy, and his days of helping teams are in the past. There, I said it. A few years ago Shaq would have made any team in the league considerably better instantly. Now he's more interested in dressing up and playing cops and robbers than making an impact on the floor. He never truly bought into playing for the Suns and trying to make them a contender, and it showed on the court. He probably wasn't a good fit anyway - the rest of the pieces are more athletic and far faster than he is - but he certainly could have made the situation better if he had given it his all.

I'm obviously not in the Phoenix dressing room, but I also have to believe that it is a better place to be without him there. Shaq is, increasingly, all about Shaq. That's not what the Suns were about at all when they were at their most successful, and that's not what they can be about when they are fighting for their playoff lives this year. In my eyes seeing Shaq move to Cleveland is a clear case of addition by subtraction. I'm not optimistic for Cleveland, either, but that's a different story.

Nash knows this is his last stand - Nash could have gone wherever he wanted after the season last year. He could have moved to a legitimate contender, or he could have gone to Toronto where he would have been welcomed as a national hero. He seemed to flirt with possibilities for a while, but in the end he agreed to a two-year, $22 million extension with the Suns. He's 35 and he's not nearly as healthy as he used to be, so he must have a sense that he is nearing the end of his career. You could argue that he just signed his last contract - he has lots of money and he's built a strong business and charitable life outside of the game, so he isn't the type who will outstay his welcome. He's off to a very strong start this year, and you have to believe that some of that is because he's content - he's made his choice and now he can live with it without pressure. A comfortable, relaxed Nash is bad news for everyone else.

Amare's payday - Stoudemire is healthy, and he knows that the pot at the end of the rainbow looms at the end of the season - a big free agent payday. It comes at a very good time because teams have been saving up to sign one of the bog boys, and the teams that don't get them would happily settle for Stoudemire. He knows that the better he plays this year the more he makes for the next six or seven years. That's serious motivation, and the more motivated he is, the more impact you'll see on the standings. He's that good.

Gentry can settle in - After the disastrous decision to hire Terry Porter blew up, Alvin Gentry took over in February and had the team playing a more comfortable, wide-open style. That made sense, and the team showed their pleasure with it. It's easy to discount this team as a non-playoff squad last year, but they still won 46 games. That would have been good enough for fifth in the Eastern Conference. Now Gentry has had the full offseason to implement his system fully, get the right people around him, and adjust the personnel to better suit his style of play. With Nash leading an up-tempo style of play and having the option to dish it off to guys like Stoudemire, Hill, and Richardson this team is obviously going to be able to score. Just buckle your seatbelts, because the old Suns are back in town.

Earl Clark - I'm a big Louisville guy, so I have seen a lot of Earl Clark. He's not going to make a massive impact early on, but by the last quarter of this season I expect him to be one of the most impactful rookies in the league. Clark brings two things to this team. First of all, he is freakishly athletic and he can score, so he will be able to contribute when the team has the ball. More significantly, he is fantastic defensively, and will be a real benefit to the team when they don't have the ball. He was drafted 14th overall, and I expect Clark to show the team and the world that that was a steal.