2010 Belmont Stakes Jockeys
by Trevor Whenham - 6/2/2010


Get our 2022 Belmont Stakes coverage including, Picks and Odds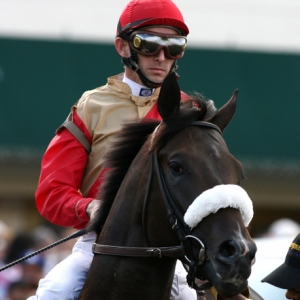 Jockeys are always a crucial part of any horse race, but their impact is perhaps more significant than ever in the Belmont Stakes. The race is a new distance that is well beyond the comfortable capabilities of most horses, so the jockey has a major task in making sure that the horse is ready for the challenge. We only have to look back to last year to see the negative effect that a bad ride can have on a top horse. Calvin Borel was too cocky to ride races on the Belmont track before riding Mine That Bird in the big race, and his terrible decision making was a big part of the reason why that horse didn't run his best race despite showing an epic amount of heart.

Here's a look at the 12 jockeys that will be charged with piloting their mounts to glory in the Belmont this year, listed in order of their Belmont Stakes post position:

Calvin Borel, Dave in Dixie - He drew the rail, which is where he'll want to be. Unfortunately, he doesn't seem to have a horse that has shown enough to be seriously considered in this race. Borel can complete a career Triple Crown with this race, and make up for disappointing rides last year in the Belmont and this year in the Preakness, but it's hard to like his chances.

Garrett Gomez, Spangled Star - Gomez is easily the best jockey in the country to have never won a Triple Crown race, because he's the best rider in the country. He needs to get this monkey off his back, but it's hard to believe that he'll do it here. Spangled Star has only run in one stakes race - a third-place finish - and needed six tries to break his maiden. If Gomez can win on this horse then he is truly a miracle worker.

Rajiv Maragh, Uptowncharlybrown - Maragh is a young jockey who is climbing the ladder to national prominence. He's not yet 25, but has been riding professionally since 2004. He made his first breakthrough in the three year old game this year when he won the Louisiana Derby aboard Mission Impazible. He's on a live one here, and he is based in New York so he certainly knows this track. He's one to watch.

Joel Rosario, Make Music For Me - Rosario made one heck of a ride on this horse when he moved all the way from dead last to a solid fourth despite facing traffic issues and being forced eight wide. Rosario is, incredibly, only 22, but he'll win more than one Triple Crown race before he's done. He competes on the very tough Southern California circuit, but has already won two meet riding titles and a Breeders' Cup race.

John Velazquez, Fly Down - Velazquez hasn't been aboard this horse since his first start last October, but he landed back in the saddle when Jose Lezcano chose Ice Box. Velazquez has won 24 meet titles in New York, so he knows this course as well as anyone. He also won his only Triple Crown race here when he rode Rags to Riches in 2007. His biggest issue, though, is that he doesn't always make the smartest decisions in big races. There are easier guys to trust in pressure situations. He's on a legitimate horse who loves this track, though.

Jose Lezcano, Ice Box - Lezcano is yet another young rider - 25 - in a game that is becoming a young man's sport these days. His claim to fame is that he won a Breeders' Cup race in his first and only Breeders' Cup mount. He's had a fair bit of Triple Crown experience - Ice Box was his third Derby mount. It probably should have been his first win, too, but traffic he encountered just a bit too much to handle. Lezcano isn't going to let this horse down here.

Mike Smith, Drosselmeyer - Smith is an absolute legend - he has a world-leading 13 Breeders' Cup wins. He can complete a career Triple Crown here. Smith has been based in Southern California for the last decade, but spent much of his career in New York, so he certainly knows this track well. This is a new mount for him. He takes over from Kent Desormeaux, who just couldn't establish chemistry with the horse despite riding him in seven races. Smith is an upgrade in the saddle in my eyes, so Drosselmeyer is a factor.

Martin Garcia, Game On Dude - Yet another 25 year old, Garcia is red hot. He won the Preakness for Bob Baffert, the same trainer as this horse, and he won aboard this guy in the Lone Star Derby the last time out. He and Baffert have struggled to lose any race together recently, and he certainly has the talent to win more than one Triple Crown race. Horse and rider combine to be one of the more intriguing mid-priced combos in the race.

Alan Garcia, Stately Victor - This Garcia is even younger than the other one - just 24 - and he is tied with Martin in Triple Crown wins. Alan Garcia won the Belmont in 2008 aboard Da' Tara in one of the most unlikely wins in the 142-year history of this race. Da' Tara ran away with that race, but hadn't won previously that year, and never won another race. Stately Victor doesn't seem like a great fit for this race, but he's 10 times the horse that Da' Tara was coming into this race, so who knows what could happen for Garcia.

Jamie Theriot, Stay Put - Theriot has ridden this horse six times, so he knows his mount as well as any in the field. Theriot was en route to being a journeyman on the Arkansas - Louisiana - Kentucky circuits, but a strong 2008 season has helped to elevate him to a higher level. A win here would be huge for his career, but he's have to have the ride of his life to get this horse to the wire first.

Ramon Dominguez, First Dude - Dominguez is an impressive New York-based rider - he has more than 4,000 career wins, and led the nation in wins in 2001 and 2003. He came close to winning this race aboard Bluegrass Cat - he was second in 2006. In the Preakness he did a stellar job of relaxing this horse in the lead and saving something for the stretch drive. This track suits both horse and rider, so this is a combo to watch.

Javier Castellano, Interactif - There's an interesting jockey move here - Rafael Bejarano rode him the last two times out, and was available here, but Castellano takes over instead. Castellano won the Preakness with Bernardini in 2006. He's on a horse that has a ridiculous amount of talent and class, but who has never been quite good enough to live up to his potential. Castellano is good enough to get his best out of the horse. If he can establish chemistry then the horse is dangerous in this spot.