2010-11 Boston Celtics NBA Picks with Futures Betting Odds
by Christopher G. Shepard - 10/7/2010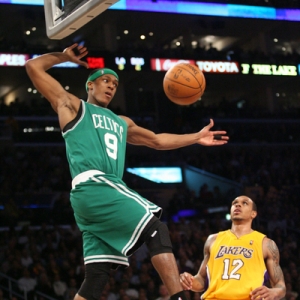 Last season the Boston Celtics lost in Game 7 of the 2010 NBA Finals to the Los Angeles Lakers. As heartbreaking the loss was for Boston, it was clear that the Celtics sorely missed Kevin Garnett in the lineup. Now that KG is healthy and has a big 'Green Leprechaun' in Shaquille O'Neal to help crash the glass, there is cautious optimism in Boston that the Celtics will again return to the NBA Finals.

Boston has a formidable starting five in Garnett, Tony Allen, Paul Pierce, Rajon Rondo, and Jermaine O'Neal, but the real strength appears to be the Celtics potential depth. The good news for Rivers is that Boston's roster from 1-12 stacks-up well against any other team in the league.

It's most likely that Rivers will need every player on his bench since the Celtics might be the NBA team most prone to injury. As a result, GM Danny Ainge had a busy offseason signing players to support KG, Pierce, and Allen. Boston Celtics get back KG from the knee injury that kept him out most of last year. Jermaine O'Neal tweaked a hamstring in preseason and is out for one week, hopefully for the Celtics this won't be a harbinger of injuries to come.

The biggest news for the Celtics this summer was the signing of Shaq. The move has had its share of support and detractors. However, if the move works out then there is a lot of upside potential with very little low-side risk.

Shaq had become a non-factor in Cleveland, so it will be interesting to see the effect of KG on Shaq and vice versa. Look for O'Neal to plant himself in the paint and utilize his considerable bulk to hit high percentage shots and dominate the paint once again thanks to the support from KG on the post.

The Boston Celtics schedule starts by hosting the Miami Heat on Oct. 26, and then it alternates between road and home games against the New Jersey Nets, New York Knicks, and Detroit Pistons before a four-game road swing from Nov. 7-13. The Celtics end their season with 13 road-trips in 24 games. The NBA Finals might be a reach for Boston this year, but they should post similar regular season numbers as last year.

Boston Celtics Offseason Moves
Ainge had a fabulous offseason dumping slacktastic Rasheed Wallace, Tony Allen and Shelden Williams, while signing marquee and role players with the long-term plan of building the team around Rondo. Much has been made of signing of Shaq, but don't overlook the return of Delonte West, Jermaine O'Neal, Luke Harangody, and Von Wafer as well as the addition of first round draft pick Avery Bradley (currently rehabbing surgically repaired ankle). Kendrick Perkins is out until February, which puts the demand on J. O'Neal to start producing immediately.

Boston Celtics Predictions: Outlook
The Celtics should again dominate at home, while getting blown out by faster teams with agile big men. The Celtics Boston will have to over-achieve this year to get back to the NBA Finals since the Celtics will need to get past Orlando and Miami. Boston will make the playoffs for sure, but the only question is will they get out of the early rounds alive?

Boston Celtics Futures Odds
The Celtics odds to win the Atlantic Division are +550 and the odds to win the NBA Championship for the green is +900. Oddsmakers expect that the return of a healthy Kevin Garnett is worth five more regular season wins than last year as the total has been set at 54.5 wins, good for the third highest total wins in the NBA. The Celtics won 50 games in the 2009-10 season on their way to the NBA Finals last year. NBA odds are courtesy of BetUS.

NBA Predictions for Boston Celtics
Even though the Celtics start the 2010-11 season healthy, their marquee players have a lot of miles on their legs. Consider that both KG and Shaq have played more than 1,100 games each in their careers and KG's knees appear too fragile to make it for the entire season. Jermaine O'Neal has 14 years of service in the NBA and 800 games on weak knees. Peirce and Allen have lost half a step as well, which points toward a solid play on 'under' 54.5 total wins.
Doc's Sports is very excited about another profitable NBA picks season. Picks will be available starting Tuesday, Oct. 26. Doc's Sports has become known as one of the best NBA handicapper in the nation with three of four winning seasons - $100 bettors are up $18K in the last four years! Early Bird specials will be posted soon, so check our homepage regularly. Also, check our home page daily updated NBA odds, NBA betting articles and daily matchup reports.