College Basketball Handicapping: Bracket Buster Betting Trends
by Robert Ferringo - 2/18/2010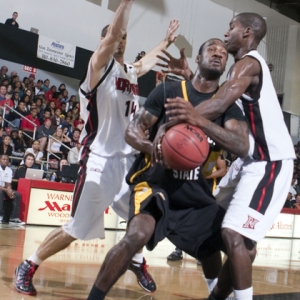 I've analyzed the last five years of the mid-February mid-major hoops orgy known as Bracket Buster Weekend to see if I could establish any useful betting angles or trends. Instead of working over every single "official" Bracket Buster game I squared my focus on the ones that featuring the mid-major conferences that were routinely wagered upon. That includes the Ohio Valley, Big West, Horizon, Missouri Valley, Metro Atlantic, Mid-American, Colonial, and Western Athletic. These are the key players and they constitute the primary games in the BB.
Last year I broadened the parameters slightly and came up with 59 total Bracket Buster games. That data, incorporated into the previous four years' info, has given us a baseline of nearly 220 games from which to draw our conclusions. Here are some useful Bracket Buster betting trends that I have found:
- In the 59 games that I tracked from last year the favorites covered the spread just 47.4 percent of the time (28-31). That was actually a shade more than the previous four years, in which the favorites earned the cash in just 44.9 percent of the games. Now over the past five years favorites are just 99-118 in games concerning the eight primary conferences. That is a weak 45.6 percent for the chalk.
- Not surprisingly, because favorites have been weak wagers when it comes to Bracket Busters, home teams have been just as bad. Last year home teams were a pathetic 22-37 (37.2 percent) against the spread. That was actually down from 18-27 (40 percent) the previous year and gives us a two-year ATS mark of just 40-64 (38.5 percent) for the hosts.
Over the last five years the hosts are a stunningly bad 83-134 ATS. That means that by blindly betting the road teams in the Bracket Buster games you would have hit on an amazing 61.8 percent of your wagers over the last five seasons. You can posit your own theory on why the visitors have performed well above expectations, but the bottom line is that oddsmakers are severely overrating the home court advantage in favor of other factors.
- Building on the home-court disadvantage, teams that had an unusually long travel have performed exceptionally well against the number. My version of "unusually long travel" is a bit subjective but I tried to stick with teams that crossed multiple time zones. And if that was an odd measure the determining factor was whether or not I would be dreading the length of the plane ride.
Most of the situations last year were pretty clear-cut: VCU heading to Nevada or Wisconsin-Green Bay playing at Long Beach State. Over the last five years teams that underwent "unusually long travel" have been an amazing 26-11 ATS. That's a stellar 70.3 percent success rate. Teams that have had to travel from east to west have gone 18-8 ATS while schools going west to east have gone 8-3 ATS.
Last year the winners were VCU and UW-GB (in the only obvious situations). Two other situations were really close as to whether or not they should count, with Cleveland State going to Wichita State and George Mason playing at Creighton. Both of those two travels failed to cover the spread.
This year there are only a few of these types of situations. We have three obvious E2W situations: Marist at UC-Irvine, Youngstown State at UC-Riverside, and Drake at Cal-Northridge. There are just two instances where a team has long travel from West to East, with Louisiana Tech heading to Northeastern and Nevada traveling to Missouri State.
(That Louisiana Tech game is also tipping off at 11 a.m., which is 10 a.m. local in Ruston, LA.)
- In 2009 the spread only came into play in 14 of the 59 games that I tracked. That means that the team that won the game covered the spread 76.2 percent of the time, which was actually lower than the 81 percent ATS success rate for winners in the four years prior. That means that over the last five years the straight up winners in the Bracket Buster games are 172-45 ATS, an 79.3-percent clip.
Basically, put your money on the team that you think is going to win outright and don't plan on an underdog "keeping it close". In four of five games the points don't come into play.
Further, underdogs have won outright in 75 of the 217 games that I tracked over the last five years. That means that 75 of the 118 underdogs that covered the spread (63.5 percent) won their games outright. It also means that if you really like an underdog you definitely need to put some coin on the moneyline as well.
- Oddly enough, road favorites have been a strong Bracket Buster play. Road faves are a spectacular 19-6 ATS over the last five years after an amazing 9-3 ATS performance last season. Also, visitors that have been posted between a 'pick' and 1.5 have gone 9-4 ATS. What those numbers tell me is that any road team that is posted between +1.5 and -12.0 are an automatic play because that subgroup has gone 28-10 ATS over the last five years (73.7 percent).
- Double-digit favorites have struggled in the Bracket Busters, notching a 11-19 overall ATS mark during the last five years. The heavy chalk was just 1-6 ATS last season after posting a 3-4 ATS mark in 2008. (And 2007 was the only year DD favorites turned a profit at 4-2.)
- Here are the five-year overall conference records for the principals:
OVC: 14-28 ATS (4-6 ATS in 2009, 5-5 ATS in 2008)
Big West: 14-15 ATS (4-5 in 2009, 5-2 previous)
Horizon: 26-18 ATS (4-5 in 2009; 4-5 in 2008)
Missouri Valley: 28-20 ATS (7-3 in 2009, 7-2 in 2008)
Metro: 20-21 ATS (5-5 in 2009, 5-5 in 2008)
MAC: 24-32 ATS (2-10 in 2009, 4-5 in 2008)
Colonial: 29-18 ATS (8-4 in 2009, 6-6 in 2008)
WAC: 16-19 ATS (3-6 in 2009, 1-6 in 2008)
It's interesting to note that the WAC had gone 10-3 ATS in 2006 and 2007 before its 6-16 collapse the last three years (4-12 L2).
So there you have it, some Bracket Buster Basics. I still think it's very important to focus on the individual matchups in these games, but some of these numbers and the betting strategy that they preclude can't be ignored.
Carpe diem, my friends. And good luck.
---
Most Recent College Basketball Handicapping