College Basketball Betting: Weekday Primer
by Matt Severance - 1/25/2010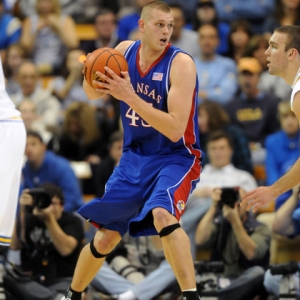 Hard to believe it's the last week in January, which means it's really time to start focusing your betting attention on college basketball -- except for Super Sunday, of course. Here is a look at the best game to watch each night this week (as usual, not much worth watching on Friday). Check back Saturday for our Game of the Day preview.
Monday
Missouri at Kansas (9 p.m., ESPN): It was a tough call in picking this game over Georgetown-Syracuse, but the Tigers would seem to have at least a shot at ending Kansas' NCAA-leading home winning streak. Baylor severely pushed KU in its last game in Lawrence, but the Jayhawks managed to extend their home run to 53 in a row. That's still only good for third in school history, however. Kansas then looked much more impressive on Saturday in winning by 21 at Iowa State as Cole Aldrich broke out of a bit of a slump with 19 points and 11 rebounds. And in his last six games, All-American guard Sherron Collins is averaging 20.8 points. KU, which is a 12-point favorite tonight, and Missouri split the two meetings of the Border War last year, with Kansas winning by 25 at home. The Jayhawks, who are 0-4 ATS in their past four after an ATS win, have won 10 in a row at home against Mizzou and six of the past seven regardless of venue. Missouri plays at arguably the fastest pace of any team in the country with all-out pressure defense that forces 20.9 turnovers per game. The Tigers lead the Big 12 in steals with a whopping 12.1 per game. They spread the wealth on offense too, as no player is averaging more than 11.5 points in Big 12 play.
Tuesday
Kentucky at South Carolina (9 p.m., ESPN): The Wildcats are the lone remaining unbeaten team in the country and will be No. 1 (for the first time since 2003) when the new polls come out later Monday. John Calipari is just the second coach in history to take three schools to a No. 1 ranking, joining Frank McGuire. The Wildcats appear to be getting better each week, as they crushed Arkansas 101-70 on Saturday in a game that could have been much, much worse but was still the worst loss in SEC history for Arkansas. But beware: Kentucky hasn't beaten a team that leads its league (as of Saturday's games), and those wins over North Carolina, UConn and Louisville don't look quite as good anymore. The combined league record of the four SEC teams UK has beaten is 6-12. South Carolina, meanwhile, isn't a total pushover – especially at home (4-3 ATS) – but enters on a three-game losing streak. Florida beat the Gamecocks on a buzzer-beating three-pointer on Saturday. The underdog has covered in eight of the past 10 meetings of these two. This will be just the second time a No. 1 team has visited South Carolina – the last was Michigan in 1977.
Wednesday
Florida State at Duke (9 p.m., ESPN): The Dukies look like easily the class of the ACC whenever they play at home or at a neutral site: They are a combined 16-0 in those games (11-3 ATS). They did avoid falling to 0-4 on the road by beating Clemson over the weekend, but Duke owns Clemson. When Duke outrebounds foes it wins: The Blue Devils are 15-1 when doing so. FSU is a pretty shaky road team (1-3 ATS) but enters off a home win over Georgia Tech on Saturday. That was just FSU's sixth win in the last 19 games against a ranked opponent. Duke beat FSU three times last season, including in the ACC Tournament Championship Game.
Thursday
Wisconsin at Purdue (7 p.m., ESPN): The Boilermakers turned their season around last week by beating both Illinois and Michigan after dropping three straight Big Ten games. The key to this team appears to be center JaJuan Johnson, who is averaging 21.5 points in Purdue's four wins in the New Year but 6.0 points in the three losses. With the way Michigan State is playing, neither Purdue nor Wisconsin can probably afford another conference loss if either hopes to win the Big Ten regular-season crown. The Badgers are currently second in the conference and have won two straight as well. But both of those wins were at home over unranked foes, with UW now having won 51 in a row in that situation. Of course the Badgers remain without No. 2 scorer Jon Leuer, who has a broken wrist. He had four points but 10 rebounds in UW's 73-66 home win over Purdue back on Jan. 9. The Boilermakers' bench had only 9 points in that one, while Badgers reserve Jordan Taylor had 23 of his own. Purdue had won the previous four games in this series, but Wisconsin has won four of its past five vs. ranked teams overall. The Boilers have lost six of their past eight Big Ten road games.
---
Most Recent College Basketball Handicapping