College Basketball Betting: Teams Better Than Expected
by Trevor Whenham - 12/21/2010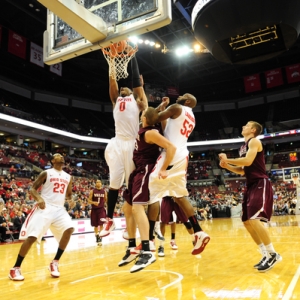 Conference play is about to get under way in college basketball, and the calendar is about to turn. That means that while we don't know everything about teams and there will still be a ton of surprises between now and early April when the nets are cut down, we do have a much better sense of how good or bad teams are.
Inevitably there are some teams that haven't turned out to be as good as we had hoped - North Carolina, Gonzaga, and Butler come to mind. On the more positive side, though, there are some teams that are dramatically better than most people expected. Here are four of the biggest pleasant surprises heading into conference play:
UConn - This one borders on a miracle in my eyes. The Huskies were lousy last year. Really lousy. They lost two of their best players in Stanley Robinson and Jerome Dyson, and a grossly underrated character guy in Gavin Edwards. They had recruited well, but it still seemed unlikely that they were going to make big strides forward with a team that was basically Kemba Walker and a bunch of young pups. I wasn't optimistic about the season, and I was far from the only one - they not only weren't ranked in the preseason Coaches' Poll, but they weren't even one of the 51 teams that received a single vote.
Fast forward two months and not only are they ranked, but they are fourth overall in both major polls and are the top ranked of five Big East teams in the Top 10. The schedule hasn't always been tough, but they crowned their accomplishments by beating Michigan State and Kentucky on consecutive nights to win the Maui Invitational.
Walker has been ridiculously good, the young players have really stepped up, and the team has been outrebounding opponents in a big way. I'm still not entirely convinced that they can sustain this play through the conference schedule, but they are all but certain to head into that challenge at a shockingly unexpected 10-0.
San Diego State - The Aztecs weren't ranked at the start of the season, either. However, unlike the Huskies, they at least got some votes. Now they are not only ranked but they sit seventh in both polls and they are 12-0, and are by far the highest ranked mid-major - the only other, BYU, sits 23rd.
Between the success of this team so far and what Brady Hoke has done with the football team it is truly a giddy time at San Diego State. We knew good things were possible early on with this team -- their second game of the season was a road win against Gonzaga.
Kawhi Leonard is a sophomore that is headed to the NBA -- perhaps next year -- and he leads the way for this team. He doesn't do it alone, though. They play an unconventional offense that doesn't really feature a point guard, but it sure works -- they score 76 points per game, and are sixth in the country in field goal percentage.
After the nonconference season they head into a Mountain West schedule that is tough but manageable. There is a very good chance that they will head into the tournament ranked and well seeded. Hopefully that will help them avoid a March meltdown like they and the rest of their conference had last year.
Michigan - Since we just talked about Steve Fisher's team at San Diego State, it only seems fitting that we now talk about the school he led to the National Championship in 1989.
It seemed like it was going to be a very rough year for the Wolverines. They were extremely disappointing last year after a second-round tournament run the year before, and they had lost their two best players from last year's squad.
To say that this team is young is a gross understatement. The young guys have stepped up, though. Darius Morris has emerged as the biggest surprise in the Big Ten. Freshmen Jordan Morgan and Tim Hardaway Jr. have been very good, and several other players are playing to the peak of expectations. The defense has been very sound as well.
Things have not been perfect - they lost two games in a row at Atlantic City to Syracuse and Virginia Tech. Those are the only two losses, though, and a win at Clemson was very impressive.
There will be a lot of bumps in the road during conference play - including an ugly three-day stretch featuring a nonconference game against Kansas followed by hosting Ohio State. Still, this is a team that could easily be an NIT team now, and that certainly wasn't the case before the season. The cellar of the conference was more likely back then.
Ohio State - You can't mention Michigan without also talking Ohio State. The Buckeyes didn't sneak up on anyone this year - they were ranked fifth in the preseason. What is remarkable, though, is that they lost Evan Turner to the pros and yet they are a quite probably a scarier team this year.
The team has been very strong defensively, and wildly productive on offense. The schedule hasn't proven much - beating an unexciting Florida team is their biggest accomplishment. However, they have done it with style, and seem to be what the polls say they are - the best team in the country outside of Duke.
The driving force is obviously Jared Sullinger. He is by far the best freshman they have had at this point in the season, and Ohio State has had a lot of freshman go in the first round of the draft in the last decade. Sullinger has been amazing and his teammates have stepped up around him. We knew this team was good, but you have to be surprised by how good they have shown they can be.
---
Most Recent College Basketball Handicapping