College Basketball Handicapping: Mountain West Conference Tournament
by Robert Ferringo - 3/9/2010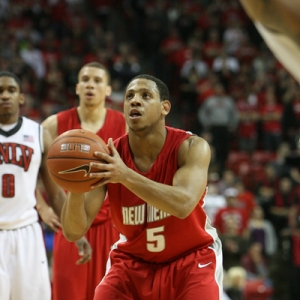 One of my favorite conferences in the country – The Mountain West – starts its tournament on Wednesday with a play-in game between Wyoming and Air Force. The winner advances to the quarterfinals, and the rest of the tournament begins in earnest at noon on Thursday, March 11 at the Thomas & Mack Center in Las Vegas.
This perpetually underrated league presently has three teams that are securely in the NCAA Tournament field, which is surprising to me since the league was considerably stronger and more experienced last season, when it had only two teams in the Big Dance. A fourth team, San Diego State, brings some intrigue to the early rounds as they try to fight their way into the NCAA Tourney field and give The Mountain a banner season.
Here's is Doc's Sports Mountain West Conference Tournament preview:
The Favorites:
New Mexico (+185) – The Lobos haven't lost in two months and head to Las Vegas as one of the hottest teams in the country. They earned the top seed and the regular season crown via a stunning sweep of BYU and are riding the coattails of Darington Hobson, The Mountain's Player of the Year. This team lost as much experience as any in the country from last year but they have answered every challenge and are playing great basketball. The Lobos have four double-digit scorers and one of the best perimeter attacks in the nation. They can score inside and out, have depth and they have the ability to run the table here and earn themselves a No. 3 seed in the Big Dance.
BYU (+100) – The Cougars are one of the top shooting teams in the country, No. 1 in free throw shooting, No. 2 in three-point shooting, and No. 10 in field goal percentage. In Jimmer Fredette the Cougars boast the most explosive scorer in the league and Jon Tavernari and Chris Miles are two seniors looking to close their careers with another title. Despite their success this year the Cougars are still pretty underrated by the books. They are on a sweet 6-1 ATS run and are 13-6 ATS dating back to Christmas. This is just an exceptional team in terms of execution. But their weakness is that they get beat up on the inside by New Mexico and UNLV. They aren't big and if the jumpers stop falling due to tired legs they should have trouble winning this.
The Contenders:
UNLV (+200) – It's always nice to have the conference tournament on your home court and the Rebels have parlayed that into two titles in the last three years. They are also 6-2 ATS in their last eight conference tourney games. This team doesn't shoot well from the outside but it knows its strength and gets everything going toward the basket. The Rebels want to bump, grind and defend and then rely on excellent free throw shooting and the underrated Tre'Von Willis to win games late. They have won four straight games against the conference bottom feeders, all by 18 or more points. They are peaking.
San Diego State (+500) – SDSU took awhile to get going but enter the conference tourney as the one team squarely on the NCAA Tournament bubble. That makes them the most desperate team in Vegas this week. They have won six of seven and are just a pair of two-point losses away from having won 12 of 13. The Aztecs are another team that really is a bad shooting team, both from the free throw line and from deep. The fact that they are one of the five worst teams in the nation shooting FTs in a league where just about everyone excels at the line is a big Achilles heel.
The Sleeper: Utah (+1500)
Let me be clear: the Utes aren't any good. They are woefully inexperienced, they can't shoot, and they don't have any quality go-to guys. What they do have is size. And lots of it. Just about at all times they have at least one guy that's 6-11 and another that's at least 7-0 on the court. They swept UNLV this year and that's their quarterfinal matchup. A win there could lead them to a rematch with archrival BYU. Anything can happen in those wacky Mormon rivalry games. Before they get to that point they still have to knock off the "host" school, though.
The Spoiler: Colorado State (+2500)
The Rams get to play the role of spoiler because they can essentially crush San Diego State's NCAA Tournament dreams with a win in their quarterfinal matchup. They have lost five of six games but this Rams team isn't devoid of talent. In Andy Ogide and Travis Franklin they have two of the more athletic guys in the league. And there are some guards here that can defend and do some decent things. Their main problem is that their coach, Tim Miles, is one of the worst in the country. This guy is absolutely clueless and is an anchor around this team. With good coaching I'd be predicting upset over a team playing tight. But with Miles it's well up in the air.
The Matchups:
No. 8 Wyoming vs. No. 9 Air Force
These are two of the worst teams that I can remember out of the Mountain West. Air Force is the shell of what used to be a very strong program and they are 1-15 SU and 4-12 ATS in its last 16 games. So good luck betting on them. Wyoming has been a waste since losing electric forward Afam Muojeke. Wyoming's guards are pathetic and the Cowboys get everything with their size underneath. But "everything" hasn't been much because the Cowboys are just 1-9 SU and 3-7 ATS in their last 10. Wyoming's one win: a nine-point home victory (and cover) over Air Force.
No. 4 San Diego State vs. No. 5 Colorado State
As I mentioned, this is a must-win for the Aztecs. They swept the season series, winning by 12 and 13 points. Colorado State matches up pretty well with SDSU but they simply aren't as talented at playing the game. And, as I mentioned, SDSU has a big edge with their coach, Steve Fisher. It's always a good idea to fade the "must win" teams this time of year (see: Connecticut) but it's just so hard to trust a Miles-led group.
No. 2 BYU vs. No. 7 TCU
The Cougars just beat TCU by 30 points on the Horned Frogs' home court. I gotta say, I don't see much of a reason why it can't happen again. TCU's guards are awful and they really only have one decent player: the perpetually underrated Zvonko Buljan. He is a very, very good player. But he's all the Frogs have. The spread on this game will likely be through the roof (I would imagine somewhere around -19) so it may be unplayable. But this one should be a walk for the Cougars.
No. 3 UNLV vs. No. 6 Utah
As I mentioned, Utah actually swept the Rebels in their two meetings this season. The reason is that pretty much everything the Rebels do is going toward the basket. But with two seven-footers, including 7-3 monster David Foster, the Utes are set to control the interior. Utah needs its three guards – Carlon Brown, Marshall Henderson and Luka Drca to shoot the ball well to have a shot at this one. UNLV always plays great on its home floor though and I would have to say it's a long shot that the Utes beat them twice at the Thomas and Mack.
Robert Ferringo is a professional handicapper and he has gained nearly +300 Units over the past three college basketball seasons. You can purchase his college basketball picks here.
---
Most Recent College Basketball Handicapping