College Basketball Picks: Maui Invitational Odds and Predictions
by Trevor Whenham - 11/19/2010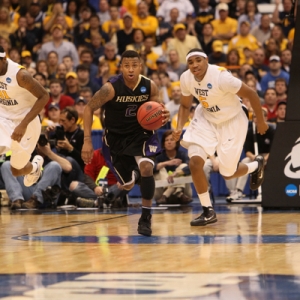 There are almost too many early season tournaments in college basketball to keep track of any more. Of all of them, though, none stands up to the Maui Invitational in terms of tradition and consistent excellence.
The tournament is regularly able to convince top teams to travel to Hawaii, and this year is no exception. Michigan State, Kentucky, and UConn have 11 National Championships between them. Oklahoma, Washington, and Virginia are feisty squads. Wichita State is a scrappy mid-major always looking for chances to earn respect. Chaminade is the host, so it would be rude to say anything unkind to them. Though the hosts would have to get to the final to face Virginia, that very small possibility is intriguing - in 1982 Chaminade beat Virginia in one of the bigger upsets the sport has seen.
The tournament promises some great games this year. Here's how it sets up for college basketball picks with some Maui Invitational predictions. All odds are from BetUS.
Michigan State (+120) - It's hard to argue with Michigan State as favorites in this tournament. They are the second ranked team in the country, and the only one other than Duke to earn any first place votes in either major poll.
It's amazing that a team that lost Raymar Morgan to graduation and Chris Allen to his own stupidity (he was kicked off the team for on-and-off court issues) is as ready to compete as it is, but Tom Izzo has brought together a deep, loaded team.
Vets like Kalin Lucas, Durrell Summers, and Draymond Green are joined by stud freshmen Keith Appling and Adreian Payne to make a team that is going to win way more than their share of games. They start with a gimme in the first round against Chaminade, then play the winner of UConn vs. Wichita State in the second round.
That's a fairly straightforward path to the final, and there isn't a team there that the Spartans can't beat if they play their best game. Michigan State deserves to be favored, and they wouldn't be a terrible bet even at this low price.
Washington (+250) - The Huskies were a huge disappointment in the first half of the season last year, but they got hot at the right time and made it through to the Sweet 16. That was their third trip to that round in the last six years, so this program is for real.
They have four returning starters - including underperforming but wildly talented sophomore Abdul Gaddy - and a nice haul of incoming freshmen, so talent is no problem.
They should win their opener against Virginia, and that could set up a blood feud with Kentucky in the second round. The Wildcats stole Washington commits Terrence Jones and Enes Kanter in the spring (though Kanter was subsequently ruled ineligible because of being paid to play in Europe), and coach Lorenzo Romar understandably wasn't happy about it.
Washington is capable of winning it, but they have a much tougher path than Michigan State, and that should be the difference.
Kentucky (+300) - Coach Calipari says he isn't particularly optimistic about the trip he is taking his Wildcats on. Cal talks a lot and you can't listen to everything he has to say, but in this case I believe him.
His team is talented as always, but they are ridiculously young and inexperienced. Washington and Michigan State are significantly older, and when you have to play three games in three days that experience is going to be called upon.
I think that this challenge is just too much for them, and I wouldn't bet on them at this price.
UConn (+800) - UConn hasn't played in this tournament since 2005, but they won it then. Therefore, the Huskies come into the tournament with a Maui winning streak.
Kemba Walker is the clear leader of this team, and he has started very well. Beyond him, though, this squad is very hard to judge.
They were lousy last year, and they lost Jerome Dyson. They have six recruits joining the team. Those youngsters will have to step up, and last year's disappointing recruits will have to be better as well.
It's hard to know what this team is capable of until they play high-level competition, and this tournament will be their first. It's hard to bet on them given that uncertainty.
Virginia (+2500) and Oklahoma (+2500) - I put these two teams together because their chances of winning are similarly tiny.
Virginia was disappointing last year, and they have lost four of their best players.
Oklahoma was even more disappointing, and they lost their top four scorers.
Both teams are well coached, but they are in rebuilding phases, and this challenge comes too soon for either one. They have both drawn very tough opponents as well - Oklahoma plays Kentucky, and Virginia meets Washington.
A win would be a big victory for the teams, but it's not likely.
Field (+3000) -The field includes host Chaminade and Wichita State. Chaminade absolutely won't win. They almost certainly won't win a game.
Wichita State is more interesting, though. Last year they missed the NCAA Tournament because they lost to Northern Iowa in the conference final - and we know how impressive Northern Iowa was.
They have four returning starters this year, and are the team to beat in the Missouri Valley Conference. That conference typically shines in a much later tournament, but it's not beyond the bounds of imagination that the Shockers could live up to their name and pull off a shock or two.
They could conceivably beat UConn in the first round, but Michigan State in round two is a huge challenge. Wichita State could be the team for gamblers, though.
Doc's Sports is very excited about another profitable college basketball picks season. We are considered one of the best at college basketball handicapping on the Internet and we always have lofty goals for our yearly results. We start off the season on Saturday with a strong card highlighted by a 6-Unit pick. In the last four years our college picks have garnered +382 units and $100 players have made nearly $15,000. Our picks against the college basketball odds are always guaranteed to make a profit, or we work for free until they do.
---
Most Recent College Basketball Handicapping