College Football Handicapping: Top Revenge Games
by Robert Ferringo - 7/31/2010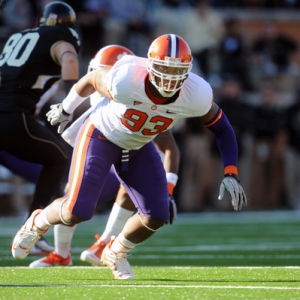 Ultionis est a profiteor of poena.
It's Latin, which always gives me flashbacks to Sister Celia Marie's class my sophomore year. It means, "Revenge is a confession of pain." And I think it's a fitting lead-in to the discussion of the top revenge games in college football in 2010.
Pain is dished out on a regular basis every Saturday during the college football season. Whether it's on the players or the fans, it's part of the tribal nature of the sports. Every defeat is misery in college football. But there are some games, some losses, which deliver a psychic pain that scars the soul. You don't forget that ache. You simply live to revenge them and can only seek solace in the delivery of an equal and appropriate agony onto your fellow man.
Below is a list at the Top 10 revenge games in college football this year. While the "revenge angle" is the most overrated in football, these are 10 situations where I think that one team will have rage in its eyes and a true intention to do harm and to avenge a bitter, caustic defeat from last season:
10. Miami at Clemson (Saturday, Oct. 20)
There are many ACC games that will have more meaning this year. (Like any game featuring Coastal rivals.) But this one is a rematch of the best game in the ACC last year. Clemson managed the tying field goal with five seconds left in Miami last year, and then won it overtime as C.J. Spiller went bonkers for about 8,000 all-purpose yards. There were 12 lead changes in that meeting and the Tigers rode that win to an Atlantic title. This year the scales should tip toward the 'Canes and we'll see if the salt of that loss provides some extra motivation to overcome the home field edge.
9. Central Florida at Houston (Saturday, Nov. 5)
The Cougars aren't messing around this year and are one of the top mid-major teams in the country. And if they have intentions of making a run at a BCS or other major bowl game they'll have to take down UCF. Central Florida outmuscled Houston, 37-32, in Florida last year despite the fact that the Cougars led 17-3 in the second quarter. Houston has a couple other revenge spots (a loss to UTEP, a garbage win over Tulsa) that it will be dealing with this year. But this game would not only settle the score from last season but it could also go a long way in deciding which is the top team in Conference USA this season.
8. Washington at USC (Saturday, Oct. 2)
The Huskies scored one of the top upsets of the year in college last year by beating the Trojans in Spokane. Admittedly, the Trojans were in a letdown spot after a brutish game in Ohio State the week prior. But the bottom line is that Washington made a late stand and then kicked a game winning field goal with three seconds left to give new coach (and ex-USC assistant) Steve Sarkisian a marquee win. And essentially, five or 10 years from now when we look back, that loss may have marked the beginning of the end of USC dominance in the Pac-10. They stumbled the rest of the season, lost their coach and program architect, and now face stiff penalties for their past sins. From 2006 to 2008 USC lost just five games. In the rematch the next season the Trojans went 5-0 and won by an average of 20 points per game.
7. Pittsburgh at Connecticut (Thursday, Nov. 11)
This game was the largest comeback of the Dave Wannstedt Era, as the Panthers stormed back from a 21-6 deficit late in the third quarter to earn a 24-21 win. They capped that 'W' with an 18-yard field goal as time expired and that win propelled the Panthers into a second-place Big East finish. Now the Huskies get the Panthers in Storrs and this game should again have a big impact in who wins the Big East title. These are tough, physical teams that will be ready to bang heads.
6. Michigan State at Iowa (Saturday, Oct. 30)
I could have pretty much used any Iowa game from last year and put it on this list, as their season was littered with heart-stopping, last minute victories. But this one was particularly dramatic and gut wrenching for the Spartans. Last year No. 7 Iowa scored on fourth-and-goal from the seven-yard line on the final play of the game. That was the third lead change in the last three minutes of the game, a game that was an absolute slugfest at 6-3 through the first three quarters. The last three meetings have been decided by 13 total points. And even though this one will be in Iowa City all of the motivation will be on Sparty's side.
5. Ohio at Temple (Saturday, Nov. 16)
You don't have to be in a major conference to have a serious grudge. These two teams met in the last game of the regular season, with Temple on a school record nine-game winning streak and needing just a road victory to secure a spot in the MAC Championship Game. Well, Ohio didn't just beat the Owls, who had one of the best defenses in the league, but they hammered them, 35-17. It was a baseball bat to the face of a program that was just starting to build momentum. The stakes may be even higher this year because these are probably the two best teams in the MAC East. And this late season game could again decide who goes to the title game.
4. Oregon at Oregon State (Saturday, Dec. 4)
The Civil War is another one of the most vicious, most vile, and most heated rivalries in the country. And when there is something to play for on top of it things get that much nastier. The last two years the Ducks have crushed the Beavers' Rose Bowl dreams, winning 37-33 in Autzen last December to drive a stake through OSU's heart. Oregon State actually led, 34-28, late in the third quarter in that one but they couldn't find the end zone in the fourth quarter. I'm sure that's been haunting Mike Riley for a long time. The Pac-10 is wide open this year. And something tells me that this one could have Rose Bowl implications once again.
3. Texas at Nebraska (Saturday, Oct. 16)
Nebraska was one second away from a monster upset in last year's Big 12 Championship. They knocked the Longhorns all over the field but lost by one single point, 13-12, when the Longhorns nailed a 46-yard field goal as time expired. That marked the fifth straight victory by Texas over the Huskers, but four of those games have been decided by three points or less. Nebraska has designs of returning to the nation's top-tier of college programs. And they get the rematch in Lincoln, which should be thunderous. But Texas has the mental edge and they will have two weeks to prepare for the ambush. We're going to find out what both teams are all about in this one.
2. Kansas vs. Missouri (Saturday, Nov. 27)
I know that this game may not move the dial on a national level, but it's one of the Midwest's premier rivalries. It's the second-longest running series in the country and this year will be the 119th edition of the Border War. Last year the Tigers were down, 39-36, with less than three minutes left. But a stunning safety set up Missouri's last possession and they won it with a field goal on the last play of the game. That win – in a game Kansas really dominated on both sides of the ball – not only knocked the Jayhawks out of a bowl game but it brought an unceremonious end to Mike Mangino's tenure as coach as well as the illustrious careers of guys like Kyle Reesing, Jake Sharp, Kerry Meier, and one of the most accomplished senior classes in KU history. This game will again take place on a neutral site (Kansas City) and even though Missouri will likely be a big favorite this one will be another emotional battle with revenge on KU's mind.
1. Florida at Alabama (Saturday, Oct. 2)
Other games may be bigger rivalries. And other games may have had more stunning and emotional endings last year. But no games on the schedule have had as much meaning the last two years as the Florida-Alabama meetings. This is a rematch of the last two SEC Championship Games and the victor has gone on to win the national championship each time. The stakes don't get any bigger than that. These two could meet for a third straight year in the title game, which would make that a more significant revenge spot (and if they were to meet later in the season, whoever loses this regular season matchup would have all of the revenge motivation). But there is no doubt that Urban Meyer and his chargers will have total focus for this game. The Gators will have to roll to Tuscaloosa for this one. But after getting pushed around as decisively as they did last year in Atlanta, relegating Tim Tebow and the rest of the Florida seniors to a less relevant bowl game, you know that Florida will man-up for this one.
Honorable Mention: Michigan at Notre Dame (Saturday, Sept. 11), LSU at Mississippi (Saturday, Nov. 20), BYU at Utah (Saturday, Nov. 27), Virginia Tech at North Carolina (Saturday, Nov. 13), Anyone Playing Iowa, Most Pac-10 Games.
Robert Ferringo is a writer and a professional college football and NFL handicapper for Doc's Sports. Last year he brought home +62.5 Units for his clients for NFL picks and he is regarded as one of the top totals players in the sport. He guarantees a winning football season this year or he will work for free until you turn a profit. You can sign up for his college football and NFL picks and get more information here.