College Football Power Rankings - The Ferringo 15
by Robert Ferringo - 10/28/2010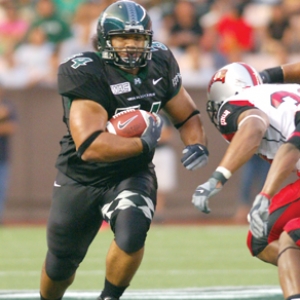 The Ferringo 15 is my Profit-Power Rankings, a ladder or hierarchy based on which teams are the most profitable on the field. I'm not trying to give you some other nonsensical, random, speculative power rankings based on my own biases and conjecture. So instead of Alabama moving up or down the polls on the basis of how badly they blew out Vanderbilt the previous Saturday, I'm going to rank each team based on past, present, and projected future achievement against the college football point spread.
And over the past two years this version of college football power rankings has been on point. In 2007 the teams that finished in the Ferringo 15 had a collective 121-46-1 mark against the spread. In 2008 they came back and went 81-63-3 in the week that they were in the Ferringo 15. In 2009 the teams that were in the F-15 only managed to win 53 percent of their games that Saturday. But, all in all, these college football power rankings have been exactly what any good gambler hopes to be: profitable in the long term.
It was a slim winning week for the Ferringo 15, as our clubs went 6-5 for the week to turn an overall profit. That now makes these teams 29-24 ATS in the last three weeks that they have been posted in this section. Also, for the year that makes the F-15 teams a barely passable 42-36 the week that they have been listed in these power rankings. Remember: I'm not listing the 15 teams that I think will cover in a given week. This is just a list of 15 teams that I think present the best blend of immediate and long-term earning potential against the books, while also giving credit to teams for recent, past performances.
So without further ado, here is my Ferringo 15 college football power rankings (all records are ATS against the closing line):
1. Hawaii (7-1) – The Warriors keep on rolling and they dominated Utah State last week. Now it's back to the island where their top-rated passing attack can simply overwhelm opponents. But while the Hawaii offense is getting a lot of kudos (they are No. 9 in total yards and No. 12 in scoring), the defense has held up its end of the bargain. Hawaii's defense is ranked No. 37 in the country and No. 25 against the pass. One worry about this week's game is that the Warriors are looking ahead to a marquee trip to Boise State next week.
2. Utah (6-0-1) – This is what happens when your players are bigger, stronger, older, and more mature than your opponents. And this is why Utah always seems to avoid "rebuilding" years. The Utes have just been laying into people and they haven't been shy about running up scores because, rightfully so, they want in on the BCS discussion. If this team runs the table they will make an interesting case for a potential national title bid, especially if there are no undefeated teams from BCS leagues and if Pittsburgh earns the Big East's BCS bid. The favorite is 0-11-1 ATS in the last 12 games of the Air Force series. But Utah is 10-1-1 ATS in its last 12 games overall.
3. Ohio State (6-2) – I am a moron. It should have been an automatic play two years ago, but now it is official: if the Buckeyes lose you need to load up on them the following week. Jim Tressel is another guy that isn't calling off the dogs this year. And I think that if the Buckeyes can run the table in the Big Ten and get some help in other conferences that they still have an outside shot at the national title this year. They are seeing a reverse line movement in their game with Minnesota this week (the line has dropped from -26 to -25 despite over 71 percent of action on the Buckeyes). But I don't see why Ohio State would take it easy on these goofy Gophers. They won by 31 last year and I don't see why it won't be worse this time around.
4. Oregon State (4-1-1) – I don't like to see the Beavers posted as a favorite. It's not their best role. But they are so tough at home that it's not a surprise. Oregon State is 7-1 ATS against teams with a winning record and they have won (and covered) three straight meetings with Cal. The Beavers were shooed out of the Top 25 following their loss at Washington and I'm sure that Mike Riley used that for motivation for the past two weeks. Riley is a wiz with extra time to prepare and I'm sure that the Beavers will be sharp this Saturday.
5. Central Florida (6-1) – The Knights have been dominating Conference USA this year and this week they are set for a critical matchup with rival East Carolina. They are outscoring opponents by an average of 16.7 points per game and boast a defense ranked in the Top 10 in total yards, passing and scoring. UCF is an exceptional 19-7-1 ATS in their last 27 games and 21-8-1 ATS in their last 30 conference games. They are laying more than a touchdown this week and the favorite in the ECU series is just 1-4 ATS recently.
6. Boise State (5-2) – Tuesday's win has to be a little disappointing for the Broncos. They did beat Louisiana Tech handily in a game that was never really in doubt. But they never really put the Bulldogs away and the 29-point margin of victory not only didn't cover, but it probably didn't impress many voters. On top of that, everything about the game – Tuesday night, blue turf, Louisiana Tech, half-empty stadium – just screamed Amateur Hour. I do think that the Broncos will take full advantage from the extra prep time before hosting current WAC leader Hawaii next weekend.
7. San Diego State (5-2) – The Aztecs have a dangerous game on the board this weekend. Wyoming has beaten SDSU the last two years and has won three of four in this series. Also, if you compare the stats from the two common opponents (BYU and Air Force) these teams are a lot closer than their records suggest. The home team is 6-1 SU and 7-2 ATS in this series and the Aztecs, for all of their momentum early in the year, are just 2-6 ATS in their last eight conference games.
8. Oklahoma State (5-2) – The big news out of Stillwater this week is that Justin Blackmon, the nation's leading receiver, has been suspended for one game after a DUI arrest on Monday night. Personally, I think the kid is getting off pretty light (he was driving drunk and was 20 years old; I did that all the time but I never got caught!). It will be interesting to see if this serves as much of a distraction for a team coming off its first loss against its first quality opponent. They head to Manhattan this weekend in what could be a trap game. Oklahoma State is just 1-5 ATS in the last six meetings.
9. North Carolina (5-2) – The Heels essentially have an off week with a game against William and Mary on the card this week. UNC was really humbled last week at Miami and that loss ruined a run of four straight covers. North Carolina is now 0-2 (SU and ATS) against Georgia Tech and Miami and now their chances of winning the ACC title are virtually zero. It will be interesting if Butch Davis can keep this team focused and out of trouble down the stretch and keep them focused on earning a prestigious bowl bid.
10. Florida State (5-2) – I think that this is another interesting test for first-year coach Jimbo Fisher. After a blowout win over Miami they had the expected letdown against feeble Boston College. But they had two weeks to re-focus and now they have a tough road game against a sneaky N.C. State team. The Seminoles have not played well against the Wolfpack or at N.C. State. But they have a huge advantage on defense and they will be looking to control the line of scrimmage with their powerful offensive line and potent running game. Other than Miami, FSU's wins really have come against feeble competition so this may be one of their toughest tests of the regular season.
11. Syracuse (5-2) – Look who's back! After starting the season among the Top 5 of my Ferringo 15, the Orange are back by virtue of their outright win over West Virginia last week. The Orange are an interesting case. In one respect they may be overrated because they are creeping near the Top 25, and I know they aren't that good. On the other respect I think they have been so bad for so long that people still aren't sure what to make of them. Right now SU's ATS mark mimics their regular season record. And as I look at the schedule they still have very winnable games against Louisville, Rutgers and Boston College. How many people were predicting an eight-win season for the Orange? They aren't there yet but Doug Marrone is doing some of the best work in the country with this squad.
12. Virginia Tech (6-2) – The Hokies just keep on covering. That is now six straight covers and in their last two games, against weaklings Wake Forest and Duke, they have actually pulled back out of mercy in the second half and still demolished 23- and 27-point lines. Now they enter the real meat of their schedule though, with three crucial games against Georgia Tech (next week) and then two road games at North Carolina and at Miami.
13. East Carolina (5-2) – The dream season for the Pirates continues. In what was supposed to be a rebuilding year ECU has found itself neck-deep in the Conference USA race. Their defense is horrendous and they are just +11 in scoring differential on the season. But they are No. 12 in the nation in passing and No. 16 in scoring and their success in close games has given them a ton of confidence. Dominique Davis has been one of the most impactful transfers in the country. Three of their next four games are on the road, but this is a team that has already played at Virginia Tech and North Carolina and a club that earned a win at Southern Miss. They are on a 7-2 ATS rush and they are 5-0 ATS in their last five CUSA games.
14. Michigan State (6-2) – Charmed. It has been a charmed season for the Spartans and this week is an incredibly interesting matchup between them and last year's charmed Big Ten team, Iowa. If you recall, these two played a classic game where there were two fourth quarter lead changes and the Hawkeyes got a seven-yard touchdown on the final play of the game – a fourth down pass – to score a 15-13 road win over Michigan State last year. The Spartans are 0-4 ATS in the last four meetings and 1-7 ATS in the last eight meetings. But the dog is 7-3 ATS in the last 10 in this series and the last three games have been decided by an average of just four points.
15. North Carolina State (5-2) – The Wolfpack have a tremendous opportunity Thursday night to earn a statement win and to throw themselves into the mix for the ACC Title. They host a Florida State team tonight after two weeks off and they have a shot to get within a single game for the Atlantic Division lead. North Carolina State is an incredible 8-0-1 ATS in this series and they are 3-0-1 ATS in their last four home games against the Seminoles. This series has been very competitive over the last decade and four of the last six meetings have been decided by a touchdown or less. This FSU defense is the best that Russell Wilson has faced all year and it will be interesting how he raises his level of play in this marquee matchup.
Others Receiving Votes: Ohio (5-2), Northern Illinois (6-2), Oregon (5-2), Arkansas State (6-2), Missouri (5-2).
Robert Ferringo is a writer and a professional NFL and college football handicapper for Doc's Sports. He has banked $6,000 in profit for his clients after four of five winning football weeks and is rolling out more predictions this week. This week's card will include another conference Game of the Year as well as his NFL Game of the Month. He has brought in over $15,000 in overall profit in all sports over the last two-plus months. You can sign up for his college football and NFL picks and get more information here.