Dallas Mavericks vs. San Antonio Spurs Series Odds and Predictions
by Nolan Sinclair (with Robert Ferringo) - 4/16/2010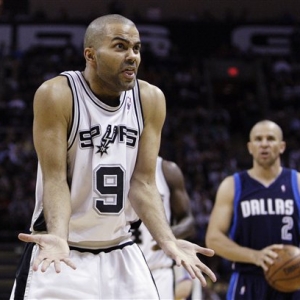 Dallas Mavericks vs. San Antonio Spurs
Series Odds: Dallas –160 (San Antonio +145)
The Mavericks are the one team out West that the Spurs did not want to see in the first round. The Mavs have had San Antonio's number as of late and I would be surprised if this series is any different. Dallas has added some weapons this season to go along with the uber-talented Dirk Nowitzki. Dallas went 3-1 versus San Antonio this season with all of their wins in closely contested fashion. But they proved they could outlast the wily vets of San Antonio.
San Antonio has battled the injury bug all season and they will be without George Hill in this playoff series. This is a bigger injury than most people think. It will be difficult for San Antonio to stay with Dallas for a seven game series, but you can never count out Timmy D and Pop.
Here is a look at why either team will win this series:
Why the Dallas Mavericks will win: The Mavs have surrounded Dirk with guys that can hit the big shot. This has enabled Dirk to play without as much pressure, and a cool and confident Dirk Do Work is a bad thing for opposing teams. Dallas can be huge upfront with Brendan Haywood, Dirk, and Eric Dampier. San Antonio doesn't have much to counter that and to expect Tim Duncan to handle all of them would have been a reach even when he was young. The Mavs bench has become one of the better units in the league, and Jason Terry and J.J. Barea and will cause fits for the Spurs backcourt. Since the All-Star break the Mavs are 23-7 overall.
Player to watch for Dallas: Caron Butler. He's always been a talented player. But now he's in the right situation and he's ready to shine. He only played in 27 games this season so he's a bit under the radar compared to his more high profile compadres.
Why the San Antonio Spurs will win: Tim Duncan, Manu Ginobili, and Tony Parker can always keep your team in a game regardless of who your opponents are. The Spurs also feature one of the greatest basketball coaches on the planet calling the shots. In the one game that the Spurs beat the Mavs this season Duncan didn't play. In the others he was featured offensively. If the Spurs get everyone involved (Richard Jefferson, this means you) then they will be a difficult matchup for the Mavs. Taking care of the basketball (Spurs are ranked 6th in the NBA in assist to turnover ratio) and rebounding (Spurs are 4th in rebounding margin) will be keys for San Antonio and keep them close.
Player to watch for San Antonio: Richard Jefferson. The Spurs need something positive from their big offseason acquisition. If he doesn't show up, they are doomed.
Series Prediction: Mavs in 5.