2010-11 Dallas Stars Predictions with NHL Futures Odds and Betting Picks
by Trevor Whenham - 10/6/2010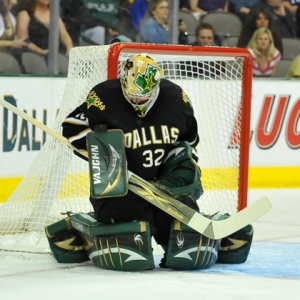 The times are changing in Dallas. For as long as I can remember thinking about the Stars meant thinking about Mike Modano, Marty Turco, and Jere Lehtinen. Now all of them are gone - the legendary Modano is in Detroit, Turco has joined the defending champs in Chicago, and Lehtinen is a free agent who may end up retiring at 37. Those guys have been the face of the team for more than a decade, so now it remains to be seen if the team has any kind of face at all this year.
Dallas Stars Offseason Moves
There is a lot of uncertainty around the future of this team, and it has shown itself in the moves - or lack of them - that this team has made. They brought in goalie Andrew Raycroft - a guy who has been bouncing around like he is made of rubber - to back up the new full-time starter Kari Lehtonen. They also benefited from Chicago's salary purge by acquiring gritty Adam Burish at the right price. Both of those are solid moves, but the fact that they are the only real moves they made makes me scratch my head. They took an intriguing gamble by inviting Jonathan Cheechoo into camp for a tryout. Cheechoo once scored 56 goals in a year for San Jose, but has struggled mightily since. It seemed like it could have been a good story, but it has already backfired - Cheechoo was cut before the calendar even turned to October.
Dallas Stars Predictions: Outlook
I am generally an optimistic guy, but it's hard to be optimistic here. I have real concerns with the defense – this unit is young and inexperienced, and was wildly inconsistent last year. When your best defenseman heading into a season is Stephane Robidas, then it's not likely to be much of a season. The goalkeeping is a concern as well - Lehtonen is a very talented guy, but he couldn't come close to meeting that potential in Atlanta, and they gave up on him after having too many concerns about his work ethic. He needs to step up in a big way because Raycroft won't - it's not a coincidence that he is on his fifth team in six years. I also have concerns about the offense. While the core of Brenden Morrow and Brad Richards is very solid, and there are some nice pieces like James Neal on board, the depth is a real issue, and this team won't compete with the rest of the division on the strength of their third and fourth lines.
Dallas Stars Futures Odds (from Bodog)
This is not a team that is being taken seriously - nor should they be. They are listed at 50/1 to win the Cup, 25/1 to win the Western Conference, and 18/1 to win the division. None of those things is going to happen.
Dallas Stars Schedule
After starting with two road games in two nights the Stars get four days off, and then they play eight of 10 at home. That's a great way to start the season - they can get comfortable and build some momentum if they are going to be any good at all this year.
Dallas Stars Predictions and Betting Picks
I could try to come up with some nice things to say about this team, but I don't like working that hard. The fact is that this just isn't a very good team right now. They are short on talent, they don't have ownership support, the fan support is fading, and the biggest stars in the history of their organization are gone. I'll be kind and call it a rebuilding year, but the truth is that they are just an underwhelming team. There is no reason to bet on this team.
Doc's Sports is geared up for another profitable NHL picks season. Picks will be available starting Oct. 7. We have an NHL handicapper based out of Canada and he knows the sport inside and out and has been betting the sport for years. Early Bird specials will be posted soon, so check our homepage regularly. Also, check our home page daily updated NHL odds, hockey betting articles and daily matchup reports.