Fillies in the 2010 Kentucky Derby
by Trevor Whenham - 4/27/2010


Get our 2021 Preakness Stakes coverage including, Picks and Odds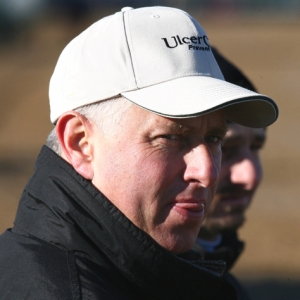 For just the third time in the last 12 years, it looks like there is going to be a filly - a female horse - in the Kentucky Derby. Top trainer Todd Pletcher has signified his intention to send Devil May Care into the Derby instead of the Kentucky Oaks, the race she was originally targeting. The move comes as a bit of a surprise - Pletcher has had as many as eight horses pointing at the Derby in recent weeks, but this filly was not mentioned among that group until Pletcher let it be known that he was considering the move. Now that she seems headed to the starting gate, there are two things that we need to consider - does she belong in the race, and what does history have to say about what she will be attempting? Here's a look at both:

Does she belong?

Prep races - Based on her last race, the Bonnie Miss at Gulfstream, she is in top form. She demolished a small but classy field in that race, and made believers out of a lot of people. If she'd put together several races like that in a row - like Rachel Alexandra had last year when she was considered for the Derby before winning the Preakness - then she would be well placed in this race. Here's the thing, though - she really, really hasn't. She was a weak fifth in her only other race this year, the Silverbulletday. Last year she was a terrible 11th in the Breeders' Cup Juvenile. We'd be concerned about any horse that has only five career starts, or that has only run twice this year, or that has only one quality start in the last three outings. When that questionable horse is a filly who is facing boys for the first time then we really have to be cautious.

Todd Pletcher - What Pletcher has done in the past won't necessarily have an impact on what his horses will do this year, but we also can't ignore it completely. Pletcher has had 24 Kentucky Derby starters in his career, and no winners. A few of his horses have overachieved based on their odds, but more have been disappointments. You can generally say that Pletcher has had two faults when it comes to this, the biggest of races - he hasn't typically evaluated the readiness and suitability of his horses for the race well, and he hasn't typically had his horses at their peak when the gates open. It's not hard to argue that he isn't evaluating his horses for their best spots here again.

Jockey - This is a checkmark in her column. John Velazquez lands on her back after his original mount, Eskendereya, was removed from consideration for the race with a leg injury. Velazquez was aboard for the Bonnie Miss win, so he knows how to get the most from this horse. More significantly, he was aboard Rags to Riches when that filly won the Belmont in 2007.

Is history her friend?

Past entrants - Devil May Care is poised to become the 40th filly to run in the Kentucky Derby. Ten of those horses have finished in the money. That may not sound like much, but that's 25.6 percent of all fillies entered - a rate of success considerably higher than male entrants enjoy. There is a simple explanation for that one - for a filly to be considered for the race she has to be particularly strong, so the average quality of female runners is better than that of the average male runner. Of the 39 previous entrants there have been three winners. Regret was the first way back in 1915. Genuine Risk was the first modern-era filly to wear roses when she won in 1980. Most recently, Winning Colors won in 1988 after crushing the boys in the Santa Anita Derby. Based on history there is no reason to automatically rule out Devil May Care because of her gender. Her speed and consistency maybe, but not her gender.

Eight Belles - The argument that is going to be brought up between now and the Derby is Eight Belles. She was a very strong second to Big Brown in the 2008 Kentucky Derby, but then broke down as she was around the first corner after the finish line and had to be euthanized. There were all sorts of concerns at that time that the injury had happened because she was a filly against the boys, and people will use that as a reason why Devil May Care shouldn't run here. That's just crap. What happened to Eight Belles was absolutely horrifying, but it was the result of her being a highly-tuned and fragile thoroughbred, not because she was a filly. It could have happened to any horse, and it was a total fluke. I personally don't think that Devil May Care should be in the Derby, but I have no safety issues with her being there.
Check out Doc's Sports homepage for the most updated Kentucky Derby Odds, post positions and field lineup, along with daily exclusive content, each day leading up to the Run for the Roses on Saturday, May 1. We also offer our expert Kentucky Derby Picks for just $20! Call us toll-free at 1-866-238-6696 for more information.