2020 Kentucky Derby Horse Numbers: Post Positions and Expert Analysis
by Robert Ferringo - 9/2/2020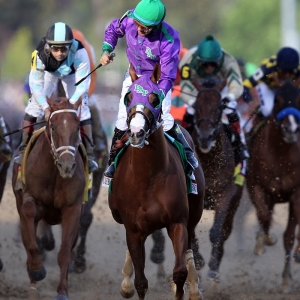 The Year of our Lord 2020 has certainly been one for the books. And this weekend we get to add another footnote to the most abnormal year we've ever experienced.
The Kentucky Derby is historically held on the first Saturday in May and represents the first leg of horse racing's Triple Crown. This year, due to the COVID pandemic, the race was postponed in May and will now be run on the first Saturday in September.
The post draw for The Most Exciting Two Minutes In Sports was held on Tuesday, and now the field for the 146th Kentucky Derby is set. The race will commence at 7:01 p.m. EST on Saturday, Sept. 5 at Churchill Downs and can be watched on NBC.
Current favorite Tiz The Law, who won Belmont Stakes in June, drew post No. 17. Amazingly, in the 145-year history of this race, no horse has ever won The Derby from this post position. No. 17 is the only gate to never produce a winner.
Despite the lack of historical success from this post, favorites have been dominating at Churchill Downs over the past six years. Five of the past six winners have gone off between 2-to-1 and 4-to-1, including 2018 race day favorite Justify (2.5-to-1).
Last year was the only one of the last six Derbys where a favorite didn't come through. The 2019 Derby was an odd one, though. The race day favorite, Omaha, scratched. And the physical winner of the race – Maximum Security at 10-to-1 – became the first winner in Derby history to be disqualified. The result was a win for 65-to-1 long shot Country House from the No. 20 position.
The two other most highly regarded horses in this year's field, Honor A.P. (5-to-1) and Authentic (8-to-1), also drew wide posts. Honor A.P. is in post No. 16, while Authentic will start at No. 18, meaning the three favorite horses are starting from the three widest positions.
Just 11 horses in the 146-year history of the Kentucky Derby have won the race starting wider than No. 15. Only six horses have claimed the title starting at No. 17 or wider.
However, five of the last nine winners have started from post No. 16 or wider. (That includes 2019 winner-by-disqualification.)
Major Fed will launch from the coveted No. 5 spot on Saturday. Historically, the No. 5 slot has produced the most Kentucky Derby winners with 14.
Trainer Bob Baffert will once again attempt to tie the record with his sixth career Derby winner. Baffert has just two horses in this year's race, No. 10 Thousand Words (15-to-1) and Authentic.
Finnick the Fierce (50-to-1), the one-eyed gelding that was purchased for just $3,000, drew the rail and post No. 1. Even though 12 total winners have come from the rail, the last winner from the No. 1 position was Winning Colors in 1988.
The No. 4, No. 8 and No. 10 posts have each produced 10 winners. Storm the Court (50-to-1), South Bend (50-to-1) and Thousand Words (15-to-1) drew those slots, respectively.
Here is the full Kentucky Derby field by post position and odds:
Gate 1: Finnick The Fierce (50-to-1)
Gate 2: Max Player (30-to-1)
Gate 3: Enforceable (30-to-1)
Gate 4: Storm The Court (50-to-1)
Gate 5: Major Fed (50-to-1)
Gate 6: King Guillermo (20-to-1)
Gate 7: Money Moves (30-to-1)
Gate 8: South Bend (50-to-1)
Gate 9: Mr. Big News (50-to-1)
Gate 10: Thousand Words (15-to-1)
Gate 11: Necker Island (50-to-1)
Gate 12: Sole Volante (30-to-1)
Gate 13: Attachment Rate (50-to-1)
Gate 14: Winning Impression (50-to-1)
Gate 15: NY Traffic (20-to-1)
Gate 16: Honor A.P. (5-to-1)
Gate 17: Tiz The Law (3-to-5)
Gate 18: Authentic (8-to-to-1)
Here are is the total number of winners produced by each post position since 1900:
1 – 12
2 – 9
3 – 8
4 – 10
5 – 14
6 – 6
7 – 9
8 – 10
9 – 4
10 – 10
11 – 3
12 – 3
13 – 5
14 – 2
15 – 3
16 – 5
17 – 0
18 – 2
19 – 1
20 – 3
Doc's Sports wants you to try out our expert horse racing handicappers free of charge and is offering new clients $60 worth of free picks that can be used for any Triple Crown race. Get $60 worth of premium members' picks free.