Judging Pace a Major Factor in Kentucky Derby Betting Success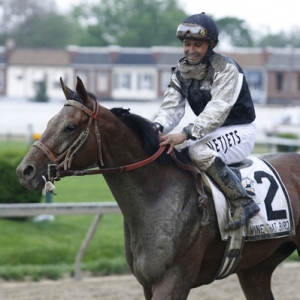 Let me say this up front - this Kentucky Derby is one of the hardest races to figure out I can remember. And I am old enough to remember a whole lot of them. It's not just that there are a lot of really solid horses but none that stand well above the rest. It's also that the Kentucky Derby pace scenario this year is as clear as mud because of the lack of obvious speed and the potential for so many horses to run different types of races depending on how things turn out. We have been spoiled the last few years by having races that shape up in ways that are predictable - and that led us to obvious choices. But this year is just a mess - an intriguing mess, but a mess nonetheless.
Let's take a look at how the last couple of races for these horses suggest that the pace scenario could shape up and then consider some reasons why it won't be that simple.
At the front
The only horse that seems to truly need the lead is Maximum Security . In the Florida Derby, he was allowed to run free on the lead, and he did so in very modest fractions. That suggests that while he could be looking for the lead, he isn't likely to set the suicidal early fractions that we have seen some years in the race.
Pressing the pace
A solid group of runners is likely to be right near the lead early on. Potential favorite Omaha Beach highlights the group, with Gray Magician, Spinoff, Tax, Vekoma, and War of Will all likely to be there. Of that group, Omaha Beach feels like the one most likely to challenge Maximum Security for the lead. Mike Smith has really been aggressive with him early in his two rides on the horse.
Mid-pack
Between the early pressers and the closers would likely be a group that includes By My Standards, Cutting Humor, Long Range Toddy, and the Bob Baffert duo of Improbable and Game Winner .
Closers
The first wave of closers will likely include Roadster, Tacitus , Code of Honor and Plus Que Parfait. Behind them, the deeper closers who will be most likely to trail the field early are Country House, Haikal, Master Fencer, and Win Win WIn.
Challenges
Of course, it can't all be as simple as that. Those are how the horses seem to sort out, but in many cases the horses have shown that they could run an entirely different type of race as needed. So, as we are considering pace we have to also factor in these considerations:
The draw: I am writing this before the draw is made, so there is a chance that horses could wind up in spots that won't help them - a horse needing the lead drawing the rail or a far outside spot, for example.
Bob Baffert: Baffert has three horses entered here, and all are good enough to win the race. As things set up here, though, he will have no control on how things will shape up. I have two of his horses mid-pack and the third behind them. I find it hard to believe that he will be content with letting others shape the race - that leaves more to chance than he likes. Game Winner is the horse that seems least likely to change things up. Roadster can run closer to the pace. While he isn't likely to lead, he could be in the second wave and have a bigger say in things. What feels more likely, though, is for Improbable to be sent early. He has not led early, but he has the speed and the breeding to start faster and still last. If he were to go up front early on, then Baffert would have three waves of attack instead of just two, and he would have more control in how the race looks, giving his other horses a better chance of getting the race they need. So, we could have Game Winner and Improbable ahead of Roadster as I just suggested. Or we could have Improbable ahead of Roadster, with Game Winner trailing. Or Game Winner in between the other two. Who knows?
The West factor: You always need to look at horses that could work together in races like this. Gary and Mary West own both Maximum Security and Game Winner. Though the former is undefeated, it feels unlikely that he is good enough to win this race. Game Winner is good enough and would really benefit from an aggressive early pace. There is a decent chance, then, that Maximum Security will be employed as a rabbit to set a reasonably aggressive pace - though likely not so fast that it totally eliminates the chances of the horse.
Doc's Sports wants you to try out our expert horse racing handicappers free of charge and is offering new clients $60 worth of free picks that can be used for any Triple Crown race. Get $60 worth of premium members' picks free .
Read more articles by Trevor Whenham