Free NBA Picks: Magic at Celtics and Lakers at Suns Game 3 Predictions
by Alan Matthews - 5/21/2010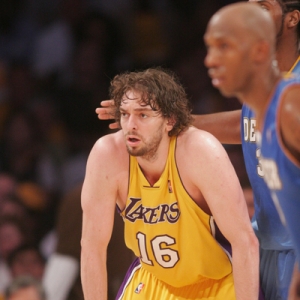 Thanks a lot NBA and your TV partners. We were without any hoops on both Thursday and Friday just so the respective cable networks could have some programming on Saturday and Sunday. Just silly.
Magic at Celtics, 8 p.m. Saturday (ESPN)
The line: Celtics -3.5 (190)
How they enter: Is there really any reason that Boston won't win its sixth game in a row? The Magic had won 14 straight before dropping two in a row at home to the rejuvenated Celtics (both Boston covers). Boston is 32-0 all-time when taking a 2-0 lead in a series.
Scouting report: Paul Pierce is going nuts for Boston, while Orlando's Rashard Lewis has disappeared. That comparison isn't the only reason Boston is up 2-0, but it's the main one. Against the Cavs in the conference semis, Pierce averaged 13.5 points on 34.5 percent shooting (30.8 percent from the three-point line). Against the Magic, he is averaging 25 per game and shooting 58.3 percent from the field (50 percent from long range). Orlando reportedly might switch Matt Barnes off of Ray Allen and onto Pierce (that was rumored for Game 2 as well). Meanwhile, Lewis looks like the most overpaid player in basketball right now. Last year Lewis was a Celtic killer in Orlando's seven-game series win, averaging 20.4 points and 6.3 rebounds. Ah, but those Celtics didn't have Kevin Garnett. In this series Lewis, who has an $118 million contract, is averaging 5.5 points per game more than you and I, hitting just 4-of-16 field goal attempts, including 1-of-9 from three-point range. Yet during the season against Boston, Lewis averaged 18 points and shot 47.4 percent from three-point range. Magic coach Stan Van Gundy vows to get Lewis more involved in Game 3.
Key trends: The Magic are 1-5-1 ATS in their past seven as an underdog
Boston is 0-4 ATS in its past four with more than three days' rest
The underdog is 7-0 ATS in the past seven.
The 'under' is 4-0 ATS in the past four in Boston.
The pick: Maybe I am naïve, but I think the Magic save their season and win this game straight up – so my pick is obvious. Numbers also point to the 'under'.
Be sure to get set up with our weekly NBA picks for guaranteed winners each and ever day.
Lakers at Suns, Sunday, 8:30 p.m. (TNT)
The line: Suns -3 (219)
How they enter: The Lakers have gone through the Suns' defense like a hot knife through butter in winning the first two games and totaling 252 points while shooting a combined 57.8 percent. Frankly, I am stunned that Phoenix is favored.
Scouting report: I don't know how else to say it but Phoenix simply can't beat the Lakers. Oh, sure, the Suns might win one at home just out of a sense of pride, but L.A. is simply too big and the Suns don't have anyone who can deal with Kobe Bryant. Phoenix tried to double Bryant in Game 2, so he dished out 13 assists, the most for the franchise in the playoffs since 1996. The wild card in this series has been "lucky" Lamar Odom, who has totaled 36 points and 30 rebounds in totally outplaying Amare Stoudemire. When Odom is playing like that, no team will beat L.A., which has won four of its past six games in the desert. The Lakers are 41-1 when winning the first two games of a best-of-seven series. About the Lakers' only worry is Andrew Bynum's knee as he continues to play through a torn ligament. He was only able to get in 18 minutes on Wednesday. L.A. probably doesn't need him to beat Phoenix but will to beat Boston (or Orlando).
Key trends: The Lakers are 10-4 ATS in the past 14 in this series.
The total has gone 'over' in 10 of the past 14.
The pick: The numbers don't lie. Lakers and the 'over'.
Be sure to visit our homepage for daily exclusive NBA betting content, free NBA picks, updated odds, matchup reports, scores and predictions. Click Here. Doc's Sports NBA is on a 6-1 run and we have a 6-Unit NBA Game of the Month going Saturday for Orlando/Boston Game 3.