Kentucky Derby Favorite Eskendereya Out
by Trevor Whenham - 4/25/2010


Get our 2021 Preakness Stakes coverage including, Picks and Odds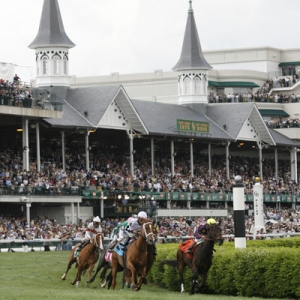 In the biggest shock of the 2010 Kentucky Derby, Eskendereya, the heavily-favored, Todd Pletcher-trained horse that was likely to go off at less than 2/1 after winning the Wood Memorial in stunningly powerful fashion, has been scratched from consideration for the race less than a week before post time. Pletcher isn't being very specific, but a left leg 'issue' was detected after his workout on Saturday, and it didn't resolve itself overnight.
Given the comparative lack of strength is this race and the dominance of Eskendereya this year this is a massive change, and a very disruptive occurrence. Here's a look at six ways it is going to have a significant effect on the race:

Favorite curse - This is the second time in a row that the heavy favorite in the race has been injured and scratched within less than a week of the race. Last year, I Want Revenge was scratched with a leg issue of his own on the morning of the race. Racing is a sport filled with highly suspicious characters, so there are going to be all sorts of theories about favorites after this debacle. I don't really believe in curses my self, but then again I'm not a Cubs' fan.

Timid trainers - With a week left, and one more work remaining for many of the Kentucky Derby contenders, trainers are going to be treating their horses as if they are made of glass. Really, a three-year-old thoroughbred at this level is so highly tuned and fragile that he might as well be made of glass. Whether consciously or subconsciously, this is going to adjust the training schedules and approaches for at least a couple of the horses leading up to the race. That may not be a big deal, but it could also mean that a horse isn't as ready as he should be. Watching for any significant variance from a pre-stated plan will be important.

Pletcher's stable - This changes everything for Pletcher. He had seven horses under consideration for the Derby including Eskendereya. Though we aren't inside his head so we can't know exactly what he is thinking, we do know that this is going to cause a change of strategy. The problem is that we don't know what that initial strategy was.
If you are like me then you believed that Pletcher was going to use his other horses, at least to some extent, to help Eskendereya win. I'm not suggesting that he was going to blatantly use the horses to set the pace and box out other contenders, but I definitely expected more teamwork than you see in most races. Without a clear leader now, though, that's very unlikely to happen, so it becomes easier to expect the best effort out of each of his horses.
The question now is how many horses he will enter on Wednesday. You could argue that this makes him more likely to enter all six because the race is more wide open, or you could argue that it's now less likely because the shape and outcome of the race is far less certain.
He may also be at least somewhat conscious of the fact that without Eskendereya he doesn't have a top-level contender in his bunch. The more horse he enters, the, the bigger the chance that his streak of Derby futility gets even longer and uglier than the 0-for-23 that it already is.

Lowering odds - This is going to have a profound effect on the odds of the horses that were seen to be close to Eskendereya, though not quite of the same caliber. Most significantly, Lookin at Lucky now settles into the favorite's role. I was, almost literally, salivating at the prospect of betting on this horse at 5/1 or so - the price he was likely to be at with Eskendereya in the field. Now, though, he's more likely to go off in the 3/1 range, and that's just not as attractive.
Sidney's Candy, Awesome Act, Endorsement, and others will similarly be lower than they would otherwise have been. That will unfortunately making it harder to find value for bettors. Or at least it will if, like me, you weren't totally convinced that Eskendereya was going to win anyway.

Pace - The biggest problem Eskendereya had going into this race was the pace. He likes to sit not far off the early pace before making his move. There is a whole lot of early speed in this race, so the early fractions should be blistering. Eskendereya was going to be faced with an issue, then - do you run fast enough to stay near the pace, or do you let them go, hoping that they tire themselves out and come back to you? In the earlier option you risk burning yourself out before you run, while in the latter option you might be too far out of contact with the group to menace in the stretch if the leaders don't all falter.
For the other non-speed horses his absence could create another issue. Other trainers and jockeys knew the general race Eskendereya was going to run, and they knew he had the talent and class to try to do so, so they could have relied on his presence to keep things honest. With him out of the picture the pace scenario becomes even more crazy in this one. That's good news for longshot bettors - every time a pace scenario is truly insane in the Derby, a longshot seems to come through with a massive payoff. Think Giacomo, Monarchos, and the like.

Handle - This Derby is now permanently scarred by the injury of Eskendereya. No matter who wins and how impressively he does so there will always be the sense that the race was won without the clear favorite in it. Given the lack of depth in this field, that absence is going to have a major effect on public interest in the race, and that in turn will effect TV viewership and handle. I'm not suggesting that we need to make a charitable donation to Churchill Downs, but there is going to be an impact.
As I talked about earlier, the odds on the new favorites are going to fall. That effect is likely to be even more profound than normal because the public was going to be so heavily drawn to Eskendereya that the others' odds would rise as a result. Now the public won't clearly know where to go, and in many cases won't go anywhere.