2010 Kentucky Derby Jockeys
by Trevor Whenham - 4/27/2010


Get our 2021 Preakness Stakes coverage including, Picks and Odds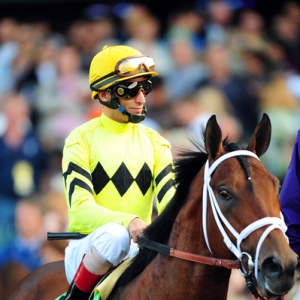 The horses get most of the attention in the Kentucky Derby, with the trainers a distant second. The guys who really deserve the most attention, though, are the jockeys. There isn't another race in which the jockeys play a bigger role or have to do more to get their horse to the finish line. The horses in the Derby are at such an early stage in their personal development, and they are facing so many new things in this race - the field size, the level of talent, the craziness of the crowd - that the winning horse isn't always the best, but the one that the jockey was best able to calm down and get focused.

This year's Kentucky Derby is, as always, full of compelling jockey storylines. Here's a look at six of the most talented jockeys in the field, and the stories behind them:

Garrett Gomez, Lookin at Lucky - Gomez is, without a doubt, the top jockey in the country right now. His career was derailed in 2002 with drug problems, but he returned late in 2004, and quickly climbed to the top. He has been the top earning jockey each of the last four years, and he won the Eclipse Award in 2007 and 2008. He has won nine Breeders' Cup races since 2005, and most other top races at some point in his career. There is one glaring hole in his record, though - he has never won a Triple Crown race.
He's had his chances. The most crushing near-miss was with Rags To Riches in 2007. He had ridden the filly through her prep schedule, but he was already committed to Hard Spun for the Belmont, so he gave the ride up. John Velazquez took it over and won the race. This is possibly the best shot Gomez has had yet - the favorite, and the classiest horse in the field by far. There's another storyline here as well - Gomez rode Lookin at Lucky in the Santa Anita Derby, and it was one of the worst races of his career. The horse had a terrible start, found trouble repeatedly, and was generally a disaster. Gomez not only needs to end his Triple Crown drought, but prove that that race was an exception.

John Velazquez, Devil May Care - Velazquez is cursed. He benefited from good luck to get his first Triple Crown win on Rags to Riches, and karma has been extracting its payment ever since.
Last year he was booked to ride Quality Road, the Florida Derby winner who was likely to be the Derby favorite, but a foot injury knocked that horse out of the race. This year he was set to ride Eskendereya, the Wood Memorial winner, who was likely to be the Derby favorite until a leg injury knocked him out of consideration. Now Velazquez has landed on the first filly to run in the Derby since Eight Belles tragically broke down in 2008. His chances of winning just got a whole lot worse.

Joe Talamo, Sidney's Candy - Talamo, a 20-year-old sensation from California, will be making his Kentucky Derby debut aboard the front-running Sidney's Candy, who is owned by diet magnate Jenny Craig.
Talamo should really be making his second start, though. He was to be aboard likely favorite I Want Revenge last year. It wasn't until he showed up at the track on Derby morning that he found out that the horse had been injured and was out of the race. That's a crippling mental blow for any guy, never mind a teenager. Now Talamo not only has to deal with riding in his first Derby, and doing it aboard a well-regarded horse, but he also has the demons from last year to deal with.

Julien Leparoux, Awesome Act - Leparoux is one of the more interesting stories in the sport. He was a stablehand in France when he emigrated to the U.S. in 2003 to become an exercise rider, and now he's the reigning Eclipse champion jockey. He's based in Kentucky, and he has won titles and set records at Churchill Downs, so the setting works to his advantage. He's on a live runner as well. Leparoux has five Breeders' Cup wins, including three last year, so he's clearly a top-level jockey. Until he gets a Triple Crown race under his belt, though, he hasn't truly proven himself.

Calvin Borel, Super Saver - Borel is the reigning king of the Kentucky Derby. In 2007 he became the first jockey to pilot a Breeders' Cup Juvenile winner to the roses, Last year his ride aboard Mine That Bird has to go down as the single most incredible ride in race history. Borel isn't on a horse that is easy to love in Super Saver. This horse has more going for it than Mine That bird did last year, though, so you really can't count this horse out entirely as long as he is aboard.

Kent Desormeaux, Paddy O'Prado - Desormeaux isn't the jockey now that he was when he was younger when he was a winning machine. Wins are much harder to come by for him overall, but he's on a remarkable run in Triple Crown races. He won the Derby and the Preakness in 2008 aboard Big Brown, and then took the Belmont aboard Summer Bird last year. That means that he has won half of the Triple Crown races over the last two years. The horse he is on this year doesn't immediately seem to be of the caliber of those other two, but he's a very impressive looking horse who is working very well over the Churchill surface.
Check out Doc's Sports homepage for the most updated Kentucky Derby Odds, post positions and field lineup, along with daily exclusive content, each day leading up to the Run for the Roses on Saturday, May 1. We also offer our expert Kentucky Derby Picks for just $20! Call us toll-free at 1-866-238-6696 for more information.